The New CUE

Difference

GivePulse provides a fully integrated online platform solution for students, faculty, staff, alumni, and partners to engage in all forms of community engagement activity. At the same time, the platform allows community partners to maintain an independent account to manage a database of users, post events and opportunities, verify outputs, and streamline scheduling and data collection. Features that will enhance the user experience include:
user profile/portfolios to track their individual outcomes and impact.
additional forms of impacts being tracked beyond direct service hours including training, funds donated/raised, goods donated, research, voting and others as defined by faculty/staff/student leadership.
service-learning course management with an integration to Blackboard
enhanced group management with subgroups available to campus departments, centers, student groups for managing community engagement initiatives, partnerships, and tracking outcomes.
integrations with our student information system, MineTracker and other campus databases
Fundraising and ticketed events for social philanthropy initiatives with on and off-campus organizations
Survey and Application modules to support program applications, evaluations, and other assessment needs.
Important Terms
Impacts: "Impact" is used as an umbrella term to describe all potential forms of community engagement. An impact can be described as funds donated, funds raised, goods donated, hours trained, and, most often, volunteer hours served. For more information on Impacts, click here.
Events: We call it events, but there are many different names depending on the application and usage. The following are a few different names: opportunities, tasks, shifts, posts, needs, etc. For more information on events, click here.
Group: A group is a way to organize memberships, events, and impacts in one location. For more information on groups and group management, click here.
Subgroups: Can be groups, programs, initiatives, clubs etc., that you oversee within your network. This helps you oversee everything for them, and you will ultimately own and oversee the management and data. For more information on subgroups, click here.
Community Partners: Can be nonprofits, businesses, or partners you are partnering with. This helps formalize a partnership but allows each to separate its management and data. For more information on affiliates, click here.
Hours: Hours that someone has served/volunteered.
Hours Registered: Events and opportunities a user may have registered for and the hours it equals up to but, they have yet to actually complete.
For more information about GivePulse Basics visit GivePulse's Support Webpage.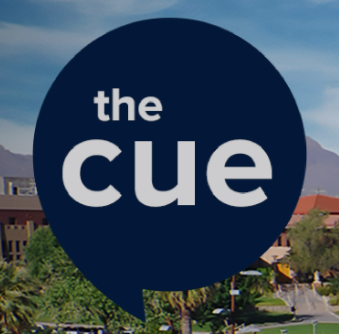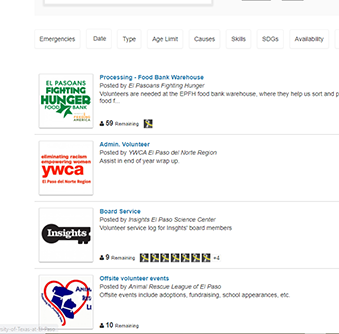 Any further questions on how to use the CUE, contact our office at cce@utep.edu