Community Engagement News
FEATURED NEWS
UTEP Launches Miner Teacher Residency Program
Community partners joined leaders from The University of Texas at El Paso on Sept. 26, 2019, to announce a "game changer" idea that they believe will revolutionize UTEP's teacher preparation program and eventually benefit K-12 students throughout the Paso del Norte region and beyond.
Celebrate Homecoming 2019 at UTEP
The University of Texas at El Paso welcomes alumni, students, friends and fans to campus for Homecoming Week activities including reunions, tailgating, a pep rally, and a Conference USA football game on Saturday, Oct. 5.
UTEP Student Government Association Receives $10,000 from UT System Board of Regents for Aug. 3 Tragedy Relief Efforts
Inspired by the response of The University of Texas at El Paso community and the city to the Aug. 3, 2019, shooting in El Paso, The University of Texas System Board of Regents presented the UTEP Student Government Association with $10,000 to assist with relief efforts.
UTEP Educators Earn Hispanos Triunfadores Awards
Organizers of the 2019 McDonald's Hispanos Triunfadores announced that three employees from The University of Texas at El Paso will be among the honorees at this year's event at 11 a.m. Friday, Sept. 20, 2019, in the El Paso Community College Administrative Services Center auditorium, 9050 Viscount Blvd.
UTEP Set to Serve Community at 10th Project MOVE
Organizers of The University of Texas at El Paso's Project MOVE have long echoed the sentiments shared by volunteers that participation in UTEP's annual day of community service can be a life-changing experience. Junior business major Lizbeth Vargas agreed with that assessment.
UTEP Occupational Therapy Students Teach Children Mindful Ways to Ease Stress
Instead of dribbling basketballs or running drills, 40 third graders at Robbin E.L. Washington Elementary School in the Ysleta Independent School District (YISD) quietly practiced yoga's mountain pose in the school's gymnasium.
UTEP's Project MOVE Schedules Partner Sign-up Day
Organizers of The University of Texas at El Paso's annual day of community service will help the area's nonprofits register for this year's Project MOVE (Miner Opportunities for Volunteer Experiences) from 8 a.m. to noon, Friday, Feb. 22, 2019, in Union Building East, Templeton Suite, Room 313.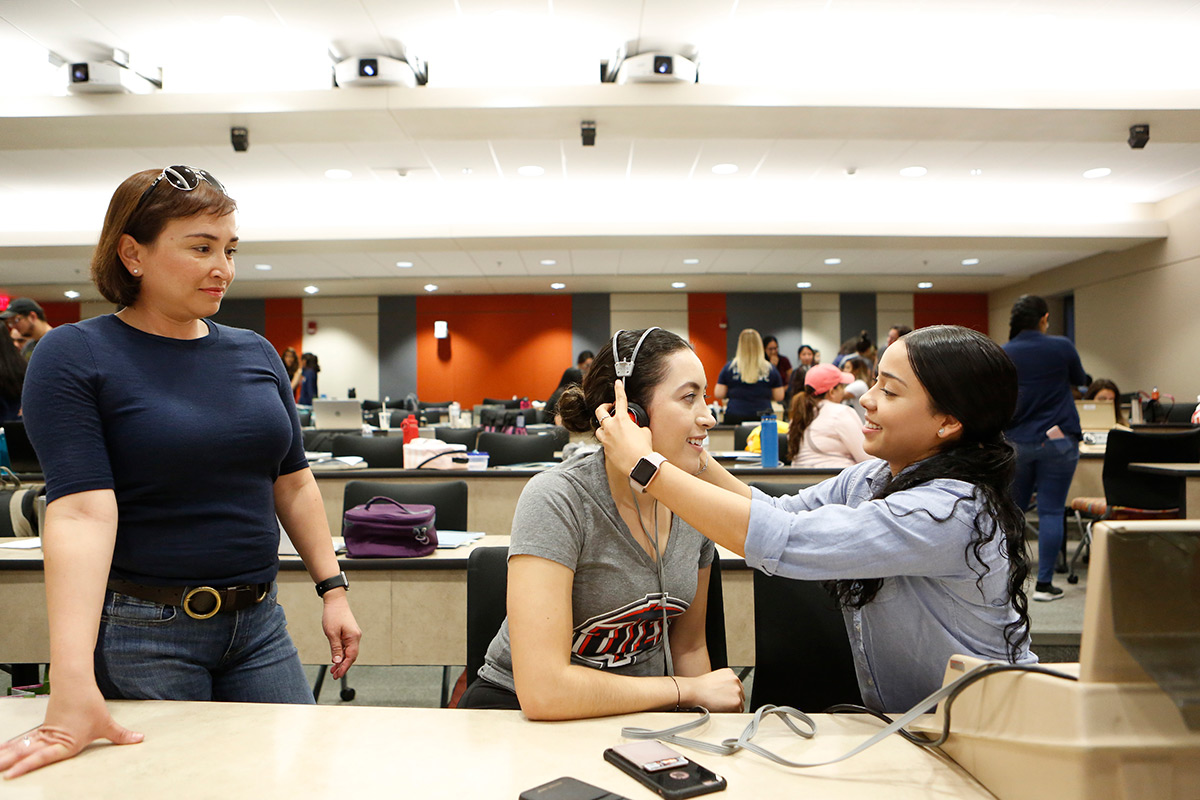 UTEP Nursing and Health Professions Students Benefit from Community Engagement
In the UTEP School of Nursing's Population-Focused Care class, undergraduate students in their final semester of the nursing program apply their knowledge and skills to help in the community and in public schools.
Connect With Us
The University of Texas at El Paso
Office of the Provost
Administration Building Room 310
500 W University
El Paso, Texas 79968
E: provostoffice@utep.edu
P: (915) 747-5725
F: (915) 747-7522