More Than Robots
---
The UTEP Robotics Program is intended to attract students into engineering through their engagement in robotic competitions. The UTEP College of Engineering and its partners support several robotic competitions geared for students as young as Pre-K and up to high school students. Whatever your age group, robotic skills will be developed, but more importantly so will your team and life skills.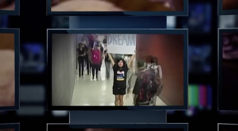 WATCH: The Hardest Fun You'll Ever Have
---
UTEP Robotics Invitational
May 23, 2018
7:30am to 12:00am and 12:00pm to 4:00pm
UTEP Campus, Engineering Building, Engineering Lobby & Tech Café - see #200 on map
Rules and Matches
---
The following table compares the different competitions and how each may apply to you.
| | JrFLL | FLL | FTC | FRC |
| --- | --- | --- | --- | --- |
| Grade | K-4th | 4th-8th | 7th-12th | 9th-12th |
| Adult Coach/Mentors | 1 | 2 or more | 2 or more | 2 or more |
| Robot Type | Lego Model + We Do | Lego NXT & EV3 | TETRIX - Matrix & Android | AndyMark + NI + other |
| Challenge Components | Research & Lego Model | Robot, Research, Teamwork | Outreach, Eng. Notebook, Robot | Robot, Outreach, Business Log |
| Competitions at UTEP | Exposition | Championship | League Championship | Kickoff |
| National First Registration | $75 | $225 | $275 | $6,000 (Rookie) |
| Local/State Registration Costs | $10 | $75 | $250 | Free |
| Other Expenses (Parts, Robot, Team Costs) | Up to $300 | Up to $900 | Up to $2500 | Varies |
Partners/Sponsors
FIRST
FIRST In Texas & University Interscholastic League
IEEE, El Paso Professional Section
Jenna Welch and Laura Bush Community Library
NASA
National Instruments
SISD Robocom
Workforce Solutions Borderplex, STEAM Fiesta
YISD Ramona Elementary – LEGO Foundation Grant JrFLL Recipient