Snap a study picture and win big!
by
UTEP Connect
Until Friday, Oct. 27, you can submit up to five photos per day that depict how, when and/or where you study. Each submission will be entered into our contest to win a $5 Starbucks gift card and a UTEP Connect tote bag! One winner will be chosen every week day. The contest is open to all, you don't need to be a UTEP Connect online student to participate!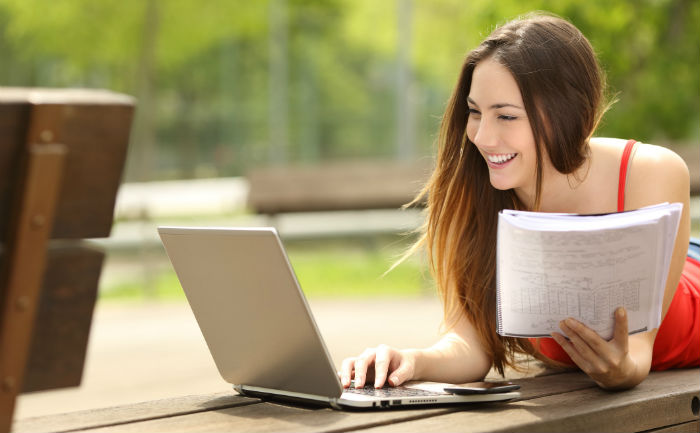 The process
Snap a pic of how/when/where you study.
Post your image to the UTEP Connect Facebook page using the #UTEPConnect hashtag.
Provide your name, location and one fun fact about yourself (e.g. I am a mom of four; I love opera, etc.)
Winners will be randomly selected. (A unique number will be assigned to each entry and a random number generator will select the day's winner.) Follow the comments on your post to find out if you won! If you receive a "You're a winner!" comment, you must reply to it within 72 hours to claim your prize. We'll notify the winners at 9AM Mountain Time the day after the drawing with a comment on the photo.
All prizes will be snail-mailed within 10 business days of receiving winners' mailing details.
Please note that by submitting your photo to this contest, UTEP Connect has the right to use your picture for future marketing purposes, such as social media posts or on our blog.
Online degrees can change your world… but you still have to study
Someday, advancing your career and finding better options through online education may be considered typical. Today, however, online degrees are still relatively new, which is why the UTEP Connect blog offers tips to help you travel this less conventional educational path.
In addition to offering ways to organize your study space and time management study tips, we want you to feel connected with your professors, teachers and other students. Remember, there are no dumb questions! With that in mind, our enrollment counselors are happy to help with any questions or concerns you may have, and a student success advisor will also be available to answer queries related to your specific field of study. Are you looking for tutoring? How about financial planning? These student resources and more are available for you to take advantage of face-to-face, online or by phone—whatever works.
When you're ready to learn more, UTEP Connect is ready for you.
---