Herpetology Collection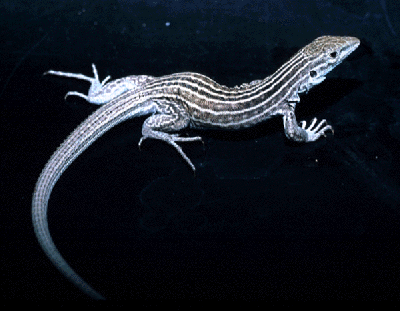 The curated collections in the Division of Herpetology number in excess of 21,500 specimens. Most depth in coverage is for the Chihuahuan Desert region of the United States and México, and in many cases includes specimens from populations not represented in other museums. Coverage of the United States and the remainder of México is otherwise synoptic, although there are minor holdings of significance representing southeastern México, eastern Europe, Malaysia, and Belize. The collection database is attainable via HerpNET.
Figure: New Mexican Whiptail Lizard, copyright: C.S. Lieb
Herpetological holdings at UTEP that may be of interest to investigators not familiar with the collection include:
More than 1100 dry skeletal preparations, mostly of Southwestern taxa
R.G. Webb's extensive collections from north-central México, especially the states of Durango and Zacatecas
J. D. Johnson's collections from México east of the Isthmus of Tehuantepec, as assembled from his continuing biogeographic studies on the herpetofauna of Chiapas and Nuclear Central America
A representative collection of ambystomatid salamanders, both wet preserved and cleared/stained, made by R. D. Worthington in the United States and México between 1960 and 1972
Voucher specimens from 1975 studies on the amphibians and reptiles from Colima and adjacent Jalisco, México, and from early 1960's surveys of viperid snakes in Oklahoma, both deposited with UTEP by W. A. Carter of East Central College of Oklahoma
A collection of herptiles, primarily lizards and amphibians from the state of Arizona, collected mostly in the 1970's and donated to UTEP by C. J. May
A small collection of herptiles from the Malaysian peninsula made by R. D. Worthington in 1987
Portions of the extensive Mexican and Southwestern U. S. collections of R. W. Axtell, represented primarily by amphibians and some groups of lizards.
The present curators of the Division of Herpetology are Robert G. Webb (emeritus) and Associate Curator Carl S. Lieb. Specimens are available for loan on an inter-institutional basis; inquiries may be directed to either of the curatorial staff (915-747-6985; FAX: 915-747-5808; E-mail: clieb@utep.edu).
The division supports a checklist of amphibians and reptiles of the El Paso-Juarez Border Region.

Last Update: 24 Jan 2011