A Hand Up: Learning Center Helps Students Succeed in Core Courses
Last Updated on March 06, 2017 at 12:00 AM
Originally published March 06, 2017
By Christina Rodriguez
UTEP Communications
University of Texas at El Paso sophomore Brijunee Orange entered the large auditorium of her Political Science 2310 class. She nervously scanned the room, looking for an available seat as the conversations and laughter of hundreds of her classmates echoed around her.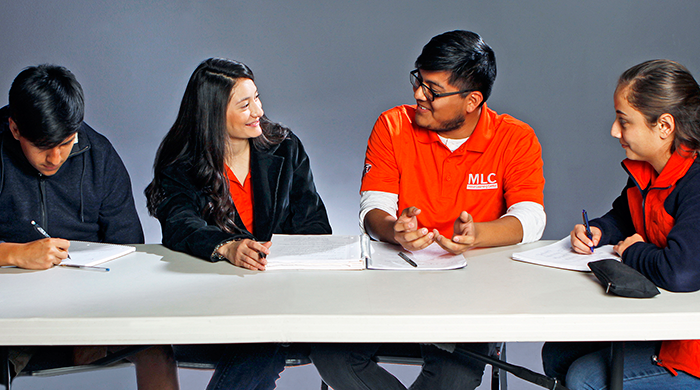 Students gather in a small group with their PASS peer tutor to go over class material. The Miner Learning Center provides students, primarily freshmen and sophomores, with assistance and academic support for challenging core curricular courses with large enrollment. Photo: Laura Trejo / UTEP Communications
"I don't know if I can do this," she thought to herself as she timidly sank into one of the stadium seats at the back of the room. "The size of this class is crazy!"
Every time she attended class, Orange felt lost in the crowd and was afraid to ask questions. After all, it seemed as if she was the only one lost. No one else was asking questions, and she didn't want to be singled out and have the eyes of 299 other students looming at her.
When it came time for the first exam of the semester, she looked over the notes she had taken, but nothing made sense. Frustrated, she tried to memorize as many of her notes as possible and would try to regurgitate what she could on the test.
After receiving a disappointing grade on her first exam, Orange decided she would seek help from the Miner Learning Center (MLC). Her professor had encouraged the class to take advantage of the free tutoring available to them for that particular course through the center. She had nothing left to lose and decided to attend a session.
The MLC provides students, primarily freshmen and sophomores, with assistance and academic support for challenging core curricular courses with large enrollment. The center's overall goal is to promote lifelong student success through innovative learning techniques and resources.
One such resource is the Peers Assisting Student Success (PASS) program. Faculty members select PASS leaders and tutors who did well in their classes to lead weekly peer-assisted study sessions for a particular course. The tutors work closely with faculty to provide students with individualized online or face-to-face help.
"The big difference between the MLC and any other typical tutoring center is that we are trying to target the historically difficult class versus labeling and targeting at-risk students," said Vanessa Martínez, director of academic student success at UTEP. "Any student is welcome to take advantage of the services the MLC provides. Increasing success in those bottleneck courses can save students time and money, making it more likely they will proceed with college."
The MLC is an initiative from the UTEP Provost's Office that is funded by a Title V grant through the U.S. Department of Education. Its goal is to enhance student retention numbers. The University received the five-year grant in 2014 and launched the MLC in fall 2015. Prior to the MLC, individual colleges piloted tutoring services and the PASS program.
"There were a lot of students struggling in core curricular courses that ended up having a ripple effect leading to students being put on academic probation and then not returning to the University," Martínez explained. "The plan is for the MLC to help with the retention rate of students and make sure students get the support they need as freshmen and sophomores to encourage them to continue. It is important for them to know that there is support outside the classroom and people who want to see them succeed and ensure they have a more successful semester. That's what the MLC is all about."
The MLC is located on the third floor of Prospect Hall and offers support to students during a variety of times Monday through Friday and on Sundays. During the 2015-16 academic year, the center had 6,017 student visits. Of those, 2,889 individual students attended sessions.
Teri Hibbert, a lecturer in UTEP's Entering Student Program and Department of Sociology and Anthropology, jumped at the chance to be part of the MLC. Her "Introduction to Sociology" course became part of the PASS program.
"I feel that the PASS sessions offered at the MLC have been very successful and they seem to be getting better every semester," Hibbert said enthusiastically. "I see PASS as another tool; a really good tool to offer our students. The MLC is helping students succeed and not fail a class two or three times, especially those large classes where it can be easy to get lost in the shuffle."
Adolfo Alvarez, lecturer with UTEP's Department of Psychology, said he sees his "Introduction to Psychology" students have the same kinds of challenges every semester. He said a good number of students have trouble transitioning from high school or even El Paso Community College, where the classes were much smaller. Many of those with issues often struggle with time management of work, school and family. Alvarez said that students who participate in PASS sessions often do better academically.
"I think the MLC is a great opportunity for students," Alvarez said. "The more help we can give them, the better off they will be."
Rebecca Hernandez, an MLC PASS leader, said she remembers feeling intimidated as a freshman in large lecture halls with hundreds of classmates feeling the need to take notes until her hand hurt. She said the MLC gives students a chance to reflect on their notes and put them in a useful perspective.
For Orange, her decision to attend the MLC was one of the best she ever made.
"I really struggled in that political science class in the beginning," she recalled. "It was pretty intimidating, the thought of having all those eyes staring at you every time you asked a question. I saw a huge difference after I attended the MLC. My PASS leader was on point as far as trying to encourage me and help me shoot for an "A" in class, which I ended up getting! More than ever, I feel like I not only can take college on but also be a top student. The MLC helped me realize my potential."