New Program to Study Violence, Gender and Peace
Last Updated on April 20, 2017 at 12:00 AM
Originally published April 20, 2017
By Laura L. Acosta
UTEP Communications
By using the word "feminicide" to describe the violence perpetrated against women and girls in Juárez, Mexico, renowned Mexican anthropologist and scholar Marcela Lagarde y de los Ríos created an international awareness of crimes committed with impunity against females in Latin America and Mexico.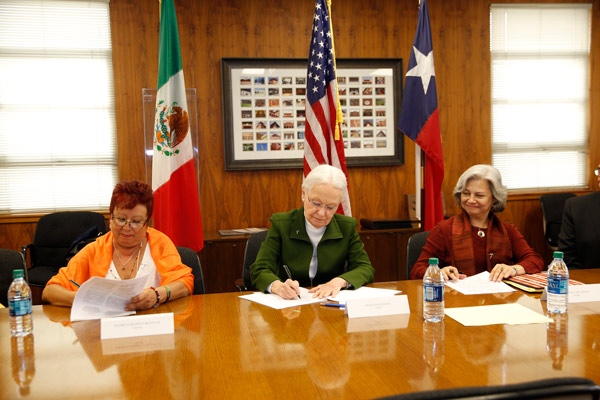 From left, Patricia Ravelo Blancas from CIESAS, UTEP President Diana Natalicio and Patricia Castañeda from the National Autonomus University of Mexico, signed a memorandum of understanding in March to establish the Marcela Lagarde y de los Ríos International Cátedra (program) for the Study of Violence, Gender and Peace. Photo by Ivan Aguirre / UTEP Communications
"Dr. Marcela Lagarde has been able to convince not just small audiences but entire nations of the existence of systemic unpunished violence directed toward women that has often appeared as state sanctioned," UTEP President Diana Natalicio said about the influential feminist who was recently recognized by the University for her immense contributions to feminist scholarship. "Her work and her focus on 'femicidio' in Mexico led to the establishment of an investigatory commission that ultimately resulted in the passing of laws directed at curbing female homicide and recognizing the right of women to a life free from violence."
Lagarde's work will be the focus of a new program to promote the study of gender violence under the auspices of seven partner institutions, including The University of Texas at El Paso.
In March 2017, President Natalicio and representatives from the Center of Interdisciplinary Research in Science and Humanities of the National Autonomus University of Mexico (UNAM) and the Centro de Investigaciones y Estudios Superiores en Antropología Social (CIESAS) signed a memorandum of understanding (MOU) to establish the Marcela Lagarde y de los Ríos International Cátedra (program) for the Study of Violence, Gender and Peace.
UTEP, UNAM and CIESAS will collaborate with the Autonomous University of Aguascalientes, the Autonomous University of Ciudad Juárez (UACJ), the Fundación Guatemala and The University of Texas at Austin to continue Lagarde's legacy by improving research, teaching, outreach and political impact on issues related to gender violence, consolidating research on gender violence, developing topic-related discourse communities, and promoting academic innovations within discourse communities.
"We have a long history of working with UTEP, UT Austin and UNAM," Susana Baez, coordinator of the master's degree in Interdisciplinary Studies on Gender at UACJ, said in Spanish. "The institutional commitment is to create new opportunities for analysis and reflection, but also generate solutions to eradicate gender violence, which unfortunately is a well-known topic on the U.S.-Mexican border."
To achieve these goals, the partner institutions will participate in several activities. They plan to hold biannual conferences, promote related research projects, create public policy initiatives, recognize student research through annual awards and publish joint research.
"We consider our binational location to be a tremendous asset and we are committed to the development and support of creative, educational, economic and policy strategies that improve quality of life on both sides of our shared border," President Natalicio said.
In conjunction with the MOU signing, the University also hosted the Catedra Internacional Marcela Lagarde y de Los Ríos Binational Seminar on Gender, Equity and Peace on March 24.
More than 100 scholars, students and community partners from 14 institutions attended plenary discussions on gender equality and violence against women.
Organized by UTEP's Chicano Studies and Women's and Gender Studies programs and the Department of Social Work, the seminar was an opportunity for researchers from different disciplines and institutions to network and develop collaborations, said Guillermina "Gina" Núñez-Mchiri, Ph.D., associate professor of anthropology and director of the Women's and Gender Studies Program.
"Being located on the border, we have been exposed to issues of violence, and this conference provides an antidote to these experiences and narratives by bringing scholars and community members together to work on solutions," she said. "We are celebrating 100 years of women at UTEP, and this was an opportunity to bring visibility to our high-impact practices and to our research and teaching commitments."
Topics included culture and gender politics, feminism, human trafficking of girls and youth, gender studies, the effects of stigma and discrimination on Colombian refugees in Ecuador, ethics and human rights, the political economy of incest, progress and regressions for Oaxacan women coffee growers, and sexual orientation and gender identity in the context of human rights.
Desiree Quintana, a student in UTEP's Master of Social Work program, helped to organize the event and was impressed by the number of people from El Paso and Juárez who came together to address gender and equity.
Quintana wasn't familiar with Lagarde until she began working on the event, but she has since been inspired by Lagarde's efforts to make the world a safer place for women.
"I did my research and found out about the great contributions she's made, especially in addressing the killings of women in Mexico, which rings so close to home," said Quintana, who expects to graduate in May 2017. "Standing up for women in Latin America and Mexico and addressing the inequality and lack of protection of women is amazing to hear."