Mackay Laboratory of Myrmecology
Department of Biological Sciences Room 210
500 West University Avenue
El Paso, Texas 79968
Phone: (915) 747-5443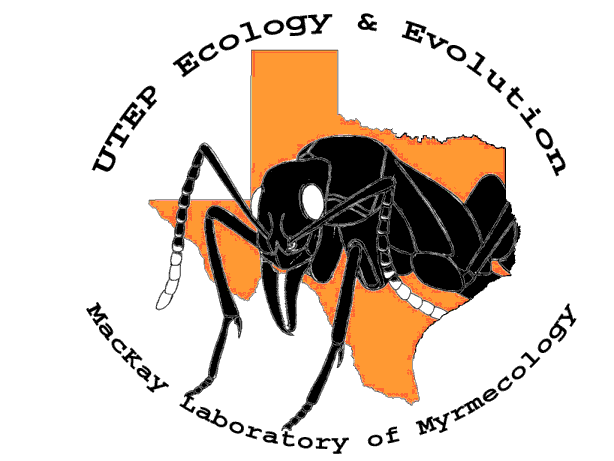 Mission Statement:
The mission of the Mackay Laboratory of Myrmecology (MLM) is to advance the understanding of ants through research on the taxonomy, systematics and ecology. Our research is directed to mostly on Neotropical taxa, but our scope is world wide.
Objective:
Our vision is to accomplish revisions of notoriously difficult genera through the tools of field collection, comparison of specimens with types, and by the determination of evolutionary relationships of species with cladistic analyses. Our objective is to facilitate the development of functional taxonomies with identification keys to species accompanied by illustrations.
Current Research:
Solenopsis (Thief ant group). José Pacheco has undertaken a systematic and taxonomic revision of the New World thief ants for his dissertation research. The revision is near completion with the expected publication of Fall 2006 of this infamous cryptic group.
Crematogaster. Revision of the genus Crematogaster (Hymenoptera: Formicidae) of North America being under taken by Cynthia Morgan.
Procrytocerus. A taxonomic revision and a phylogenetic approaching on this morphologically amazing group of ants, living in twigs in neotropics, is currently carried out by Francisco Serna with the orientation of Dr. W. P. Mackay.
Xenomyrmex. This small, rarely collected genus is currently being examined taxonomically by Cristina Campbell.
Hypoponera. A systematic and taxonomic revision of this understudied genus is currently underway. Within the next four years a complete phylogeny and taxonomic assessment will be completed by S. T. Dash.
Platythyrea. Samuel Del Toro's master's thesis consists of a taxonomic revision and phylogenetic analysis of the ant genus Platythyrea.
Dinoponera. Part of an undergraduate research project. Paul Lenhart is working on a systematic and taxonomic revision of these interesting ants.
Pachycondyla. A revision of the New World species is nearly finished by Bill and Emma Mackay. Several new species are described. Keys are provided, as well as distributional maps and information on all of the species.
Camponotus. A long term study of the carpenter ants of the New World is in the final stages. Keys, maps and comparisons among species are included.
Liometopum. This genus is distributed throughout the world; three species are commonly collected in North America. Three can be found in Asia and two more can be found in Europe. Israel Del Toro's current undergraduate research consists of a taxonomic revision and phylogenetic analysis of this fascinating genus.
MLM Collection
The current holdings of the MLM are comprised of 1800 species, 170 thousand pinned and in alcohol. In addition to these specimens, numerous specimens from the private holdings of the students in the lab are used in our research.
Useful Links:

Last Update: 28 Jul 2006