Commencement Celebrates Largest Fall Semester Cohort of Master's and Doctoral Graduates in UTEP History
The University of Texas at El Paso hosted four in-person Commencement ceremonies Dec. 10 and 11, 2022, at the Don Haskins Center to celebrate nearly 2,500 graduation candidates, including the largest cohort of fall semester master's (590) and doctoral candidates (81) in University history.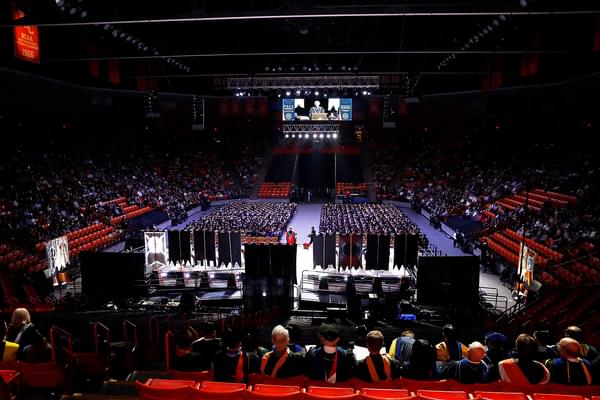 Commencement Celebrates the largest fall semester cohort of master's and doctoral graduates in UTEP history. UTEP Marketing and Communications
The Commencement ceremonies recognized bachelor's, master's and doctoral graduates and candidates from each college. See photos and watch the recorded video from each ceremony below. 
2022 Fall Commencement Ceremonies
Saturday, Dec. 10, 2022
1 p.m.: College of Health Sciences and College of Nursing – View photos: www.utepn.ws/3YbY0XE | Replay the ceremony: https://youtu.be/F-enBslBxbA
6 p.m.: College of Engineering and College of Science – View photos: https://utepn.ws/3W5iDmD | Replay the ceremony: https://youtu.be/VWgx_IT94zA
Sunday, Dec. 11, 2022
1 p.m.: College of Liberal Arts – View photos: https://utepn.ws/3FI2iif | Replay the ceremony: https://youtu.be/NTHlIFEcO2w
6 p.m.: Woody L. Hunt College of Business and College of Education – View photos: https://utepn.ws/3BoU5gE | Replay the ceremony: https://youtu.be/Jxjc_iC6Dhc
Last Updated on December 11, 2022 at 10:00 PM | Originally published December 09, 2022
By MC Staff UTEP Marketing and Communications
---