Space Force Partnership Advances UTEP's Leadership in Aerospace Research and Education
Last Updated on January 05, 2022 at 12:00 PM
Originally published January 05, 2022
By Pablo Villa
UTEP Marketing and Communications
In a cavernous room tucked away at the end of a meandering hallway, Andrea Vargas sits flanked by sophisticated machinery and an array of hand tools. The snarl of manufacturing instruments and the whir of fans envelops the senior mechanical engineering major at The University of Texas at El Paso as she arranges an assortment of brightly colored, plastic trinkets shaped as thimbles, stars and other patterns on a table. The baubles help analyze materials characteristics in a simulated space environment. She gently thumbs one of the stars as she holds it aloft to view under the glaze of the room's fluorescent lights.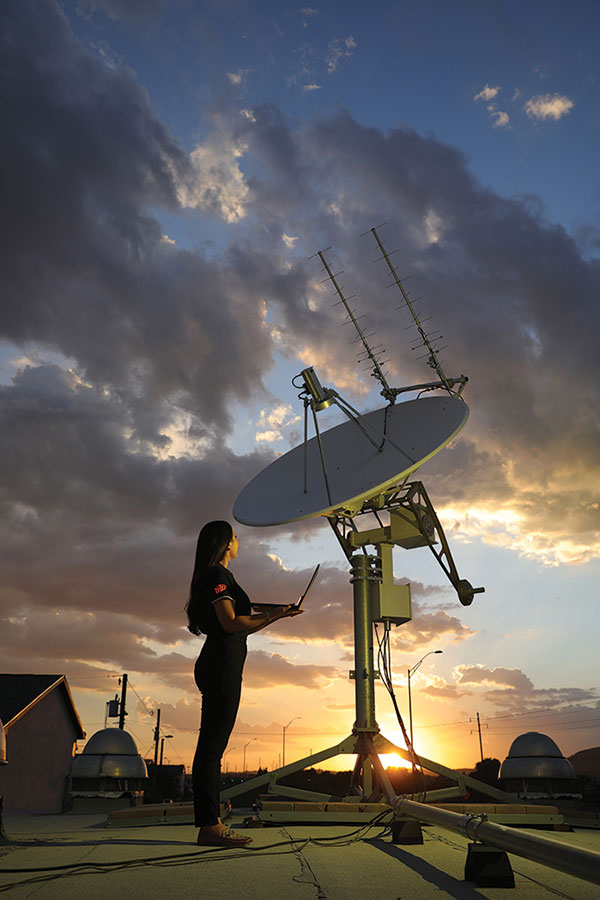 Andrea Vargas, a senior mechanical engineering major, stands next to a UHF/S-Band ground station tracking satellite array on the roof of the UTEP Aerospace Center's Spacecraft Design and Engineering Facility in El Paso. The array monitors satellite movements, including a small satellite that UTEP researchers helped construct and send into orbit in 2020. Photo: J.R. Hernandez / UTEP Marketing and Communications
It is a fitting gesture, as the work conducted by a cadre of UTEP faculty and numerous students within this building — the University Aerospace Center's Spacecraft Design and Engineering Facility, a nondescript research station located six miles from campus in South-Central El Paso — is helping humankind safely delve further into the cosmos.
The site, along with the Technology Research and Innovation Acceleration Park (tRIAC) in Fabens, Texas, and Test Site Bravo in Tornillo, Texas, both located in far east El Paso County, comprise the off-campus locales that support the Aerospace Center's research enterprise. The University established the center in 2009 through a $5 million investment from NASA. The center, formerly known as the NASA MIRO Center for Space Exploration and Technology Research (cSETR), has evolved into one of the most prolific aerospace research and education programs in the nation aimed at training a diverse future aerospace workforce. It received renewal grants of $5 million in 2015 and $1.5 million in 2020 due to the extraordinary progress it has made to support NASA's mission.
"Aerospace is the new frontier," said Vargas, who joined the Aerospace Center's research team in 2021. "It's a field that is always going to grow. There's always going to be something more to learn. I'm super honored to be a part of it. I've grown so much, and UTEP has prepared me to be competitive in the job market and get a job when I graduate.
A New Frontier
Those aspirations were reinforced by a momentous agreement announced during the first week of the fall 2021 semester.
On Aug. 26, 2021, UTEP and The University of Texas at Austin signed agreements with the U.S. Space Force, the newest of the U.S. Armed Forces' six uniformed services, which is dedicated to protecting the country's interests in space. The pact – an umbrella Memorandum of Understanding between The University of Texas System and the Space Force — provides advanced research and workforce development for the newest U.S. military branch.
Space Force Vice Chief of Space Operations Gen. David D. Thompson joined UTEP President Heather Wilson, UT Austin President Jay Hartzell and Archie Holmes Jr., The University of Texas System executive vice chancellor for academic affairs, at the signing event at UTEP.
"At the heart of the Space Force's University Partnership Program is the need to advance our science and technology to build the next generation of space capabilities coupled with the need to develop the workforce of the future," Thompson said. "With a long history of leading aerospace research across the Paso del Norte region and beyond, we're confident we can find such talent here at UTEP, at UT Austin and across the UT System."
The challenges facing the Space Force in protecting unfettered access to space requires a workforce with a deep understanding of the domain, who also possess the creativity, critical thinking and collaborative ability to solve problems, Thompson said. The agreement with UTEP is one way in which the Space Force is building that future workforce.
"The University of Texas at El Paso has been engaged in aerospace research for decades. We are pleased to be able to support the Space Force as they develop the capabilities to protect America's vital national interests in space," President Wilson said. "This agreement further establishes the greater El Paso region as a leader in space flight and aerospace research."
UTEP and UT Austin are two of 11 universities selected to join the Space Force University Partnership Program in fiscal year 2021. The institutions were selected based on four criteria — the quality of STEM degree offerings and space-related research laboratories and initiatives; a robust ROTC program; a diverse student population; and degrees and programming designed to support military, veterans and their families in pursuing higher education.
'The Biggest Strength is Our Students'
While critically significant, the signing is merely a milepost in UTEP's aerospace story.
The journey began in earnest two decades ago when Ahsan Choudhuri, Ph.D., arrived on campus. The associate vice president of UTEP's Aerospace Center came to El Paso in 2001 against the advice of his mentor at the University of Oklahoma, where Choudhuri earned his master's and doctoral degrees in mechanical engineering. Choudhuri concedes that he may have received sound advice. At the time, UTEP boasted no aerospace program, and lacked research spaces and infrastructure.
But there was something about the Sun City that Choudhuri found appealing during his initial visit. The sincere warmth of the people he encountered on campus and in the community overwhelmed him. In El Paso, a city at the opposite end of the world from his native Bangladesh, Choudhuri said he felt uplifted by a populace that made an outsider feel welcomed. In quick fashion after returning to Norman, Oklahoma, he faxed his contract agreement.
"People ask me all the time, 'Why did you pick El Paso?'" Choudhuri said. "I've always told them the same thing — El Paso felt like home. It felt like a community with an immense amount of kindness."
That sentiment carried Choudhuri through most of his first decade at UTEP, which presented daunting challenges to the establishment of an aerospace program. He pushed through impediments, setbacks and cynics, motivated by his students who espoused the same dreams he once had as a young boy amazed by the trials of Jack Ridley, the famed aeronautical engineer who helped the Bell X-1 become the first aircraft to achieve supersonic flight. Choudhuri enrolled at the University of Oklahoma solely because it was Ridley's alma mater.
Choudhuri longed to give UTEP students the same opportunities he had to chase their aerospace dreams. In 2009, he took a significant step toward that goal when a $5 million grant from NASA led to the establishment of the Aerospace Center, then known as cSETR. Since its inception, the Aerospace Center has boasted an extensive roster of students and graduates who credit their participation with the center for their success in the highly competitive aerospace industry, with many claiming positions at high-profile aerospace and defense organizations.
"The biggest strength at UTEP is our students," Choudhuri said. "The reason we are here today, the reason we grew so big, is because of our students, because of the immense talents they provide to our research. You wouldn't believe the qualities, the aspirations they possess. I have had many grants throughout the years, but what really has made life so blessed is the students.
Student Research Opportunities
One of those students is Kevin Valdez. The master's student in electrical engineering relishes the opportunity to apply the knowledge he has gleaned in the classroom as part of the Aerospace Center's satellite tracking operations. Valdez said he develops computer programs that monitor the progress of satellites as they traverse the atmosphere.
He is aided by a UHF/S-Band ground station tracking satellite array that surveys the skies from atop the Spacecraft Design and Engineering Facility. The data Valdez collects provides the basis for the growth of a deeper knowledge base about satellite movements and safety.
This satellite station is the same one that helped the Aerospace Center successfully communicate with its Orbital Factory-2 (OF-2) satellite project in January 2020, a significant feat that underscored UTEP's position as a national leader in technological research and its implementation. The OF-2, which was designed and developed in collaboration with NASA and Lockheed Martin Space to demonstrate on-orbit repair of solar cells using 3D printing technology, pinged a reply to the research team at 8:51 p.m. Jan. 31, 2020, while in orbit 295 miles above the Earth.
"It's a wonderful opportunity to make sense of what I've done in my classes," Valdez said. "To be able to translate data, to document things, it's just great being able to work on what I eventually want to do after I graduate."
Valdez already has parlayed his experience with the Aerospace Center into a NASA internship this fall. He credits UTEP with making him a standout candidate.
"I don't think I would've been able to do what I do here if I had gone to another university," he said.
As it is for Valdez, the notion of conducting novel research sits well with Zachary Oropeza. The senior mechanical engineering major who joined the Aerospace Center research team in June 2021 is enthused by his work that used advanced thermal mining techniques to cull material from simulated lunar regolith. The aim of the project, which Choudhuri leads along with co-principal investigators Amelia Greig, Ph.D., assistant professor of mechanical engineering; Md Mahamudur Rahman, Ph.D., assistant professor of mechanical engineering; and Evgeny Shafirovich, Ph.D., professor of mechanical engineering, is to eventually be able to trap, release and transport water vapor in the south pole mining site of the moon. The $2 million project is one of the six awardees among hundreds of submissions for NASA's inaugural Lunar Surface Technology Research (LuSTR) Program. Greig also was awarded a grant, one of only 15 potentially revolutionary concepts selected in February 2021 for funding by a NASA Innovative Advanced Concepts award, to use arcs of electricity 'lightning' to mine water from the lunar soil.
Being part of such a prolific venture imbues Oropeza with the confidence that he will be able to chase his professional dreams. He hopes to work at a NASA space center after completing a master's degree at UTEP. "It's very cool, first of all, to be able to learn from peers and mentors on a project like this," Oropeza said. "I like to think that UTEP and the Aerospace Center have prepared me to be one of the best candidates when the time comes to enter the workforce."
The Next Step
UTEP is playing a critical role in revolutionizing deep space exploration through projects backed by multiple exclusive and distinguished funding opportunities awarded to the UTEP Aerospace Center that, in turn, expose undergraduate and graduate students to unprecedented research opportunities while working toward their degrees.
Roberto Osegueda, Ph.D., vice president for research at UTEP, said the increased prominence of aerospace research at the University, in terms of grants received and research activity, is attributable to the leadership of the units that conduct work in this field. Faculty members and campus leaders have been successful in securing larger awards from agencies such as NASA, which historically have not been a major funding source for UTEP. That is now changing due in large part to the increased aerospace research conducted at the University.
"The research environment at the University is healthy. We continue to have a lot of outstanding individuals who continue to be motivated to submit proposals, who aspire to secure more grants for their research, and that is very good to see," Osegueda said. "Primarily, that is because we have created a very good culture of celebrating the success of our faculty in grants."
While Choudhuri lauds the Aerospace Center's ability to compete for and attain significant funding awards, he contends that it is made possible through the agility practiced by University leadership when recruiting top-tier faculty members. That responsiveness, combined with a willingness to expedite hiring processes, has helped UTEP land immensely talented faculty members who have already made their impact felt.
"We are on the verge of becoming one of the top aerospace programs nationally," Choudhuri said. "We have recruited so many people, all very successful faculty, and they are all here because of our agility. Success doesn't happen by always making sure people jump through hoops. We are engineers. We push frontiers, we test boundaries. Otherwise, we would never build anything."
That, combined with the contributions of approximately 300 students who are part of the Aerospace Center's research programs, has helped UTEP achieve its vaunted status as a burgeoning aerospace research power. The recent agreement with Space Force is just the latest in a series of successes, and Choudhuri said he expects that prosperous streak to continue.
"UTEP was nobody in aerospace, and now is a player," he said. "It's the hundreds of students and their aspirations. I'm just the person that sells the dream to them. But they help us realize that dream. The journey is not over. There's so much we can do, there's so much we will do."
Vargas, the student who analyzes small, 3D-printed shapes in a simulated space environment, is counting on the Aerospace Center's continued advancements.
"I came to UTEP because of the aerospace opportunities and because it is a great engineering school," she said. "The opportunities I've had to work and listen to other engineers has been incredible. From the time I started till now, I've grown so much. UTEP has prepared me extremely well for the next step."
---