UTEP Honors 2022 Top Ten Seniors
Last Updated on April 08, 2022 at 12:00 AM
Originally published April 08, 2022
By MC Staff
UTEP Marketing and Communications
The Top Ten Seniors Awards are presented annually by The University of Texas at El Paso Alumni Association to a group of outstanding future alumni.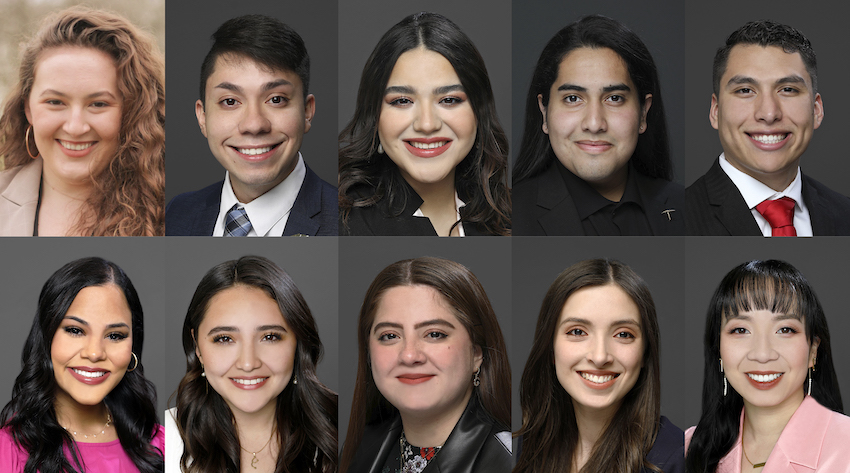 The Top Ten Seniors Awards are presented annually by The University of Texas at El Paso Alumni Association to a group of outstanding future alumni. Top row: Sophia Anastasia Andritsos, Adam Campos, Anahy Yoselin Diaz, Jordan Seth Dominguez, Maximo Sebastian Gamez. Bottom row: Camille Ariana Garcia, Paola Garcia Hernandez, Andrea Cecilia Herrera, Destiny Alejandra Rodriguez de San Miguel, Kaelin Li Walker.
These students were selected based on academic achievement, involvement, leadership, and service on campus and in the community. They have made their mark on the UTEP community and have demonstrated the embodiment of the Miner spirit.
Meet the 2022 Top Ten Seniors:
---
Sophia Anastasia Andritsos
Major: Economics
Future Plans: To attend law school and become an attorney focusing on civil rights.
Sophia Anastasia Andritsos' path to a career in law started at UTEP, where she said her peers have motivated her to work harder. The economics major applies principles of rational decision-making and resource allocation while gaining experience at various campus and civic activities.
UTEP's Law School Preparation Institute provided Andritsos with opportunities for on-campus activities and competitive internships that have helped lay the groundwork for her career preparation. From spearheading initiatives to encouraging voter registration efforts on campus to landing her dream internship at the Department of Justice in Washington, D.C., through the prestigious Archer Fellowship Program, Andritsos' time at UTEP has prepared her to pursue her goal of becoming a civil rights attorney advocating for women's access to equal rights and equal pay.
---
Adam Campos
Major: Biological Sciences
Future Plans:To earn a Doctor of Pharmacy degree and eventually become a specialized clinical pharmacist.
Adam Campos' varied experience gained through hands-on research and student organizations has helped him emerge as a well-rounded future pharmacist. He developed his leadership skills and professional experience through opportunities on campus, including the Medical Professions Organization, the Pre-Pharmacy Organization, and the Texas Tech Double T Medical Honor Society.
Campos hit the ground running as a scientist-in-training in the Freshman Year Research Intensive Sequence, which allows students to learn proper lab techniques and gain an understanding of scientific research alongside faculty, graduate and postdoctoral students. He used this knowledge in a real-world setting when he helped assist pharmacy and nursing students at UTEP's COVID-19 vaccine clinics. His experience at food banks and community volunteering have helped prepare him for a lifetime of service in the pharmacy field.
---
Anahy Yoselin Diaz
Major: Multimedia Journalism
Future Plans: To join the NBC Page Program in New York City and eventually become a producer or on-air talent for a national media outlet.
Anahy Yoselin Diaz entered UTEP as a Terry Scholar, a prestigious statewide scholarship program that awards a full-ride scholarship to outstanding students who demonstrate strong leadership skills. While at UTEP, she fulfilled her potential as she prepared for a career in journalism.  
As a student whose family moved to the United States from Mexico, Diaz applies a bicultural perspective while she tells the stories of those who inhabit the border region. Her skills have earned her placements in local, regional and national media outlets, including the NBC Today Show, and have led to her placement in the storied NBC Page Program in New York City.
---
Jordan Seth Dominguez
Major: Biological Sciences
Future Plans: To study higher education leadership programs or higher education administration in graduate school and work to promote the success of first-generation students.
From the start of his undergraduate journey, Jordan Seth Dominguez demonstrated a devotion to his community through acts of service and helping his peers. He entered UTEP as a recipient of the Terry Foundation Scholarship, a full-ride scholarship awarded to students who demonstrate outstanding leadership skills. The first-generation student gained experience through work as a resident assistant, a peer leader, a Student Engagement and Leadership Center intern, and as a Texas Civic Ambassador. He made the dean's list every semester and was awarded the Houston Endowment Leadership Scholarship.
Through his experience working on campus, he was introduced to the possibility of a career in higher education. Dominguez enhanced many professional skills such as crisis management, conflict resolution, and advocacy working in these positions and with the Student Government Association. He hopes to take this knowledge and apply it to a career path that promotes the success of other first-generation college students.
---
Maximo Sebastian Gamez
Major: Engineering Innovation and Leadership
Future Plans: To continue working at a local startup, then create his own eventually becoming a venture capital investor and bringing opportunities to the border region.
As a first-generation college student whose first language was not English, Maximo Sebastian Gamez found himself surrounded by a support system that helped him adapt to college life when he entered UTEP. While earning his degree, he joined engineering student organizations that helped him gain knowledge and connect with fellow students.  
The momentum fueled by knowledge and confidence gained through class projects and conversations with established leaders led Gamez to join a startup. With his ability to create and build connections, he hopes to one day make entrepreneurship opportunities more attainable to aspiring Hispanic innovators in the region.
---
Camille Ariana Garcia
Major: Biological Sciences with a Biomedical Science concentration
Future Plans: To attend medical school and become a physician committed to serving the needs of underserved communities.
A native of Puerto Rico who moved to El Paso when she was a young girl, Camille Ariana Garcia said that the city's welcoming community spirit was also felt at UTEP. When COVID-19 hit the region, she became part of a strong Miner community that met the challenges of the time, especially as a premedical student.  
With the pandemic as a backdrop, Garcia co-founded the Minority Association of Premedical Students, or MAPS, which provides professional development opportunities for aspiring medical students. She was motivated to excel in rigorous STEM courses and balance commitments, including her role as a general chemistry peer leader. She hopes to one day join the medical field and serve the health care needs of underserved communities.
---
Paola Garcia Hernandez
Major: Biological Sciences, Minors in Mathematics, Music
Future Plans: To attend Baylor College of Medicine and pursue a career in medicine.
As a young El Pasoan, Paola Garcia Hernandez experienced what UTEP offers the El Paso community through various summer camps and public events. When she started her college years as a Miner, she stayed on that track by taking full advantage of an array of research, academic and volunteer opportunities that enriched her undergraduate experience. She started her research as a freshman, eventually participating in UTEP's BUILDing SCHOLARS Program and researching pediatric leukemia.  
Garcia Hernandez built her leadership skills as a peer leader and volunteered in key UTEP efforts including Orange and Blue Day and the campus COVID-19 vaccine clinic. She gained early acceptance to medical school, and interned at Texas Tech University Health Sciences Center in Lubbock and The University of Texas Southwestern Medical School. While working toward a career in medicine, she excelled as a UTEP music student, joining master classes with world renowned musicians and performing with the El Paso Symphony Orchestra.
---
Andrea Cecilia Herrera
Major: English and American Literature, Minor in Communication Studies
Future Plans: To earn a master's in Educational Administration concentrating in Higher Education and continue working to give back to the UTEP community.
At UTEP, Andrea Cecilia Herrera found an environment that allowed her to learn and grow. The Mexico native and honors student flourished as an English and American Literature student, earning the Outstanding English Department Graduate Award and graduating from her undergraduate degree Summa Cum Laude. She balanced studies and her on-campus jobs in Housing and Residence Life and the Dean of Students office, and gained the full campus experience through the Student Engagement and Leadership Center and Spirit Operations.  
Herrera earned UTEP's inaugural Hawkins Scholarship, which awards $10,000 to students who demonstrate outstanding intellect, character, service and leadership skills. Her commitment to her academics and fellow students was honored by UTEP during the Fall 2021 Commencement when she served as the University banner bearer.
---
Destiny Alejandra Rodriguez de San Miguel
Major: Accounting and Finance
Future Plans: To work as an investment banking analyst on Wall Street.
Destiny Alejandra Rodriguez de San Miguel started working as a biliteracy tutor in her second semester, and she credits this job for building her communication and leadership skills. These valuable attributes helped her secure the prestigious Gilman scholarship, Honors Houston Endowment scholarship, and the Houston Professional and Leadership Development scholarship.  
After returning from a semester abroad in France, Rodriguez immersed herself in student organizations relating to her accounting and finance majors, which helped her take part in four internships, including a summer analyst position at J.P. Morgan in New York. She built on this momentum, returning to UTEP for her final year to co-found the Finance and Investment Club, a new student organization intended to prepare students to secure positions on Wall Street.
---
Kaelin Li Walker
Major: Women's and Gender Studies, Dance
Future Plans: To earn a master's of public policy at University of Minnesota and to become an advocate for women, LGBTQ+ community, people of color in a political and legislative capacity.
Despite the challenging academic environment of a global pandemic, Kaelin Li Walker utilized and built her communication skills as she worked as a UNIV 1301 peer leader, guiding students as they took on new challenges. While studying dance as well as women's and gender studies, the honors student was a Student Government Association Senator at Large, a Houston Endowment Scholar, and was recognized by the Student Engagement Leadership Center with the Distinguished Leader Award.  
Walker's academic path also helped her gain leadership skills and convey complex ideas through dance. She grew as a leader directing a team for her capstone dance production, which focused on the role of gender and race in society. She hopes to continue raising awareness of important issues and grow as an advocate.
---