Smoking Alternatives Concern UTEP Researchers
Last Updated on February 13, 2019 at 12:00 AM
Originally published February 13, 2019
By Laura L. Acosta
UTEP Communications
Since electronic cigarettes, or e-cigarettes, first came on the market in 2007, tobacco manufacturers have been touting their vaping products as a safe alternative to traditional cigarettes.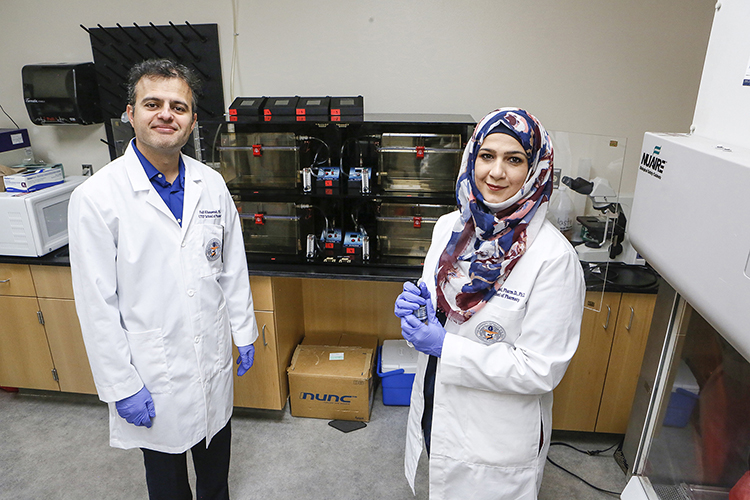 Fadi Khasawneh, B.Pharm., Ph.D, and Fatima Z. Alshbool, Pharm.D., Ph.D., are married researchers in UTEP's School of Pharmacy who specialize in thirdhand smoke and vaping. Photo: J.R. Hernandez/UTEP Communications.
Rather than producing tobacco smoke, e-cigarettes heat e-liquid, or vape juice, into an aerosol containing nicotine, flavorings and other substances that users inhale or vape.
Although e-cigarettes do not contain as many toxins as conventional cigarettes, vaping is not risk free. More than 10 million adults in the United States use e-cigarettes.
Researchers at The University of Texas at El Paso's School of Pharmacy warn that e-cigarettes can potentially lead to serious heart trouble. 
"We all know cardiovascular disease is the number one killer in the U.S. and that smoking is bad for cardiovascular health," said Fatima Z. Alshbool, Pharm.D., Ph.D., assistant professor of pharmacology.
Alshbool was the principal investigator on an American Heart Association study that found that vaping caused blood clots in mice. She collaborated with Fadi Khasawneh, B.Pharm., Ph.D, associate professor and chair of pharmaceutical sciences, on the 2018 study.
"People looking for a way to quit smoking think e-cigarettes might be safer than regular cigarettes," Alshbool said. "They think e-cigarettes are emission free, but research shows that e-cigarettes emit a considerable number of toxicants."
Since they married in 2008, Alshbool and Khasawneh extended their commitment to each other to their research. They want to raise awareness about heart disease through their research. The couple joined UTEP in 2016.
Both researchers grew up in the Middle East where smoking was commonplace in restaurants, shops and in their homes. Each lost relatives to smoking-related illnesses, which ignited their mutual interest in heart health.   
"I have family members who developed strokes and heart attacks," Alshbool said.
Just like in their personal relationship, Alshbool and Khasawneh each contribute their own perspectives and talents to enhance their scientific collaborations.
Although their focus is on cardiovascular disease and safety, they each specialize in different areas: Alshbool's research is on the health effects of e-cigarette vapor, and Khasawneh is studying the impact of thirdhand smoke, which is the residue from tobacco smoke.
They said they hope their studies will lead to new drug therapies that can manage certain forms of cardiovascular disease such as thrombosis, or blood clots.  
"We're hoping to educate the public and to influence policy, and also to come up with better therapies to target tobacco dependent thrombotic disorders," Khasawneh said.
Of particular interest is how environmental factors such as vaping and thirdhand smoke affect platelet function.
Platelets are blood cells in plasma that help the body form clots to stop bleeding. Some conditions cause platelets to be hyperactive, resulting in the formation of blood clots and increasing the risk of developing a heart attack or stroke.
Alshbool's study found that the platelets in mice exposed to e-cigarette vapors over five days became hyperactive, causing blood clots to form.
While the study raised concerns about the risk of e-cigarette use in humans, Alshbool stressed that researchers must do more studies to understand better the health consequences of vaping, especially in teenagers whose developing brains are sensitive to the negative effects of nicotine.
"We don't know if vaping is more harmful or less harmful than smoking, but at least now we know it's not safe," Alshbool said. She is in the preliminary stage of translating the study to humans.
In 2015, Alshbool and Khasawneh were among the first group of researchers to demonstrate that thirdhand smoke could cause blood clots.
Thirdhand smoke is the chemical residue left on surfaces where smoking has occurred, such as floors, furniture and clothes. It is particularly harmful for children who inhale or ingest the residue as they crawl on carpets or play on furniture.  
"The chemical aging process that tobacco toxicants undergo makes thirdhand smoke more toxic," Khasawneh said. "These particles can stay in the environment for months or years and even in your blood system for months and years. Markers for tobacco or smoking are being detected in the blood of individuals who never smoked or were never in close proximity to someone who smoked."
In August 2018, the National Institute of Environmental Health Sciences awarded Khasawneh a $415,250 grant to examine the effects of thirdhand smoke on the cardiovascular health of children in utero. Alshbool will be his co-principal investigator.
The couple also will continue their work on an American Heart Association grant Khasawneh received in July 2018 to investigate new therapies to treat strokes and heart attacks caused by a protein inside blood cell platelets.
Alshbool said she hopes that their research will lead people to think twice before lighting up. She is especially concerned about teenagers who vape and the possibility that vaping could lead them to smoking. The Centers for Disease Control and Prevention reports that use of e-cigarettes by high school students skyrocketed 78 percent from 2017 to 2018.
"With e-cigarettes, we run into two issues," Alshbool said. "One is the dual use. Some people use e-cigarettes and they still smoke. The other issue is with the teenagers who have never smoked before. You create a new generation of tobacco users."