UTEP Artists Lend a Hand to Thank COVID-19 Caregivers
Last Updated on November 14, 2020 at 11:00 AM
Originally published November 14, 2020
By Daniel Perez
UTEP Communications
Students, faculty and alumni from The University of Texas at El Paso were part of an international art effort to honor health care workers who risk their lives daily in service of COVID-19 patients.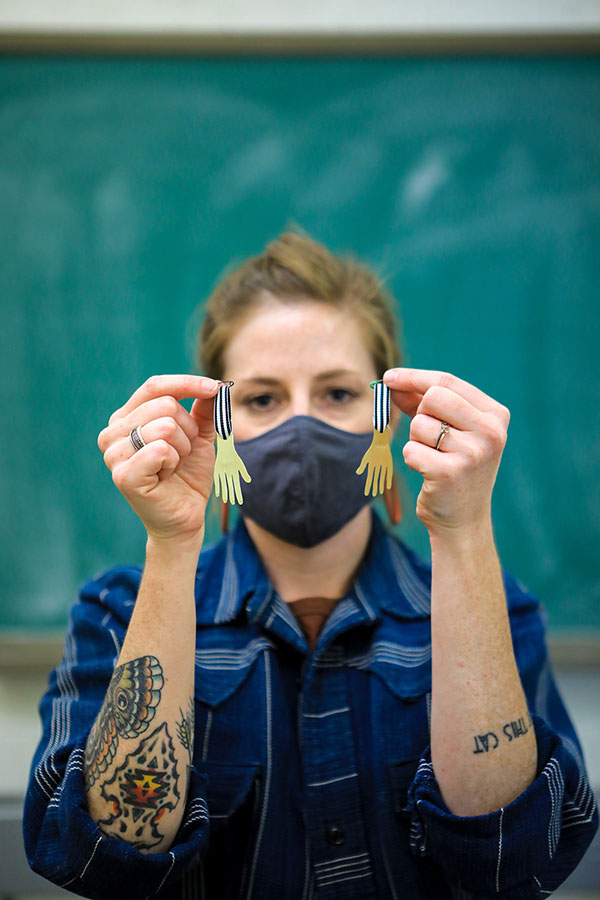 Jess Tolbert, assistant professor of art at The University of Texas at El Paso and head of the art department's jewelry and metals program, leads the region's efforts in the Hand Medal Project, a collaboration of more than 3,000 artists from 66 countries to honor health care workers who risk their lives daily in service to COVID-19 patients. Photo: JR Hernandez / UTEP Communications
The Hand Medal Project, a collaboration of more than 3,000 artists from 66 countries, produced approximately 70,000 "hand" medals from April through October 2020. UTEP-affiliated artists produced 314 of the medals, a hand-shaped piece of sheet metal about 2 inches long, 1 inch wide and 3/64-of-an-inch thick. Each is connected to a thin cloth ribbon and safety pin to allow the medical professional to wear it.  
Organizers around the world began to deliver the "thank you" mementos Nov. 8, 2020. The El Paso region "hand keeper," the person responsible for medal collection, quality control and distribution, was Jess Tolbert, assistant professor of art at UTEP and head of the art department's jewelry and metals program.
Tolbert gave a cardboard box filled with medals, each tucked inside a small, colored and sealed envelope, to Cristy Rodriguez, an intensive care nurse at El Paso's Del Sol Medical Center. Rodriguez's unit assists critical coronavirus patients.
The health care worker, who earned her bachelor's degree in nursing from UTEP in 2019, met Tolbert a few years ago through art student friends. It was through them that she learned how art could be therapeutic to patients and health care workers. The nurse agreed to the professor's request to deliver the medals and share the story behind them with her peers during pre-shift huddles.
Rodriguez said this selfless effort by artists took the edge off this overwhelming virus. She said the pandemic has left many medical professionals burned out, frustrated and feeling underappreciated, but they remain resilient and ready to love, care and advocate for their patients.
"This has been the highlight of people's day," Rodriguez said after the initial distribution. "Nurses are overwhelmed by this act of kindness and token of appreciation. I was thrilled to be part of this project and see the influence of art in the health care system."
Tolbert said she learned about the project through social media around the same time as the pandemic began its march across the United States. The professor, who herself created 11 of the medals, thought it would be a worthwhile project for her fall 2020 "Introduction to Metals" course where students learn metalsmithing basics. She explained the project to her 16 students in August and gave each participant instructions along with a 4-inch-by 2-inch sheet of brass, which is enough for four medals.  
The UTEP professor said her students were excited to be part of something bigger than themselves. Some asked to keep one or two of the medals they created to give to family members who are health care workers who treat COVID-19 patients.
"These medals were a lot of work, but there was a lot of satisfaction," said Tolbert, who added that she hoped the medals would make a difference in the lives of medical professionals who received them. "We only can imagine what they go through. We want them to know that we're thinking of them."
One of the UTEP students involved in the project was Brian Holt, a senior art major whose wife is a full-time home health care nurse who has worked more hours because of the pandemic. He gave her one of the four medals he prepared.
Holt, an Ohio native who served in an Army infantry unit for 10 years to include three tours in Iraq and one in Afghanistan, used material from a military bag as ribbons for his medals. It was his personal tribute to the medical professionals who share some of the same Army values he cherishes such as duty and personal courage.
"As a veteran, I understand the sacrifices and selfless service these health care workers are enduring and it feels amazing to offer them this small token of gratitude for all their hard work and dedication to the well-being and betterment of others," said Holt, who plans to become an art educator.
While most medals were made uniformly to include marks for fingernails, there may be slight differences in the materials or methods utilized. Some artists used steel, copper, silver or aluminum. Tolbert said she saw some medals that were accessorized with an embossed ring on a finger or a bracelet on a wrist. Some were treated for color or texture. Organizers stressed that each medal should be simple, but treated as a piece of quality art to express the level of gratitude for the recipients.
The project's founders, internationally known metalsmith artists and frequent collaborators Jimena Ríos of Argentina and Iris Eichenberg of the United States, said they appreciated Tolbert's "kind and spontaneous" offer to help with this project.
"(Tolbert) is one of the powerhouses the field needs, and I observe many women of her generation taking on the role of leaders and initiators," said Eichenberg, who was familiar with UTEP because a former student of hers is from the area and told her about the region and its demographics.
Eichenberg, head of metalsmithing at Cranbrook Academy of Art in Bloomfield, Michigan, said she and Ríos decided to focus on the hand as a medal because it signified the part of the body that was washed, sanitized and gloved as a tool to heal.
Organizers said they hoped that the recipients would wear their medals as a symbol of how they are appreciated. Tolbert said she stressed similar concepts of the impact and functionality of jewelry to her students.
"These (hand medals) were going to go to somebody who could put it on their scrubs and be recognized for something," Tolbert said. "What students are learning is not just about the skills involved with making, but about the impact the things we wear have. These little hands have a lot of meaning."
---