UTEP Expands Efforts to Support First-Generation Student Success
Last Updated on April 16, 2021 at 12:00 AM
Originally published April 16, 2021
By Darlene Barajas
UTEP Communications
The University of Texas at El Paso is expanding its efforts to support the success of first-generation (FirstGen) college students by incorporating a holistic approach.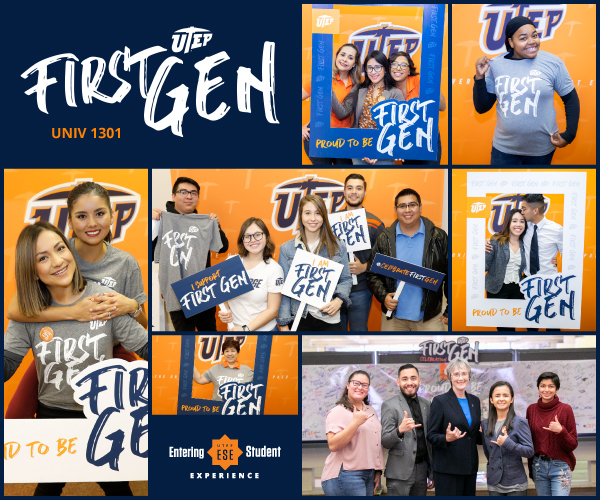 The University of Texas at El Paso is expanding its efforts to support the success of first-generation students through a collaboration between the Entering Student Experience (ESE) unit, the Division of Student Affairs (SA), and the Student Engagement and Leadership Center (SELC).
Courses and activities for first-generation students will be focused on engagement, belonging, agency, academic success, and professional preparation, and will help guide students from the beginning of their college career through its completion. 
The initiatives focus on celebrating student success by fostering students' diverse backgrounds, strengths, and skillsets.
"We at UTEP and our colleagues across the nation have much to learn from our FirstGen students," said John Wiebe, Ph.D., provost and vice president for academic affairs. "They bring with them a complex set of assets and challenges. They come to us with big aspirations, and it's our job to help them succeed. Their success is key to the success of UTEP, the success of our region, and the social mobility of our culture."
UTEP's Entering Student Experience (ESE) unit, the Division of Student Affairs, and the Student Engagement and Leadership Center (SELC) are collaborating to provide this unique opportunity for UTEP's first-generation students. The holistic approach focuses on preparing students to meet any challenges they may face in life and in their academic career and aims to create "whole" individuals who are well balanced in their outlook on life and their personal understanding of themselves in relation to the world.
At the forefront of this effort are faculty and staff under the leadership of Denise Lujan, ESE director. Lujan said UTEP's first-generation students have a unique opportunity because of the partnership between her unit, Student Affairs and the SELC. 
"We have a core working group focused on providing holistic support for our first-generation students," Lujan said. "We have a team focused on helping us deliver a mentoring program to first-generation students and conduct outreach to high schools. It is an exciting time. By partnering with others across campus, we can provide wrap-around services that extend outside of the classroom. I look forward to growing our partnership to include working with other student populations. Together, we are putting students and their success first."
The mission of the ESE program is to provide an inclusive and engaged learning environment to support students from diverse backgrounds to successfully transition to the University, said Virginia Fraire, Ph.D., vice provost for student success and strategic initiatives.
Current initiatives are geared toward boosting retention rates by working closely with students. They include:
A first-generation course — UNIV 1301 — designed to prepare students for internships, employment, undergraduate research and community-engaged learning experiences.
Summer bridge programs offered to entering students, freshmen and sophomores targeted to help students continue their momentum between those years.
Wraparound services including tutoring, advising, coaching and mentoring to help students successfully complete their courses.
First-generation peer leaders, instructors, mentors, advisors and alumni who will be accessible to students as part of the mentorship program.
Support to develop writing, communication and critical thinking skills through a variety of methods.
The first-generation program aims to work with students through their first 45 semester credit hours and improve student retention. Data indicates that among students who enroll at UTEP for the first time as freshmen, those who earn 45 or more semester credit hours within two years are 80% more likely to graduate within six years than other students who enrolled at the same time.
"This collaboration allows us to develop and offer a wide variety of services, engagement opportunities and initiatives that support this philosophy," said Nicole Aguilar, director of the Student Engagement and Leadership Center and a UNIV 1301 instructor. "Initiatives like this are a reflection of our commitment to finding innovative ways to advance student success." 
Aaron Campbell, an ESE lecturer who teaches UNIV 1301, said the overriding goal of the course is building awareness and perspective.
"As first-generation students ourselves, the instructional team prioritizes identifying road blocks that may be unique to first generation student populations and working to remove those road blocks," Campbell said. "Students learn from shared experiences and mentorship. The course is also geared to build campus networks and support systems to better help first generation students transition to, and anchor themselves at, the University."
Ivan Jimenez, a freshman currently studying to receive a Bachelor of Science in Nursing, said the transition from high school to a university is terrifying and can feel lonely. But, he said, being a part of the FirstGen program reminds him that there will always be people willing to lend a hand and offer support.
"The greatest benefit of the first-generation program is the connection to resources on campus and the lifelong bonds built with peers and faculty," Jimenez said. "This program has been impactful to my start at UTEP and I strongly recommend this program to incoming FirstGen students, so they can also have similar or better experiences."
In March 2020, UTEP was named to the 2020-21 cohort of First-Gen Forward Institutions by the Center for First-Generation Student Success. The First-Gen Forward designation recognizes institutions of higher education that have demonstrated a commitment to improving experiences and advancing outcomes of first-generation college students. Selected institutions receive professional development, community-building experiences, and a first look at the center's research and resources.
To learn more about the Entering Student Experience program, contact esp@utep.edu or visit www.utep.edu/esp/students.
---