UTEP Health Care Students Learn to Work Together Online During Pandemic
Last Updated on November 09, 2020 at 12:00 PM
Originally published November 09, 2020
By Laura L. Acosta
UTEP Communications
When Heather Ramirez, a speech-language pathology graduate student at The University of Texas at El Paso, participated in her first Interprofessional Education (IPE) experience in 2019, she worked alongside other health professions students on a treatment plan for a transgender female who had suffered a stroke.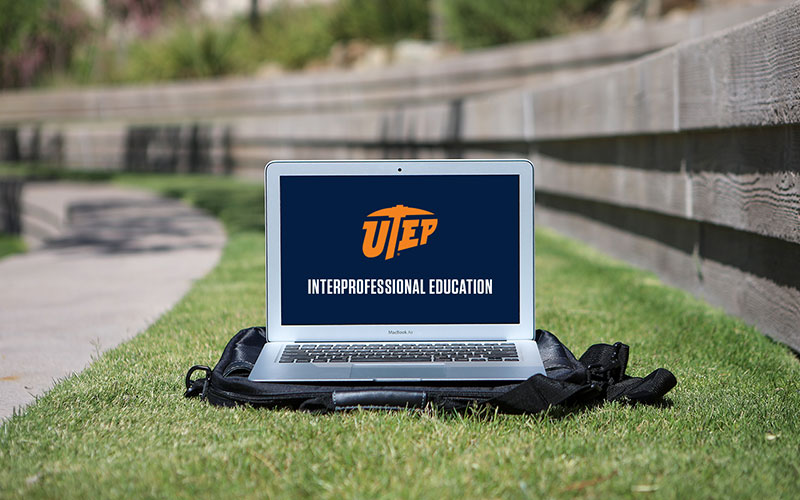 Three hundred and fifty UTEP health care students and medical students from Texas Tech University Health Sciences Center (TTUHSC) El Paso Paul L. Foster School of Medicine participated in UTEP's first virtual Interprofessional Education experience in October 2020.
That event was the first time Ramirez experienced working with students from several disciplines outside speech-language pathology. Ramirez enjoyed the activity so much that she looked forward to the IPE experience that UTEP planned for the following year.
But the coronavirus outbreak upended UTEP's plan to organize another in-person IPE activity in 2020. Under normal circumstances, hundreds of health professions students would meet at the University or at a nearby facility. Instead, UTEP faculty members searched for a solution that would bring students safely together during the pandemic to work interprofessionally with one another.  
"Although we could not meet to do the event in person, we met online and had a larger impact because we were able to demonstrate to students the future of virtual health care," said Jacob Martinez, Ph.D., UTEP School of Nursing assistant professor. "The reality of health care today is that it is ever changing and it demands that we as providers be adaptive and flexible."
Organizers turned to Zoom, a web-based video conferencing tool, to host UTEP's first virtual IPE experience on Oct. 16, 2020.
"Regardless of the IPE being face to face or virtual, it is a great (opportunity) to get us to collaborate with the other disciplines," Ramirez said. "Although I do miss being face to face, I appreciate the faculty's efforts to try to keep us safe."
Learning to Work Outside of Silos
Since 2017, nearly 1,800 UTEP health care students and medical students from Texas Tech University Health Sciences Center (TTUHSC) El Paso Paul L. Foster School of Medicine have engaged in IPE experiences developed by the Health-Focused Interprofessional Education Community of Practice at UTEP. The group consists of faculty from the College of Health Sciences and the schools of Nursing and Pharmacy.
During the IPE experience, students from different health disciplines work collaboratively to address the health care needs of an imaginary patient from a vulnerable population. They discuss their roles, learn from each other, and work synergistically to determine the best care possible for the patient. Students learn to work as an interprofessional team and apply this knowledge to their future practice.
According to Patricia Lara, Ph.D., speech-language pathology clinical associate professor, UTEP and the medical school are part of a statewide effort led by the Texas IPE Consortium to involve health care students in interprofessional education before they go out and practice in the real world.
"We know from research that when you train health care students in interprofessional education that the patients they serve will have better health outcomes," Lara said.
October's virtual event included 350 students from nursing, occupational therapy, pharmacy, physical therapy, rehabilitation counseling, social work, speech-language pathology and the medical school. Technical support for the event was funded through the College of Health Sciences Charles H. and Shirley T. Leavell Faculty Fellow in Interprofessional Education.
After a short introduction, small groups of students split off into breakout rooms on Zoom where they discussed a case study involving Joe Martinez, a 59-year-old man experiencing homelessness, who was struck by a car.
A physical exam revealed that Martinez, a fictional patient, had a traumatic brain injury, bipolar disorder and Type 2 diabetes, all of which required attention from different health care professionals.
Pharmacy major Beshoy Saied collaborated with occupational therapy, nursing and medical students on Martinez's plan of care. Saied's role was to manage Martinez's medications. He said the experience helped him to appreciate how important it was to communicate openly with other team members in order to provide effective patient care.
"It will make me a better provider because I will always want to communicate with the other disciplines to provide the best patient care and enhance patient outcomes," Saied said.
Connecting with Patients in a COVID-19 World
The virtual experience also created opportunities for students to learn about telehealth, a telecommunication system that connects health care providers with patients in remote areas or in lockdown during the pandemic. Health care teams also use telehealth to participate in grand rounds or to discuss patient care online, Lara said.  
A week after the IPE exercise, the College of Health Sciences' Department of Rehabilitation Sciences hosted its first virtual interdisciplinary simulation exercise with support from the Leavell Fellowship in Interprofessional Education.
Eighty-four occupational therapy, physical therapy and speech-language pathology majors worked with medical interpreters to evaluate a simulated Spanish-speaking patient with an acute stroke.
Kristin Moreno, a physical therapy student, assessed the patient's range of motion via Zoom. Through the interpreter, she instructed the patient to do motions such as lifting her arms and standing, and asked if she was having difficulty with her balance.
"If we were in person, I would have pushed on her arms and legs to assess her strength and gauge how weak the right side of her body was," Moreno said. Since that was not possible, Moreno demonstrated movements online and relied on the interpreter to translate her questions into Spanish in order to evaluate the patient.
"We really had to work together to figure out how to test the patient without being there to assess her in person," Moreno said. "Now that we're in a COVID-19 world, telehealth is such a big part of health care. It's so important to learn those skills."
For the past six years, the IPE interpreter-use exercise has taken place in person in UTEP's Center for Simulation, where students role-play with simulated interpreters in a realistic clinical setting with real hospital equipment. This was the first year that rehab sciences students interacted with real medical interpreters, which added to the authenticity of the training. Students from UTEP's Translation and Interpreting Studies program also participated in the activity.  
While the exercise did not exactly mirror the telehealth experience, Celia Pechak, Ph.D., physical therapy associate professor, said that students were still able to get some sense of what telehealth visits might look like.
Pechak said she still prefers in-person IPE events because most health care practice happens when providers and patients are face to face. But she said that she and her colleagues have learned that IPE experiences can continue in a meaningful and effective way in an online environment.
"I am confident that we can continue to do online IPE events until circumstances allow us to return to large group gatherings," Pechak said. "It has been rewarding to see how students and faculty can adapt and thrive despite the challenges of the pandemic!"
---