About the MAKERSPACE and Its Mission
Located in room #201 of the Education Building, the College of Education MAKERSPACE is a wonder-driven learning environment where people come together to use their hands and minds to frolic, tinker, explore, create, invent, and discover.  It is founded on the guiding principle articulated by Albert Einstein that: "Play is the highest form of research."  This holds true for the young children who come to the MAKERSPACE to engage in hands-on, creative problem-solving, as well as the adults who visit to explore and design transmedia-based ways of teaching and learning.  More than just a physical place, the MAKERSPACE represents a collective mindset that celebrates humans as naturally being life-long builders and tool users, who learn best by creative doing.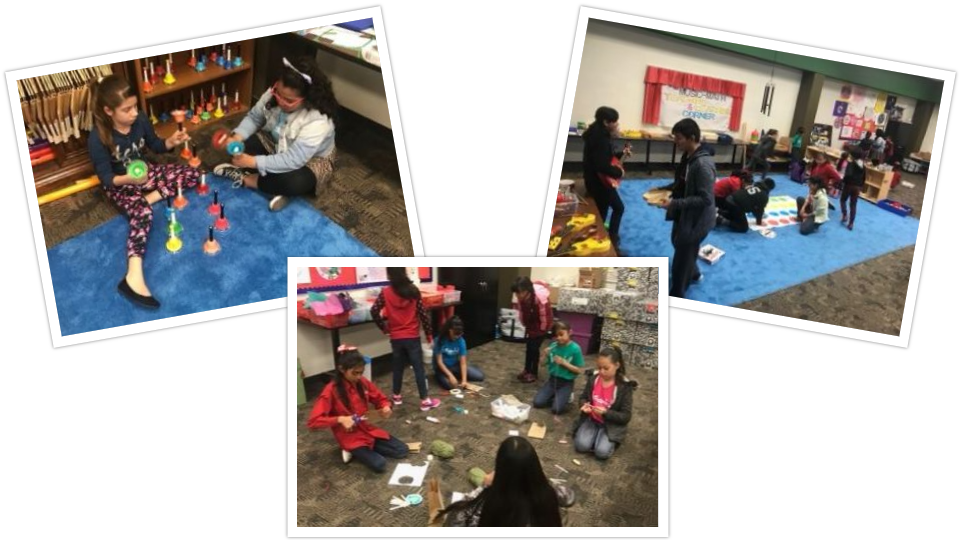 Students exploring in the College of Education MAKERSPACE.
Moreover, the MAKERSPACE is a dedicated place within the College of Education where UTEP faculty, College of Education students, and children and adults from the community who have shared interests, especially in the education of young children (birth to age 8) and in STEM (science, technology, engineering, and mathematics) education from birth through middle school, can gather to work on projects while sharing ideas, equipment and knowledge.  It is a laboratory devoted to research, teaching, and professional development and preparation aimed at increasing the number of Hispanics and other underserved community members who successfully enter into the field of Early Childhood Education and the STEM professions, with a particular emphasis on exploring the nexus between Early Childhood and STEM education. The laboratory component of the MAKERSPACE aims to develop programs and curricula initiatives in diverse educational contexts—including classrooms, after-school programs, summer camps—which can stimulate interest and assist in educating bilingual students from infancy to 6th grade in STEM disciplines; research originating out of the MAKERSPACE also aims to capitalize on the rich cultural assets of the borderland to promote optimal development in 21st century skills, such as collaboration and teamwork, creativity and imagination, critical reasoning and hands-on problem solving.  Further, it serves to train and nurture current and future Early Childhood and STEM educators as researchers and advocates of early STEM education.
The MAKERSPACE, therefore, supports the mission put forth by President Natalicio of making The University of Texas at El Paso a quality higher education provider to a diverse student population.  It also serves as an embodiment of the vision of the College of Education of meeting the need for research linking teaching and learning to the critical challenges of education in the 21st century. 

UTEP faculty members involved in supporting the MAKERSPACE are, from left:
Co-Director, Daniel A. Tillman, Ph.D., Assistant Professor of Educational Technology;
Co-Director, Song A. An, Ph.D., Assistant Professor of Mathematics Education;
Co-Director, Alyse C. Hachey, Ph.D., Associate Professor of Early Childhood Education;
So Jung Kim, Ph.D., Assistant Professor of Early Childhood Education;
Josefina V. Tinajero, Ed.D., Professor of Bilingual Education;
Jessica Slade, Early Childhood Education Instructor.