Professional Development Course Gives UTEP Faculty Teaching Edge
Last Updated on March 28, 2019 at 12:00 AM
Originally published March 28, 2019
By Christina Rodriguez
UTEP Communications
Faculty at The University of Texas at El Paso have found that the key to student success is their own lifelong learning. As a result, many UTEP instructors have continued to strengthen their teaching and practice through professional development.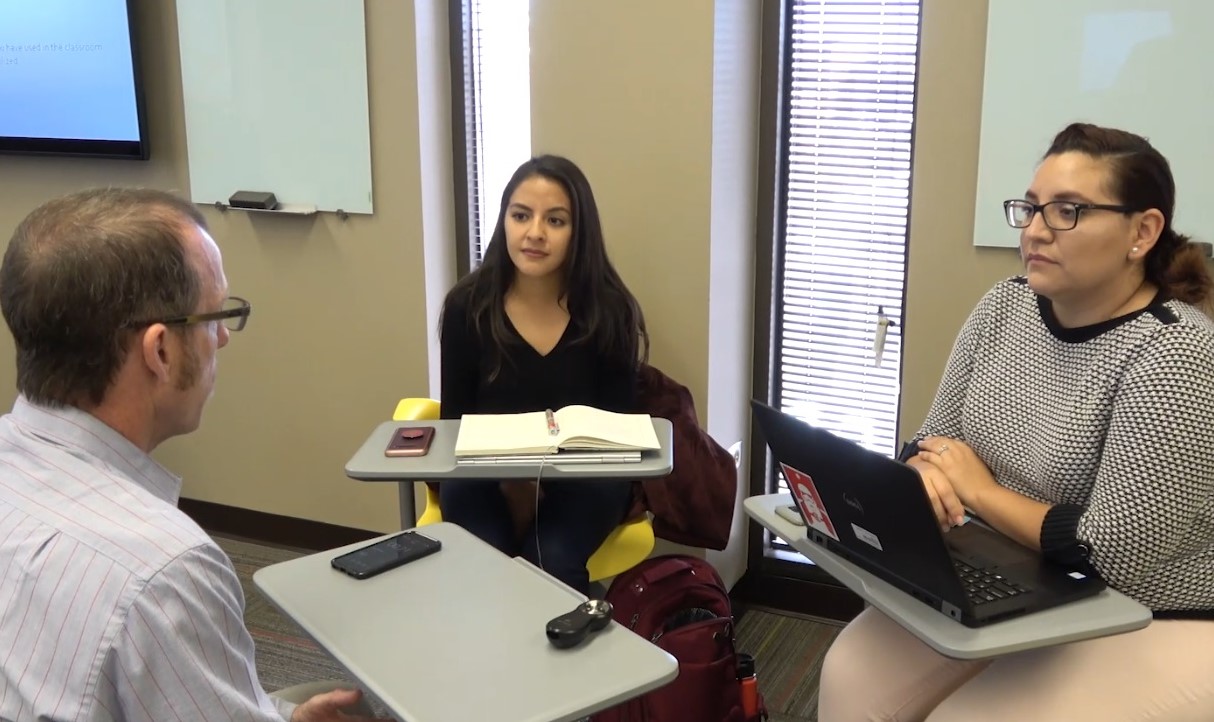 The ACUE Course in Effective Teaching Practices led by UTEP's Center for Faculty Leadership and Development is a free yearlong professional development opportunity for UTEP faculty geared to enhance instructional skills proven best to promote student motivation, learning and persistence.
During fall 2018, UTEP's Center for Faculty Leadership and Development (CFLD) collaborated with the Association of College and University Educators (ACUE) to offer 30 faculty members a free yearlong program geared to enhance instructional skills proven best to promote student motivation, learning and persistence.
The ACUE based its Course in Effective Teaching Practices on more than three decades of research that showed how effective teaching improves student learning. UTEP's CFLD led the faculty cohort in 25 learning modules and mentored them in how to use their new skills.
Organizers designed the course to complement the University's robust faculty development programming. According to Marc Cox, Ph.D., CFLD director, participation is an excellent opportunity for faculty because they learn new pedagogical approaches and ways to engage students in the classroom, and they can earn a nationally recognized Certificate in Effective College Instruction that is co-endorsed by ACUE and the American Council on Education.
UTEP geared its ACUE program toward faculty who teach core curriculum courses to the University's first-year students in response to studies that showed how students, especially first-time, full-time freshmen, perform in their first college semester. Those results often are a major indicator of retention and future performance.
"The better-quality instruction and the more engaging instructors we have for our students within their first year is going to have a much broader impact on student retention," Cox said.
Participation in the University's ACUE course was an impactful and meaningful experience, said UTEP developmental math instructor Marsha Cardenas, who kept a notebook of methods she learned. She discussed them with her director and they plan to implement several of the ideas into their syllabi as well as teach the strategies to the program's other faculty members.
"I love the way the course provides the theory as well as the practice," Cardenas shared. "I think all of us have a notion about what best practices are but sometimes struggle with what that should look like in our classrooms. Having the opportunity to watch others talk about what we should be doing and then being the 'fly on the wall' watching the reenactments is particularly helpful to me. It has been a powerful and practical refresher course for me and I have learned several new strategies."   
Monica Martinez is a lecturer for UTEP's Entering Student Program and has taught college-level courses since 2013. Motivated by her students' desire to better their lives through education, she decided to continue her professional development through the ACUE course to become a better teacher. Martinez said the program took her teaching to another level.
"To put it simply, ACUE's course has made me a better instructor," Martinez said. "We all witness those 'aha' moments when our students understand a concept we are trying to teach. With the techniques I learned through this course, those moments are more regular."
Since starting the CFLD in 2016, Cox said he learned that busy faculty members find it difficult to make time for professional development.
"The best way to do professional development for faculty is to find ways to deliver it to them in bite-size chunks that takes them minimal time and effort to apply and implement," Cox explained. "I think this ACUE course does that very effectively."
The course consists of weekly online modules that focus on various pedagogy along with videos and discussions. From each module, instructors can select a method to implement in their classrooms that week. At the end of the week, they reflect on how the approach went and what they might do differently next time.
"Most things they are learning are effortless to try in the classroom," Cox said. "After doing this weekly for an academic year, they learn a lot of new techniques and that is changing them as instructors. In the long run, this is going to lead to huge impacts on the quality of instruction on campus but will also increase student engagement since most of the practices they are taught are active learning based that increase student engagement in the classroom."
Laird R. Smith, a lecturer with UTEP's College of Business Administration, was eager to try one of the techniques he learned through the ACUE course called the fishbowl technique. He called upon four students to lead a conversation about the decision by the United Kingdom to exit the European Union and encourage the other students to participate.
Smith found that most of the students actively contributed, and their written summaries showed they grasped the key aspects and concerns. After class, several students went out of their way to tell him how much they enjoyed the activity. 
"The combination of their output and enthusiasm is clear evidence to me that these techniques work," Smith shared. "The ACUE course has taught me how to effectively teach, and how students best learn. I have realized I can lecture less yet still cover the essential course material; I have learned techniques that help me provide an effective environment for learning. I was pleased to find that the students take more responsibility for their learning."
Cox said the results from the first faculty cohort are promising for instructors and students. The next course will begin in fall 2019. He will release a call for applications in April 2019. Cox encouraged faculty to take advantage of the opportunity to enhance their knowledge and skills as they enrich the classroom experience for students.
"We are all lifelong learners, and as educators and scholars we are obligated to continually improve for the benefit of our students," Cox said. "There is always room for improvement, and even the best teachers on campus can learn new pedagogical approaches that increase student engagement."