Upskilling/Reskilling Our Workforce Through the AAS to BAAS Online at UTEP with the APLU Grant
APLU Grant Goals and Efforts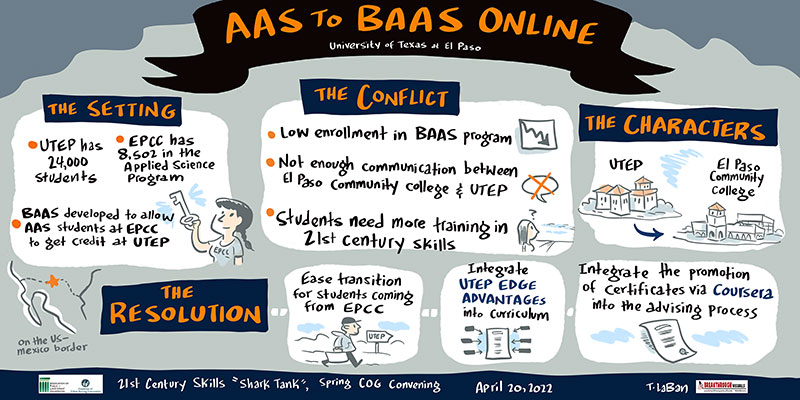 The University of Texas at El Paso is partnering with El Paso Community College (EPCC) to expand access to UTEP's new online bachelor of applied arts and sciences degree while providing opportunities for students to develop 21st -century skills that are verified through integrated coursework and certificates. The online bachelor of applied arts and sciences is offered through UTEP Connect, a unit under Extended University.  
This project maximizes the transfer of credit from EPCC to UTEP; it will also integrate UTEP's Edge principles into coursework and provide personalized academic advising to increase student engagement. Specifically, we will
Ease the transition for students transferring to UTEP from EPCC through clear academic pathways, maximizing academic and technical credits "applied" toward a four-year degree, thus saving time and money as well as encouraging students to continue their education.
Develop academic pathways to maximize the AAS for students to transfer to the BAAS degree online thereby providing flexibility to adult students who have additional obligations that constrain their ability to travel to campus for classes
Integrate the UTEP Edge into selected online courses and develop advising processes to include in 21st-century skills certificates via LinkedIn Learning, Grow with Google, etc.