Research News
FEATURED NEWS
NIH to Fund UTEP Study into Anti-Depression Drug
The National Institutes of Health and the National Institute of General Medical Sciences awarded a three-year, $400,000 grant to The University of Texas at El Paso's Sergio Iñiguez, Ph.D., associate professor of psychology, to study the possible long-range side effects of a drug treatment for pediatric depressive disorder.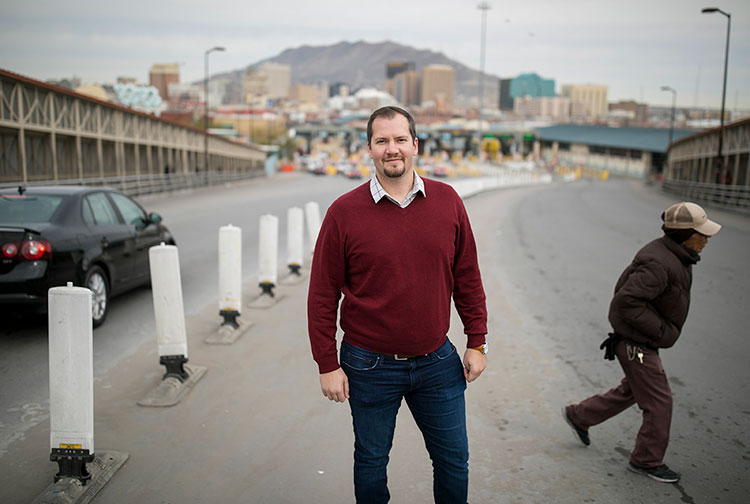 Immigration Research Part of UTEP Summer Program
When Jeremy Slack, Ph.D., planned his initial Immigration and Border Community - Research Experience for Undergraduates (IBCREU) program, the assistant professor of geography at The University of Texas at El Paso thought his 2018 summer interns would study efforts to repeal the Deferred Action for Childhood Arrivals (DACA) program.
College of Health Sciences Announces First Cohort of Leavell Endowed Faculty Fellows
The UTEP College of Health Sciences has announced the inaugural cohort of the Charles H. and Shirley T. Leavell Endowed Chair Faculty Fellowships for five high-impact educational and research practice areas: interprofessional education, community engagement, scholarship of teaching and learning, applied and translational research (ATR), and global engagement.
UTEP Research Assistant Professor Selected for Summer Fellowship in Tanzania
A research assistant professor at The University of Texas at El Paso will strengthen curriculum and ties to African institutions of higher learning through a fellowship that will take him to Tanzania in summer 2019.
UTEP Physics Professor to Receive Lifetime Achievement Award from Nature Journal for Mentoring in Science
A UTEP professor's momentous year will close with a monumental honor. Jorge A. Lopez, Ph.D., the Schumaker Professor in The University of Texas at El Paso's Department of Physics, has been named a recipient of the lifetime achievement in mentoring award as part of the 2018 Nature Awards for Mentoring in Science.
UTEP Nursing Faculty Member Published in Journal of Nursing Education
Integrating emotional intelligence competencies into graduate nursing education can better prepare advanced practice registered nurses (APRN) with the leadership, communication and teamwork skills to improve patient outcomes, according to Kathleen Cox, DNP, director of the Adult Gerontology Acute Care Nurse Practitioner (AGACNP) program at The University of Texas at El Paso.
UTEP Health Care Students Get a Dose of Real-World Collaboration
When a car struck Joe Martinez, a 59-year-old man who is homeless, UTEP students who are nursing, pharmacy and health sciences majors engaged with medical students from the Texas Tech University Health Sciences Center (TTUHSC) El Paso Paul L. Foster School of Medicine to assess his injuries and develop a plan of care.
National Center Awards UTEP Teacher Training Grant
The University-School Partnerships for the Renewal of Educator Preparation (US PREP) announced Nov. 29, 2018, that it approved a three-year, $300,000 grant for The University of Texas at El Paso's College of Education to enhance its teacher preparation program.
UTEP Professor is Campus' 1st National Academy of Inventors Fellow
Russell Chianelli, Ph.D., a professor and research faculty member at The University of Texas at El Paso who holds more than 60 U.S. patents, has been named a National Academy of Inventors Fellow.
Institute for Healthy Living Executive Director to Serve on The Obesity Society's Executive Committee
Leah Whigham, Ph.D., executive director of the Paso del Norte Institute for Healthy Living (PdNIHL) at UTEP, will serve as secretary/treasurer of The Obesity Society (TOS).
Support Continues for ADP MaST Academy at UTEP to Bolster Science and Math Teacher Education
The quality of secondary mathematics and science teachers who graduate from The University of Texas at El Paso's ADP Math and Science Teachers (MaST) Academy continues to be bolstered by a 12-year commitment from ADP, a global leader in human capital management.
UTEP Mechanical Engineering Professor to Study Materials for Hypersonic Cruise Vehicles
A mechanical engineering professor from The University of Texas at El Paso will help enhance the sustainability of structures moving at hypersonic speeds through a $130,000 grant from the Air Force Research Laboratory (AFRL).
UTEP Alliance Bridges Gap in Global Health
In the Valley of a Thousand Hills — a scenic, rural landscape of densely folded hills nestled between the cities of Durban and Pietermaritzburg in South Africa's province of KwaZulu-Natal — hundreds of children have lost one or both parents to AIDS-related illnesses.
Annual Interdisciplinary Research and Education Symposium Signals Growth of Collaborative Culture at UTEP
Change is apparent throughout The University of Texas at El Paso campus. New buildings and updated roads are in the works with plans for more. There are also new facilities, new deans and new coaches. But one particularly profound change has quietly been taking place in classrooms, labs and offices across the University for several years now.
UTEP Faculty Member to Serve on Council for Texas Transgender Health
Oralia Loza, Ph.D., UTEP associate professor of public health sciences, has been selected to serve on the TransFORWARD Research Engagement Advisory Council for TransFORWARD: A Transgender-Powered Research Collaborative in Texas.
Progress of Unmanned Aerial Systems Program at UTEP is Soaring
Michael McGee, Ph.D., is comfortable with the pursuit of lofty goals.
UTEP Nursing Faculty Member to Study End-of-Life Cancer Care in Latinos
Guillermina Solis, Ph.D., assistant professor of nursing at The University of Texas at El Paso, will serve as the El Paso region's principle investigator on a national multisite study called, "Coping with Cancer III." Led by Weill Cornell Medical College in New York City, the study is funded by the National Institute on Minority Health and Health Disparities (NIMHD). Other sites include New York, Chicago, Florida and Dallas.
UTEP Researchers Collaborate to Prevent Lead Exposure in Children
Whether it is due to chipped paint on 40-year-old windowsills or lead-glazed ceramic cookware, millions of children in the United States each year are at risk for lead exposure, usually in their own homes, according to the Centers for Disease Control and Prevention.
UTEP Professor Elected President of The American Chemical Society
A UTEP professor has been elected to the highest leadership position of the American Chemical Society (ACS), the world's largest scientific organization.
UTEP EM Lab Develops World's First 3D Volumetric Circuit
Raymond C. Rumpf, Ph.D., and his EM Lab team are motivated by extreme challenges that others may consider to be impossible.
Finance Student Learns about Risk Management in the Big Apple
As part of the Prudential Risk Management Academy in the UTEP College of Business Administration, I had the opportunity to visit Prudential Financial in Newark, New Jersey, as well as New York Life Insurance Company in New York, New York, this summer.
UTEP to Help Increase Hispanics in Computing With $10M Grant
The University of Texas at El Paso, with a consortium of more than 40 other institutions and organizations from the public and private sector, is at the forefront of a national effort to increase the number of Hispanic students who participate in computing.
UTEP Professors Will Work to Build Diverse, Well-Trained STEM Faculty Through NSF Grant
A pair of engineering professors from The University of Texas at El Paso will address the need to develop faculty who are adept at effective teaching strategies in science, technology, engineering and math (STEM) fields through a grant from the National Science Foundation (NSF).
UTEP Scientists Awarded $6M to Improve Treatment for Chagas Disease
Scientists at The University of Texas at El Paso have received $6 million from the National Institutes of Health (NIH) to improve treatment and develop new diagnostic tools to assess post-therapeutic outcomes for patients with Chagas disease.
Summer Symposium Showcases Emerging Researchers, Scholars and Artists
Among the general public, scientific research is not typically thought of as a team activity. Most of us can rattle off names such as Darwin, Einstein and Hawking, but it takes a more thorough knowledge to be able to recite the names of any of these icons' collaborators. After this year's UTEP Campus Office of Undergraduate Research Initiatives (COURI) Summer Symposium, however, it appears the days of the 'lone scientist' myth are numbered.
Media Contact
The UTEP Public Information Office can assist media personnel with interview requests to speak with University administrators, faculty expert sources, or students; or to arrange campus visits for photo/video shoots.
Call or email one of our media contacts with your name, outlet, deadline, and story idea or request to start an inquiry.
Victor R. Martinez
Assistant Public Information Officer