Quick Links
FEATURED NEWS
UTEP Civil Engineering Professor Named El Paso's Engineer of the Year
Ivonne Santiago, Ph.D., clinical professor of civil engineering at The University of Texas at El Paso, has been named the 2019 El Paso Engineer of the Year by the Texas Society of Professional Engineers (TSPE) El Paso Chapter.
UTEP Celebrates 'Topping Out' of Interdisciplinary Research Building
On the heels of its recent designation as an R1 research institution, The University of Texas at El Paso reached a major construction milestone for a facility that will support the continued growth of UTEP's research agenda for decades to come.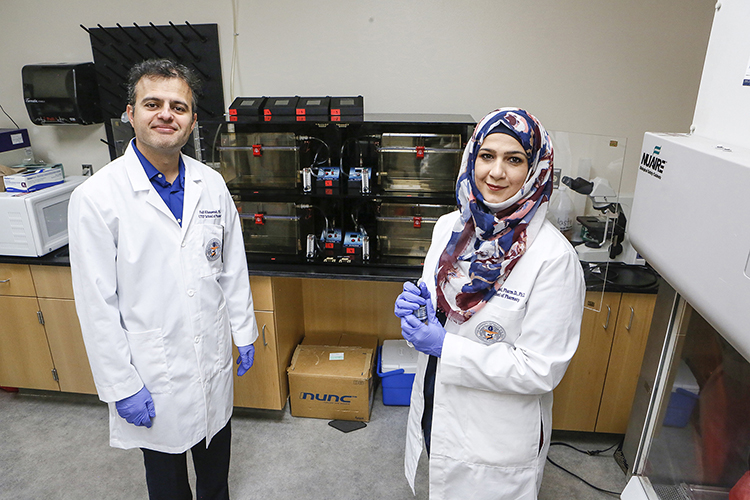 Smoking Alternatives Concern UTEP Researchers
Since electronic cigarettes, or e-cigarettes, first came on the market in 2007, tobacco manufacturers have been touting their vaping products as a safe alternative to traditional cigarettes.
NIH to Fund UTEP Study into Anti-Depression Drug
The National Institutes of Health and the National Institute of General Medical Sciences awarded a three-year, $400,000 grant to The University of Texas at El Paso's Sergio Iñiguez, Ph.D., associate professor of psychology, to study the possible long-range side effects of a drug treatment for pediatric depressive disorder.
Quick Links
Research Stories
Read about UTEP's latest 
research stories
 in our Expertise Connector website. 
---
Connect With Us
The University of Texas at El Paso
Administration Building
Extension (Main): 915-747-5680
Fax (Main): 915-747-6474
Kelly Hall - 7th Floor
Extension: 915-747-5401
Fax: 915-747-5931