Faculty Academic Based Community Engagement Courses
Recommendations for Faculty 
Information updated as of 8/25/2020
Faculty who are moving their academic based community engaged courses to online may need to shift and reconsider how to structure community engagement projects/activities in a virtual learning environment.  The CCE recommends the following guidelines for faculty, staff, and students planning for community engaged word and teaching during the 2020-2021 academic year. Faculty members can review specific academic based community engaged learning outcomes for your course.  Translate what students typically do in/with community partners into course goal-orientated statements (e.g. skill development, checking for student understanding, collaborative project work, problem solving, relationship development, fact finding).  Determine how you can still help your students meet those outcomes even if community project/service they were supposed to do was altered or suspended.
Faculty are to communicate with community partners in advance about how a transition to online instruction would impact the previously planned community engagement project/activity, if applicable.
Things to consider while discussing this with your partner:
1.
What does your partner see as most critical to address?
2.

What new protocols are in place for volunteers?
3.

How will community partners want to interact with volunteers over the next semester?
Faculty are to consult with community partner before creating a new academic based community engagement project/activity.  Do not assume that you know what the community partners are in need of.  Partners may not have answers right away and may need a couple of weeks to consider options related to their own contingency plans. 
Academic Based Community Engaged Courses that include direct service are asked to consider alternative types of community engagement:
Any direct service projects should be designed to be contactless, remote and/or

Whenever possible, faculty should plan their community engagement projects/activities to be

indirect, research-based,

or

advocacy-based

rather than direct service.
Examples include:
1. Discuss advocacy as a social impact tool
2. Research, assessment, or evaluation requested by a community partner organization
Conducting background research or gathering best practices or other information requested by partner(s)
Undertaking assessment, evaluation, or feedback via phone or web-based services
3. Creating deliverables for a community partner organization, such as digital media or social media content, print materials, or other information-sharing products
4. Creating virtual educational materials such as webinars or streaming a presentation or performance
Explore ways in which direct service could be offered virtually, such as services via video conferencing platforms or engaging in virtual service opportunities
5. Consider opportunities to reflect on COVID-19, global health, the impact of pandemics on communities, and ways that community members can support one another while (and by) remaining socially distant.
Click here for more examples: Virtual/Remote Service Opportunities 
Additional Resources
Civic Minded Games - Try online games as a means to teach disciplinary and civic skills, deepen civic knowledge, and simulate real life encounters. Gamification has been a growing dimension of civic learning and social innovation for the last decade. Games span informal apps as well as formal online games and are complete with discussion guides that can be linked to Canvas. Here are a few to get you started: https://www.icivics.org/games.
Community Organizing - Have students read through this community organizing toolkit and write up a plan of action.
TED Talks - Find a couple of TED Talks (or podcast episodes) for students to watch and then respond to via guided reflection prompts. Some suggested talks are linked below
Community Engagement Courses:
Connects the concepts of disciplinary study to the realities of human need. By applying your classroom lessons toward activities in the community, your students can achieve higher grades, a greater sense of social responsibility, increase in critical thinking and writing skills, leadership skills, and more. 
Community Engagement Courses is significantly different from other forms of experimental education in that it:
1. Offers a balance between service and learning objectives;
2. Places an emphasis on reciprocal learning;
3. Increases an understanding of the content in which clinical and/or service work occurs;
4. Focuses on the development of civic skills;
5. Addresses community identified concerns; and 
6. Involves community in the Community Engagement design and implementation. 
How Community Engagement is facilitated? 
Community Engagement is a program where students learn academic content while they serve their community. Service takes place in the form of direct service where students on average spend 20 hours per semester with a community organization.
The Community Engagement program is a collection of programs and activities focused on community
needs. Faculty members select the opportunities and programs that best fits the course of learning
objectives and offer them as placement options for students. Students attend an in class training and serve at a single site throughout the semester.
Each program and activity may differ in focus, task, as well as requirements. Students should make sure their site selection has been approved for their course. During the semester, students are encouraged to
complete self-reflection entries while documenting their completed hours. Additionally, the Center for Community Engagement offers an end-of semester in class Reflection Session for student participants
Community Engagement Roles: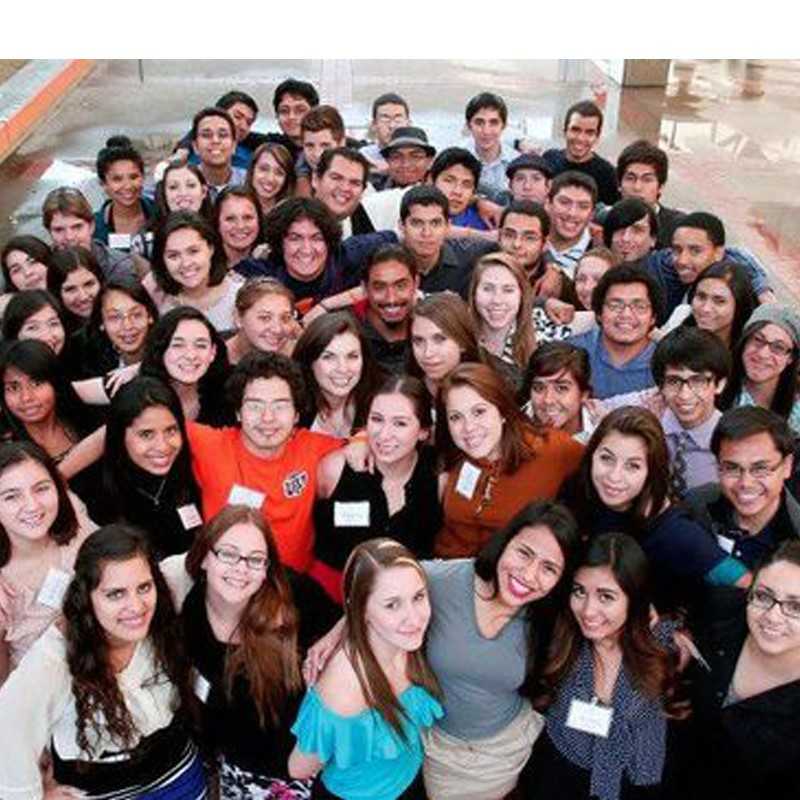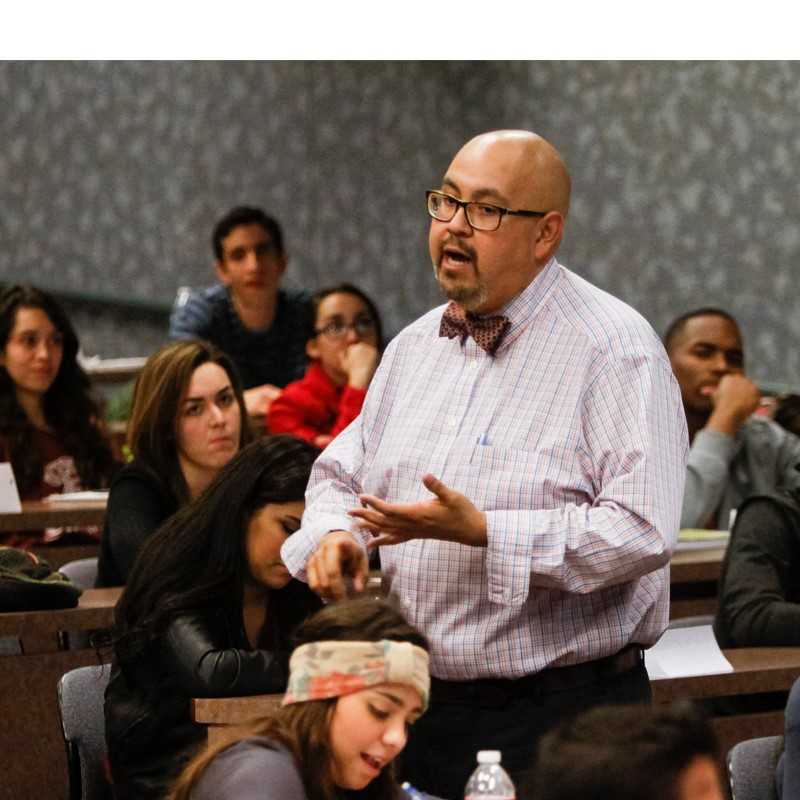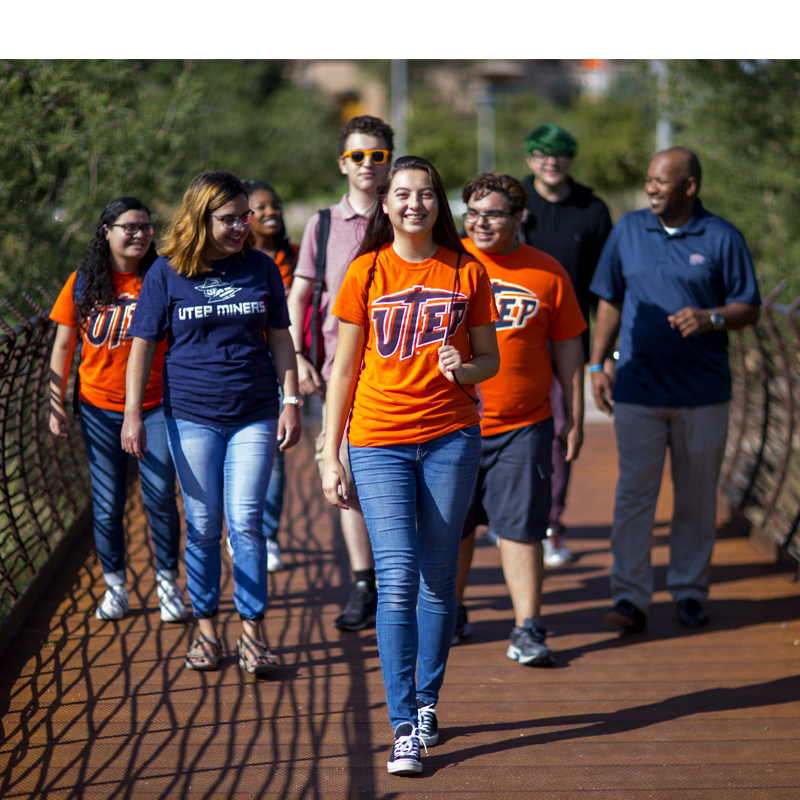 Be Part of Service Learning!
If a faculty member is interested in participating or incorporating Service Learning in their class, we're here to help make that happen. The Center for Civic Engagement can help you brainstorm ideas, ways that we can incorporate Service-Learning in their classes. If professors already have a community partner identified that they want their students to work with, we can help bring together the community partner with the faculty member and facilitate the process. There are many different activities or issues where students can participate in. 
There are two models that we use to help with our Service Learning process: 
Model 1: The Placement based model
This is where students typically complete a minimum of 20 hours of service and the faculty member has a variety of choices for the students to participate in. 
Model 2: The Community Partnership model
The faculty member will typically work with one or two agencies and have a project assigned for the students to participate in to help the needs for that organization.
One of the important parts of Service-Learning is making sure that it formally structures within the class, as far as including it in the syllabus, assigning a grade to the activity, and laying out the requirements as far as what students need to accomplish in order to get the full grade for their participation. 
We are happy to be a resource for faculty and help manage your Service-Learning process. 
Service-Learning and Engagement Programs Course Participation Form
Please complete this form to enlist your students in your course(s) in the Service-learning placement program.
If you have any questions, please contact Jennifer Lujan at cce@utep.edu or via phone at 915-747-7969.
The CUE?
The CUE (cue.utep.edu) is a web-based platform that's purpose is to connect students to the El Paso Community. The CUE provides students the option to browse through non-profit agencies and select volunteer opportunities that fit their needs and interests. During the semester Service Learning students will learn how to navigate the CUE and connect their CUE account to their course.  
On the CUE students can:
Find volunteer experiences and community internships
Connect to their Service Learning course
Track volunteer hours
Learn about nonprofits 
Find events  
Steps for a Successful Service Learning experience!
Understand Service Learning:
Explain the definition, theoretical basis and key components of Service-Learning
Describe how service-learning differs from other forms of experiential learning 
Describe the impact of service-learning
Competences:
Meaningful Service
Curriculum Connections
Student Leadership
Reflection
Demonstrate and Celebrate
Forming a Service-Learning partnership:
Identify your partners and know your community
Foster leadership and skill development among partners
Identify resources
Form a  service-learning partnership planning commitee
Establish an agenda with special focus on the development of goals, objectives, and strategies
Establish methods of communication
Develop a risk management plan
Click below to download the following Service Learning Forms:
Training:
Complementary forms:
What is Service Learning?

Service Learning is a teaching method for students to gain academic content while also serving the community.

Purpose of Service Learning?

Service Learning serves the student, community, and the faculty member; it allows us to expand our university and to work alongside our community.

How to Facilitate a Service-Learning Consultant Model

Service-Learning consultant model is used in order to provide students an opportunity to apply their skills that they are building in statistical modeling and also work in service and with community organizations so that their expertise can have impact.    

Requirements for Classes

If a faculty member is interested in participating or incorporating Service-Learning in their class, we are here to help make that happen. 

Ethical Considerations of Service-Learning

Working in a Service-Learning capacity is confidentiality and to protect the integrity of confidentiality of that agency. 

Co-Teaching with Community Partners

Service Learning is not volunteerism, it has an academic component to it. 

Building Community Partnerships--What it Takes

Partnerships is about starting where people are, finding ways of coming together to identify mutual interests not always needs, but mutual interest and it's a long-term relationship.

What is True Reciprocity?

Being engaged in Service-Learning and learning about the history of a community, the culture, being active, developing relationships with people in the community is really at the heart of our profession.

Preparing students for Service Learning

In being able to help the students connect what we teach in the classroom, what we help them to learn, they can actually see in the community through real-life experiences. 

Effective Service Learning Reflection

Reflection is really important, you don't separate your reflection from your observation, they go hand in hand. 

Identifying Appropriate Community Partners

First step is finding a community organization whose focus area directly relates to the course content in the particular course that you want to offer service learning in. 

Service Learning with Freshmen

Like most experiential learning, the student gains more by reflecting upon their experiences than simply by going through them.