6 Benefits of STEM Education
by
UTEP Connect
The U.S. National Science Foundation (NSF) coined the term "STEM" in 2001, noting how students were not achieving in the science, technology, engineering and mathematics disciplines compared to other countries. It was considered a risk to the country's ability to complete in the global economy.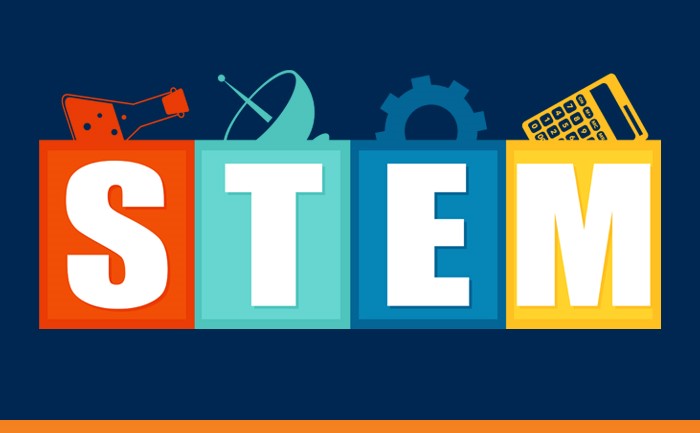 Unfortunately, STEM education is still lacking in some areas. According to the nonprofit company ACT, known for its standardized test of the same name, only 20% of 2018 high school graduates were proficient enough in STEM areas to confidently advance into collegiate courses. 
Why should you join the effort to raise STEM proficiency? Let's take a look at what it can do for your students.
1. Increases Innovative Thinking
"I don't think outside the box. I think of what I can do with the box." - Henry Matisse 
With the rapid evolution of technology and engineering, STEM-focused education has never been more pertinent to the future. In fact, STEM jobs have grown 79% since 1990, according to the Pew Research Center, outpacing other occupational growth by a landslide. That's because STEM education teaches students to solve and prevent modern societal problems with innovative thinking. Through experimentation, students learn new ways of observing, analyzing and solving complex issues. Whether it's engineering, computer technology or basic arithmetic, students will be able to pinpoint obstacles and work through them with an "outside of the box" mindset.
 2. Encourages Curiosity
"The mind that opens to a new idea will never return to its original size." - Albert Einstein
 Subjects that require problem solving will ultimately lead to the question "How can this be solved? And why does this solution work?" Fostering an environment that encourages questions helps to ignite a spark of wonder in students, no matter their age. Inspiring curiosity also means inspiring exploration, imagination and the drive to discover new answers.
3. Inspires Creativity and Ingenuity
"Imagination is the beginning of creation. You imagine what you desire, you will what you imagine, and at last, you create what you will." - George Bernard Shaw 
Complex problems often require creative solutions. Because of this, students learn to analyze questions both critically and creatively. Open-ended, STEM-focused activities cultivate creativity by motivating students to use their own imagination and resources to interpret the situation. In fact, a study done by 29 physics teachers in Indonesia demonstrated that students' creativity was enhanced by integrating STEM knowledge into their activities.
 4. Fosters Collaboration and Communication
"Teamwork is the secret that makes common people achieve uncommon results." -  Ifeanyi Enoch Onuoha 
Most STEM careers don't take place in silos. Bridges are not built by one man alone, and a hypothesis can't be proven without peer review. Team projects, especially in STEM subjects, allow students to collaborate on complicated problems and form valuable interpersonal skills. These kinds of projects also allow teachers to observe how their students communicate, compromise and lead discussions with their peers. This peer-to-peer collaboration prepares them to excel in any field where healthy communication and people-positive leadership is key.  
5. Builds Confidence and Teaches Acceptance of Failure
"When we give ourselves permission to fail, we, at the same time, give ourselves permission to excel." -  Eloise Ristad 
Although it may not seem like it sometimes, it's true that success and failure go hand in hand. In order to find the correct answer to a problem, we must often eliminate the incorrect answers. Experimentation teaches students that they may not always succeed, but it also teaches them to learn from their failures. Accepting failure is an important skill in school, careers and our personal lives. And it also makes success that much sweeter! Discovering the solution after a number of failures motivates students to keep trying—and to believe in themselves, even when the odds seem to be against them. 
6. Prepares Students for High-Demand Careers
"The best preparation for tomorrow is doing your best today." -  H. Jackson Brown, Jr.  
Fostering a passion for STEM can lead students down lucrative, life-changing paths. According to the Bureau of Labor Statistics (BLS), the average salary for STEM workers is $95,420. That is more than double the national average for non-STEM occupations, which is around $40,120. The BLS also estimates that STEM career opportunities are set to grow by 10.8% until 2031, with non-STEM occupations only seeing a growth of 4.9% in that time. No matter what STEM field your students are preparing to pursue, they'll be sure to find a role—and a pretty high salary to match. 
How Can You Encourage STEM Learning in Your Class? 
Our Graduate Certificate in STEM Education is a useful resource for any teacher or educational leader looking to prepare modern, multicultural students for an awarding future in STEM. You'll learn practical and impactful practices that keep students engaged, no matter the educational setting. The certificate spans unique topics in mathematics and science education, educational technology and more, so that you can spark passion in any field.  
Still wondering about the broader aspects of STEM in education? You may want to check out our helpful post on what STEM is and why it's important. 
---