Why UTEP?
REQUEST INFORMATION
APPLY NOW
Why UTEP?
The University of Texas at El Paso and its access and excellence mission are redefining public higher education not only in Texas, but also across the nation. At UTEP, we believe that an accessible and affordable education should be available to all. Online degrees such as these help make higher education a possibility for those who are unable to come to campus because of other responsibilities. Here's what sets UTEP apart:
Social Mobility
Ranked #1 in the U.S. success in achieving student social mobility.
Research
Designated R1 by the Carnegie Classification of Institutions of Higher Education.
Global Reach
960 Mexican students enrolled and 163 partnerships with institutions around the world.
Why Online With UTEP Connect?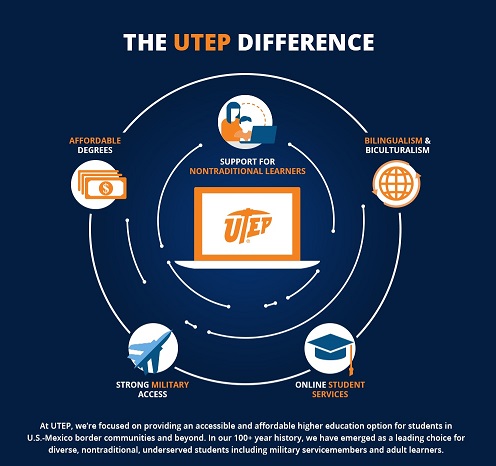 At UTEP Connect, we believe that our students deserve the highest level of support and access to all the services on-campus students enjoy.
Click on the image on the left or the button below to download our infographic about why UTEP Connect programs are the right choice for you. 
DOWNLOAD INFOGRAPHIC