4 amazing study corners you'll want to copy right now
by
UTEP Connect
There are all kinds of challenges associated with continuing your education while juggling other responsibilities such as work, family and friends. While online classes make it easier to earn your degree around your busy schedule, getting coursework done and staying on track requires focus and dedication. 
Designing a good study corner can help make that happen. It should contain everything you need to study effectively, while minimizing distractions as much as possible.
Here are four great study corners that will help you achieve your goals as a student.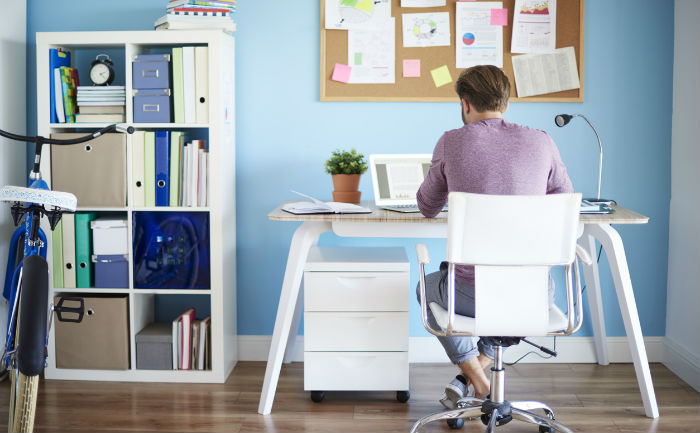 Basement study corner
If you live in a busy household and aren't't thrilled by the prospect of turning your bedroom into a study zone, the basement may be your best option.
Ideally, your study area will be in an entirely separate room, but if that's not possible, you can still maximize privacy with a careful layout. Choose a place that's as far away from a family gathering spot or children's play area as possible, and use tall bookcases as a physical barrier for even more separation. These also have the added benefit of muffling sound from other areas of the basement. If you end up having space to work with, bring in a larger desk to give yourself more of an opportunity to spread out.
Flex-space study spot
Many modern apartments and houses have "flex space" undesignated for any one use. This may run the gamut from a full-scale den to a nook in an open floor plan.
Turning your flex space into a study corner will take some creative planning, especially as flex space is generally found in common areas of the home that are ripe for distraction. Minimize disturbances by using furniture to block off the area, and be sure you're facing away from the TV, the kitchen counter and other high-traffic spots. 
Dedicated study area
With walls and a door to shut out unwanted distractions, a dedicated home office will likely be your most successful study space. Before concluding that you don't have an extra room available, consider whether any rooms could do double duty. For instance, a guest room, a workout room, a dining room or even a butler's pantry could moonlight as a study.
Next, look for furniture that can serve the room's dual purposes. For instance, some beds can be converted into sitting space or fold away entirely, while desks can be cleared off for food prep once your studying's done.
There are many different ways to set up a study corner, but no matter which you choose, it's important to create a distraction-free zone. Insulate yourself from the TV, kids, pets and other household disturbances, and you'll be setting yourself up for study success.
What's next?
Interested in learning more about UTEP Connect and our 100% online undergraduate, graduate, and certificate programs? Reach out, and an enrollment counselor will contact you directly.
---