Building a Professional Network as an Online Student: 3 Ways to Get Started
by
UTEP Connect
Having a robust "Rolodex" of professional connections by the time you graduate should be one of your top priorities as a college student. Because while it sounds trite, it's true that progressing in your career isn't as much about what you know, but who you know. Need proof?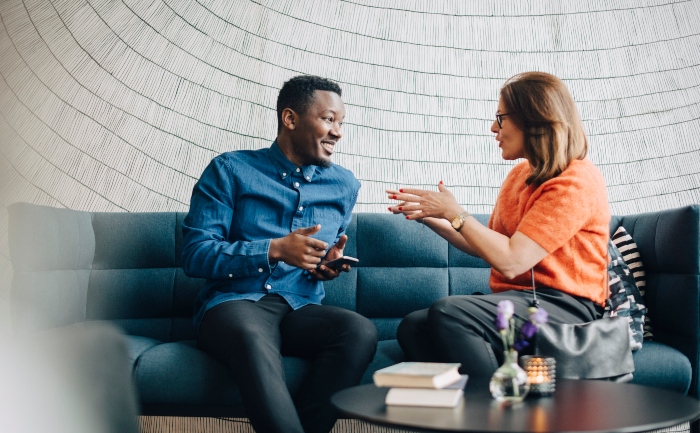 Consider that as many as 85% of all jobs are filled via networking, according to some studies. And despite high employment nationally, the reality is that there is still fierce competition for top jobs—according to research from Glassdoor, the average job opening attracts 250 applicants, only 2% of whom even get an interview.
So, as a college student, it's critical to prioritize building your professional network. But adopting this mindset can be tough with classes, coursework, and studying competing for your time. Fortunately, college, whether online or on-campus, provides built-in opportunities to forge relationships with three groups of people who can play pivotal roles in your future.
Here's a closer look at how you might engage with these groups as an online student, so that you have an enviable list of meaningful connections before you even graduate.
Your Professors
As a college student, you have a unique opportunity to connect with individuals with expertise—and who are highly connected—in their fields. We're talking, of course, about your professors. They were chosen to lead your classes for their deep knowledge and, often, years or decades of practical experience. If you graduate without strong relationships with at least a few of your instructors, you've missed a huge opportunity.
But don't assume your professors will be willing to do you any favors after you graduate simply because you were in their class; you'll have to put the work in to get to know and make a good impression on them. Many instructors hold special office hours for their online students where they're available via phone or other communication tools. Take advantage of these opportunities and work hard on your assignments to make your name stands out as someone who they would be proud to recommend long after the course ends.
Your Classmates
After your professors, your classmates are the second-most-important group to have as part of your network by the time you graduate. After all, they're likely going into a similar field as you are, and there could very well be opportunities to help each other out down the road. While you won't have face-to-face time with your classmates, as you would in a traditional college class, there are still plenty of ways to build relationships with your fellow students as an online student.
Here are a few ways to make strong connections (and even friendships) with your online classmates:
Participate in class discussions and activities. In general, online courses are designed to foster and encourage collaboration among students. Assignments might include working on a small team to complete a project or regularly participating on discussion boards. Take advantage of these opportunities to work with and get to know your classmates.
Connect on social media. To get to know your classmates in a much more personal setting, get out of the virtual classroom and move your interactions over to social media platforms such as Facebook, Instagram, Twitter, or Snapchat. Add them on LinkedIn, too, so you can endorse each other for skills you acquire together in the course.
Meet up in person, if possible. It's conceivable that your online classmates aren't as far away as you think. After all, people can enroll in online courses from anywhere in the world, which means they could live thousands of miles away from you or just down the street. Find out where your online classmates are geographically located. If any are nearby, meet them for coffee.
Alumni
Alumni—especially alumni of your specific program—are the third group who should be part of your network by the time you graduate. Speaking to others who know your field can help you as you gather advice and establish potential connections in anticipation of graduation. While reaching out to alumni can seem a little daunting, consider that you already share a major life experience: attending the same program and/or college. Many people, especially those who got help from alumni at some point themselves, are more than happy to connect with those who come after them.
As a first step to connecting with alumni, contact your institution's career services or alumni-relations departments to see if there are former students living in your area you could connect with about your career interests, field of study, or path forward after graduation. If there are, don't be afraid to send a few emails out asking for a working lunch. Treat any meetings with alumni as you would an informational interview. Ask about their experience earning a degree, what their professional goals were at the time, and what path they're on now. You may also consider adding alumni on networking sites like LinkedIn. Just take care not to ask too much (like for a job interview) of someone you don't already have a strong relationship with, as that'll likely have the opposite intended effect and turn them off to helping you in the future.
What's Next
There's simply no excuse for not having a strong professional network already in place by the time you graduate college. Throughout your online program, prioritize connecting with your instructors, classmates, and alumni so that when it comes time to look for a job in your field, you're ahead of the networking game. We invite you to explore our online programs and see what it will take to make that next step into your profession. If you are interested in learning more about our team and UTEP Connect's 100% online undergraduate, master's, and graduate certificate programs, reach out. An enrollment counselor will contact you directly. 
---