6 Prioritization Techniques for When Everything Seems Important
by
UTEP Connect
Being an online student gives you flexibility and convenience to pursue the education, career, and life you want. However, many online students juggle numerous responsibilities all at once, potentially struggling to balance massively overwhelming to-do lists. Being great at prioritizing all competing commitments is an essential skill that can help to alleviate some of the pressure. Prioritization goes far beyond creating a list order of items that need to get done, and the good news is that it's a skill that can be quickly mastered with the right learning techniques.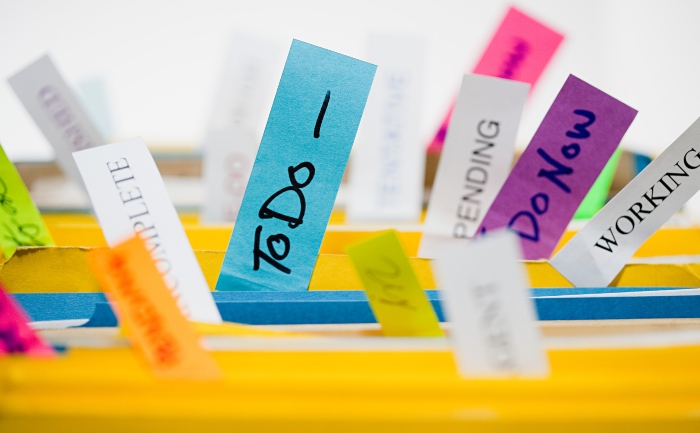 6 Techniques to Master Prioritization
1. Create A List of Everything
That's right! Create a mega-list that includes every little task you have to get done in a day, a week, or even a month. Include both personal tasks and your school tasks; include buying groceries for the family, attending a parent-teacher conferences, class deadlines, exam dates, paper assignments, internship or work projects and presentations – everything!
2. Manage Your Expectations
When you feel as if you're being pulled in a million directions, it can help to do something as simple as managing your own expectations. In other words, be realistic with what you can actually get done in a given time period. Sometimes your mega-list will be so long, it's just not possible to get every single thing checked off. The solution? After reviewing your to-do list, remove any tasks that are not urgent or pressing or that simply cannot be done that day. Add them to tomorrow's to-do list. Instead of using your energy to fret over this, put that energy towards completing what you can get done today. At the end of each day, this will leave you feeling empowered and set you up for success.
3. Use the Most Important Tasks (MIT) Methodology
The Most Important Task technique involves choosing up to three tasks that must be completed in that one day. These tasks should be based on level of importance. For example, if you have a paper due within a few days that is a significant portion of your course grade, you should probably add working on this as part of your MIT list. Put together your MITs early in the day or even the day prior, so that you can begin tackling your work without unnecessary delays.
4. Eliminate Distractions
How much time are you spending on social media, or browsing the Internet, or streaming your new favorite show? It's easy to assume that all precious time in the day is being spent wisely, but a recent survey by the U.S. Bureau of Labor Statistics on how American workers use their time showed that surveyed individuals spent more than 3 hours per day watching TV instead of focusing on knocking off projects from their lengthy to-do lists. While taking a break from working on your next school or work assignment is important, try to carve out small, focused times away from the hours of the day when you can be most productive.  So, turn the TV off and put your phone in a place where you won't be tempted to access it. You may be surprised how much you can get done in those few hours when they are distraction-free.
5. Focus on Your High-Value Activities (HVAs)
High-value activities are the activities where you should actually be spending most of your time. Of course, sometimes it can be difficult to pin-point exactly what those are in a given day or week. A good starting point is to ask yourself which activities bring you closer to your goals. If one of your biggest goals is to receive your master's degree, then anything associated with getting that diploma should be included on your list of HVAs. Once you've identified your HVAs, carve out time in your day to work on them, even if it's only for one hour.
6. Be Flexible
Successfully prioritizing your tasks involves having some level of acceptance. Understand that your list of priorities will sometimes change, unexpected things will come up in your personal life, and you'll have to adjust. Being flexible is key to successful prioritization and minimizing stress.
What's Next
Whether you're looking to start or finish an undergraduate degree, advance your education with a master's degree, or upskill by adding a graduate certification to your resume, we invite you to explore UTEP's 100% online programs and see what it will take to make that next step into your profession. If you are interested in learning more about our team and UTEP Connect's programs, complete the form below for a one-on-one consultation with an enrollment counselor.
---