What Can I Do With a Master's in Early Childhood Education?
by
UTEP Connect
The CDC found that high-quality early education can improve a child's cognitive development, emotional development, self-regulation and academic achievement. And teachers experience powerful benefits too, by virtue of inspiring children to find joy in the classroom.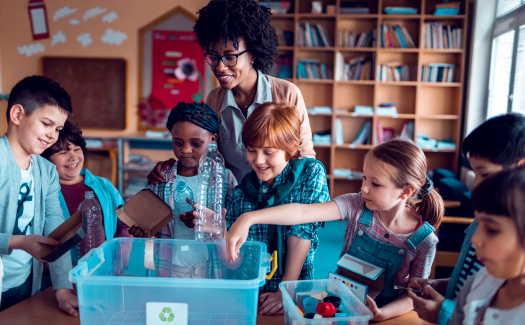 The future of early childhood education (ECE) as an industry is also pretty bright. According to the Bureau of Labor Statistics, jobs in early childhood education are set to grow 18% by 2030, which is much faster than average. Whether you're transitioning into education or advancing in your career, getting your master's can help you to find new roles and salary opportunities in an impactful and expanding industry.  Let's take a look at a few of these opportunities and how you can get there. 
What Can You Do With a Master's in Early Childhood Education?
With 61% of the nation's preschool-aged children enrolled in ECE programs, the need for education specialists is especially high. And that title expands into multiple roles across a variety of settings. Though we typically think of education degrees as pipelines to teaching jobs, there are actually an abundance of paths that lie outside of that domain. 
Here are just a few examples of career paths you can choose after getting your master's.
Preschool Director 
As a preschool director, you'll oversee staff, activities and the facility as a whole. A large part of this role is the development of a creative educational curriculum that will inspire both fun and learning. This is a role that requires elevated communication skills, as well as organizational and leadership skills. 
Instructional Coordinator
Instructional coordinators, or curriculum specialists, are in charge of implementing effective educational material. In this role, you'll develop curriculum, analyze student data and recommend teaching techniques and materials. You'll also communicate with teachers in order to achieve success through the implementation of new educational standards.
Intervention Specialist
As an intervention specialist, you'll work with children who have displayed academic, social or behavioral needs. You'll collaborate with children, teachers and parents to formulate an approach that embodies the specific needs of each child. You will then develop and implement an individualized instruction plan to ensure that the child is getting the best possible support.
Child Life Specialist 
If you're looking to work outside of the typical school setting, being a child life specialist is a great way to make an impact. In this role, you'll work to ease the anxiety of children in hospitals. You'll organize activities, explain procedures, provide art and music therapy, and generally help to make their time in the hospital a little bit more manageable.
Social Worker
As a social worker, you'll work with individuals and their families to create supportive solutions during difficult times. This includes conducting interviews, organizing information and support resources, liaising with family members and agencies, and helping with court procedures. This can be an extremely rewarding career for those who are looking to make a positive impact outside of an educational setting. 
These are only a handful of the opportunities available to you once you graduate with your master's. Other career fields include: 
Children's literature/publishing
Children's museums and community-based educational programming
Children's entertainment industries (television, theater, toy design)
Early childhood education advocacy
What Kind of Salary Can You Look Forward to With a Master's?
 Getting your master's degree in early childhood education comes with many benefits. Gaining a higher understanding of classroom best practices, child psychology and curriculum development can help you to become a more effective leader in whatever setting you choose to work in. And that typically means being offered a higher salary. 
According to PayScale, the average salary for those with a bachelor's in ECE is about $10,000 less a year than those with a master's degree. Whether you're teaching in a classroom setting, working as an administrator, or pursuing a career outside of education, you're sure to get a bigger paycheck once you've graduated with your higher degree. 
If you're ready to take the next step in your ECE career, UTEP can help you get there with a fully online Master of Education in Early Childhood Education. You can gain practical, marketable skills and achieve your goal in as little as 12 months. For more information, check out the program page or reach out to an enrollment counselor who can help with any questions you may have.
---