Learn as You Earn With UTEP's Master of Music with a Concentration in Conducting
by
UTEP Connect
A growing number of music educators are earning their master's degrees to advance in their careers and expand their music knowledge. For many, this means forgoing two years' work experience and salary, as graduate music programs are typically offered entirely face-to-face, on a college or university's campus.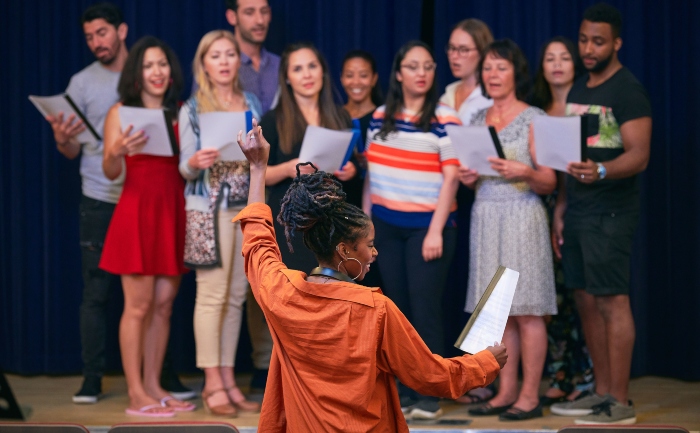 But students in UTEP's Master of Music with a Concentration in Conducting program need not face this hardship. Combining online and face-to-face instruction, this unique program is perfect for public-school music teachers who wish to pursue their master's degrees while continuing to work full-time.
Let's take a closer look at the outcomes and opportunities this degree program can offer you.
Why Earn a Master of Music?
Musical enrichment and professional advancement – many benefits of pursuing a master's degree in music fall into one or both of these categories. Ultimately, a Master of Music offers music educators the opportunity to further develop their skills and focus more intensely on specialized areas of music. As a graduate student, you can also expect to grow your professional network and, possibly, to command a higher salary. According to data from PayScale, music teachers with a Master of Music earn nearly 12 percent more than their colleagues with only a bachelor's degree in music education.
Sharpen Your Conducting Skills
As part of their work, music teachers often lead ensembles of various sizes, compositions, and musical styles. While undergraduate music education programs provide foundational training in conducting, UTEP's Master of Music program provides students with the opportunity to enhance their conducting skills by focusing intensely on this critical area.
Studying a pedagogically-based curriculum, taught by instructors who are nationally and internationally renowned conductors, you'll learn advanced aspects of conducting and score study and gain practical conducting experience in rehearsal and performance in one of three areas: wind, orchestra, or choral conducting.
Earn Your Degree While Continuing to Work
If you want to earn a graduate degree without placing a metaphorical fermata over your career, the UTEP Master of Music with a Concentration in Conducting program may be the ideal option for you. Designed to fit perfectly around school schedules, UTEP's program is one of only a very few programs in the country that may be completed with two summer on-campus intensive sessions and the remaining curricular requirements online.
The degree is structured so you can take up to 18 semester credit hours online during the public-school academic year (spring and summer semesters) while you continue working. During summer, when schools aren't in session, you will complete the remaining 12 credits in an on-campus component, during which you'll meet and interact with your fellow students. The entire degree spans two years that include two summer residency periods.
Study a Carefully Composed Curriculum
The curriculum features five core courses, each examining advanced topics in conducting. Among them are a capstone requiring a video compilation of applied conducting experiences and a face-to-face symposium where you'll acquire practical conducting experience in rehearsal and performance in a laboratory setting. Plus, you'll take five additional courses that are determined based on whether you choose to focus your studies on wind, orchestral, or choral conducting.
Take Your Career to New Registers
Here are just some of the ways UTEP's Master of Music with a Concentration in Conducting program can benefit you as a conductor, musician, and educator:
Continue to work and gain experience as you earn your degree
Stand out for the best job opportunities
Command higher pay
Develop specialization in a chosen area—wind, orchestral, or choral conducting
Become a more proficient conductor of school and other musical ensembles
Expand your professional network to include peers and the world-renowned conductors who are your instructors
What's Next
Ready to take the next step in applying to the Master of Music with a Concentration in Conducting program or any of the other online undergraduate, graduate, and certificate programs at UTEP Connect? Get started by submitting this form to have an enrollment counselor contact you directly.
---