Change Lives, Including Your Own, with a Graduate Certificate in Early Intervention Studies
by
UTEP Connect
Each year, thousands of U.S. children are diagnosed with one or more developmental disabilities. The early intervention field provides help to these children at the first indication of delay. If you want to start or advance a career in this important and rewarding area, UTEP's online Early Intervention Graduate Certificate program will prepare you with the specialized knowledge and skills you need to achieve your goals.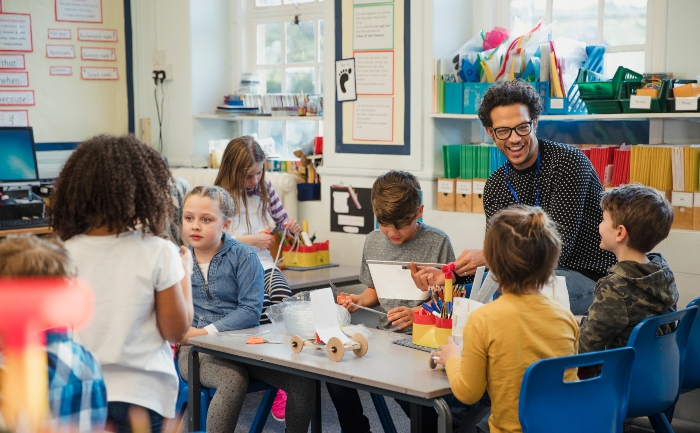 Let's take a closer look at early intervention and the career opportunities available to graduates of UTEP's online graduate certificate program.
What Is Early Intervention?
15 percent of American children—roughly one in seven—are diagnosed with a developmental disability, according to research from the Centers for Disease Control and Prevention (CDC).
Timing is critical when it comes to identifying and addressing these conditions, which include Autism Spectrum Disorder, emotional/behavioral disorders, and sensory/developmental disabilities. According to CDC research, the earlier a child with a disability receives special education support, the more effective the intervention is likely to be.
People who work in the early intervention field do just that—intervene with kids from a very young age to help them get the assistance they need, while also helping families of young children with disabilities to acquire necessary support and resources.
What Education Do I Need for a Career in Early Intervention?
Jobs within the early intervention field almost always require a bachelor's degree--a major in childhood education or special education is advantageous, though not necessarily required for entry into the field. Many early intervention job opportunities call for education beyond a bachelor's degree: advanced studies in special education, ideally with a focus on early intervention.
Graduate programs, such as UTEP's Online Graduate Certificate in Early Intervention Studies, help aspiring early intervention professionals fulfill this requirement while preparing to work with special children with disabilities and their families in a variety of environments. UTEP's certificate can be helpful to individuals new to the field and to current educators, advocates, and leaders. It can function as a stand-alone certificate for educators to supplement their existing master's degree in Special Education or lead to a new master's degree in Early Intervention Studies.
What Will I Learn?
Students who enroll in the UTEP Early Intervention Studies graduate certificate program can expect to expand their understanding of early intervention and to build a strong foundation for addressing and contributing to cultural, political, and educational conversations on this essential topic.
The program consists of five courses, which are based on Texas state standards and nationally recognized principles. In addition to online coursework, the graduate certificate requires students to reach out to special-needs children and families within their own communities through activities, service, and education.
Upon completing the program, students will have achieved the following learning outcomes:
Understanding the impact of cultural and linguistic diversity on children's lives and their learning
Developing critical-thinking ability as students deconstruct and reconstruct the field of special education as a profession and a practice
Learning how to discuss and debate the different sides of issues facing learners with diverse needs through online discussions
Acquiring background on current issues related to the field of early intervention and early intervention special education through research
Career Paths for Graduates
Graduates of UTEP's online graduate certificate in Early Intervention Studies may find themselves working directly with children and families, serving as liaisons and leaders in the educational system, or working in other capacities within early intervention. For individuals who already work in special-needs-related roles, the additional education gained can help them shape tailored programs and create favorable policies in the field.
Careers available to graduates fall into several broad categories:
Serving disabled children and their families directly as a teacher, health-care specialist, family therapist, or extension agent
Organizing services for disabled children and their families as a licensing specialist or college teacher
Providing information to professionals who work with disabled children and families as a researcher, author, or editor
Providing goods and services affecting disabled children and their families to the general public as a sales representative, legislator, or consumer advocate
The UTEP Graduate Certificate in Early Intervention Studies program is not intended to lead to professional state licensure.
What's next?
Ready to take the next step in applying to the Graduate Certificate in Early Intervention Studies program or any of the other online undergraduate, graduate, and certificate programs at UTEP Connect? Get started by submitting this form to have an enrollment counselor contact you directly.
---