Graduate Certificate or a Master's Degree: Which is Right for You?
by
UTEP Connect
Sometimes, after several years of putting your bachelor's degree to use, you realize the path forward in your career requires you to further your education. The question then becomes which type of degree or certificate you'll need to open new opportunities for leadership and higher-skill positions. If you're currently in the process of deciding between a graduate certificate or a master's degree, this is the side-by-side comparison that you need to best evaluate how best to invest your time and money.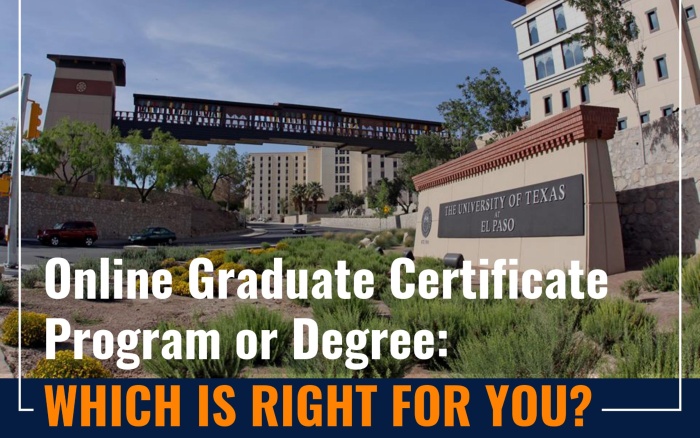 In this e-book, Online Graduate Certificate Program or Degree: Which is Right for You, you can explore the differences between online graduate certificates and online graduate degrees, as well as the advantages both may provide you. Discover the full range of online graduate options at UTEP Connect and gain a better understanding of the requirements you'll need to meet to take the next step.

Explore your options for the graduate education you need! Download the e-book.
Interested in learning more about UTEP Connect and our 100% online undergraduate, graduate, and certificate programs? Reach out, and an enrollment counselor will contact you directly.
---