How Long is a Master's in Early Childhood Education Program?
by
UTEP Connect
In the simplest terms, a degree in early childhood education (ECE) is designed to help teachers who work with children eight years of age and younger to excel as educators. As an already-working teacher, however, you may be wondering why you would need a master's degree in the field and how long it may take you to get it.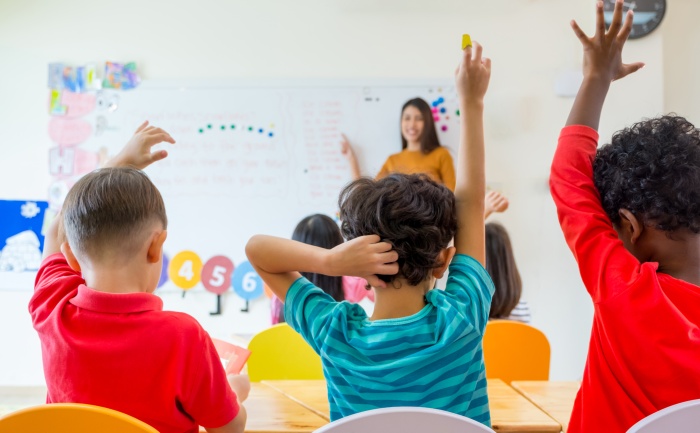 The duration of any master's degree would depend greatly on multiple factors – from the structure and format of the program you choose to any additional university-specific requirements. Your own ability to commit to attending the program full- or part-time will also play a significant role. On average, an early childhood education master's degree can take up to 2 years, if attended full-time. This may sound like a lot, but do not be too quick to decide against pursuing your mater's in ECE yet. The benefits of earning your degree in the field outweigh the time investment. 
At The University of Texas at El Paso (UTEP), we're committed to helping teachers reach their personal and professional education goals through a flexible online M.Ed. in Curriculum and Instruction with a concentration in Early Child Education. Our goal is to make earning additional credentials accessible for working teachers who are already balancing heavy demands on their time. If that sounds like you, and you want to understand what your experience will truly be like, keep reading on.
1. Why pursue an early childhood education master's degree? 
Teaching young children to unleash their potential is one of the most important jobs there is – in fact, it's a nationwide priority. A master's degree in curriculum and instruction with a focus on early childhood education will help you understand how children's minds develop and how you can promote their innate sense of curiosity. It will also equip you with the ability to nurture young minds to their full potential by giving them a solid educational foundation and the ability to think conceptually. An early childhood education graduate degree can also set working teachers up for their next career move – namely, a fulfilling career as stellar educators and leaders. 
At UTEP, the M.Ed. in Curriculum and Instruction with concentration in Early Child Education was specifically built to expose students to a balanced mix of theory and practice. Our instructors have chosen this dynamic approach, as it has proven to provide the most practical insights and strategies on how to prepare children to engage actively with their education for years to come. It's a high-quality program which will help you learn to teach children the basics of language development, mathematics, and communication in all its forms. Our goal is to help you graduate with the ability and preparedness to make big, positive difference in the lives of young children.
2. What specifically will I learn?
UTEP's ECE program is a 36-credit non-thesis master's uniquely designed for working and emerging teachers. It is also a 100% online degree, built to offer convenience and flexibility Among the specific courses for this degree are:

• Child Development in Diverse Education Contexts (Birth to Age 8)
• Children's Literature in Diverse Education Contexts (Birth to Age 8)
• Early Childhood Education Pedagogy (Birth to Age 8)
• Development of Math/Science Foundations (Preschool to Grade 3)
• Literacy/Biliteracy Development
• Scholarly Writing for Educators
• Survey Issues in Bilingual and Second Language Education
• Learning Contexts and Curriculum
• Diversity in Educational Settings
• Research for the Classroom Teacher
• Sheltered English Instruction

3. How hard is an ECE (Early Childhood Education) Program?
The difficulty of any master's program will vary based on the institution's approach to the material, the format of the program, the teaching styles of the professors, your own learning preferences, and other personal and institutional factors. At UTEP, we think that our early childhood education program is challenging in all the right ways. That means the challenge comes from learning new ways to empower children and families through education. We guarantee that the challenge will come from your personal and professional growth as a preschool teacher or elementary educator – and not from trying to juggle your current workload and make it to in-person classes to earn your degree. The online format of UTEP's ECE master's removes some of the stress, so you're in a better position to succeed.
But don't just take our word for it. See what our students have to say:

"Being a relatively new teacher, the demand is high for [my] time. I found the master's work compounded a lot of those issues, and that's why the online component really helped me as a teacher. I was able to control my time a little better. It freed me up when I had deadlines at school – I could work late into the night at home, instead of missing a class. I found the experience, in the end, to be very rewarding. It requires more focus on my part." – Don Belknap, UTEP Master's Graduate

And if the workload becomes too much, and you begin to doubt that you can push through, UTEP's very own educators will be there to help and mentor you: "If I have one piece of advice to give my online students, I guess it is to never forget the real focus…those wonder-filled children. In this fast-paced world with too many readings and assignments and other life responsibilities (believe me, I know!), it is all too easy to forget the passion for young children that inspired you to be teacher, to enroll and learn more in the first place. I have found that students who keep that focus and capture it in their work, not only do the best in my classes, but continue to inspire me to be a better teacher myself." – Dr. Alyse C. Hachey, Associate Professor 
4. What is the career outlook for someone with a master's in early childhood education?
According to the Bureau of Labor Statistics, the odds are in your favor. The median salary for elementary school teachers in the U.S. is roughly $56,900 per year with a bachelor's degree alone. With an expected 7% hiring increase over the next 8 years and a master's degree in the field, you are bound to increase your earning potential substantially.
Early childhood educators are in high-demand, but the truth is that rewarding work is available in a wide variety of fields that cater to young children. Outside of the classroom, students of this degree also choose to work in: 
Children's clothing
Parks and playgrounds
Children's entertainment
Children's museums
Pediatrics
Psychology
Social work
Retail management
Toy design and sales
Child care centers
5. I want to learn more about the UTEP's ECE master's, its application requirements, process, tuition, and more. What should I do next?
Simply reach out to us and one of our enrollment counselors will contact you directly to answer your questions and walk you through your options.
---