Paperless like a Pro: Success Strategies for Adult Learners Looking to Make the Most of Digital Options
by
UTEP Connect
As an adult learner going back to school, you're sure to face new challenges. Chances are, you'll be balancing several priorities — such as work, home, and family — while pursuing your education. Online classes can be a blessing, offering flexibility and convenience to students juggling work schedules and other priorities.
Whether it's been a few years or several decades since you attended class, here are some strategies for staying organized and being successful with online classes.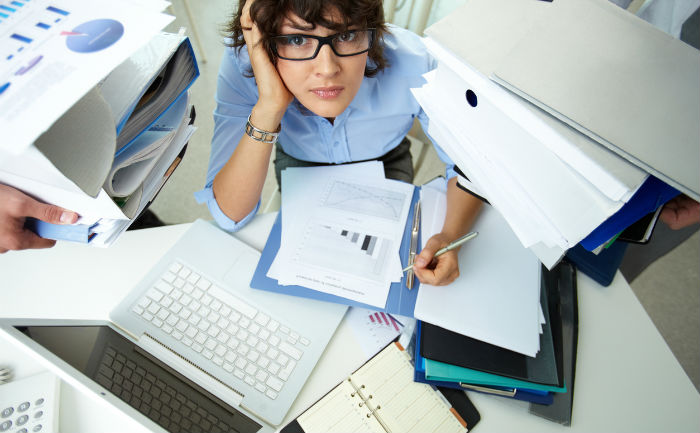 Consider the differences between online and traditional on-campus classes

Online classes give you more flexibility to learn and work at your own pace. Just like for a traditional, on-campus class, you will need to find out course requirements, pay attention to deadlines, and complete assignments before class.
When you're taking a class online, you may have the option of attending on your computer or through your smart phone. You may need headphones with a microphone so that you can participate during class sessions.
One of the biggest advantages of online classes is that you can attend a school located anywhere in the country or even around the world. If you do find yourself taking classes from a school that's not close to home, make sure you confirm the time; you wouldn't want to accidentally miss a session because it's in a different time zone.
One of the biggest differences in how students learn today is the lack of physical textbooks. Many courses, especially online classes, use online materials. This can save you a significant amount of money.
It's ok to still take notes and manage your life the old-fashioned way. However, there are lots of digital tools, apps, and strategies that can help you keep things organized and manage your time efficiently.
Start smart with effective systems
Students who are new to paperless classes often find it hard not to have paper copies of their syllabi, reading materials and assignments, but all these can be managed digitally when you keep things organized online.
Start on Day One by making a folder for each class on your computer and ensuring you download important things like the class syllabus and assignment instructions to place into the folders. That way, you won't have to go online to check this information.
Organize your digital files
Every time you create or save a document on your computer, you'll be creating a digital file. If these are not carefully organized and managed, they can be both difficult and annoying to locate, and the problems don't stop there.
According to recent research, the chaos of a cluttered environment can negatively impact your life. Disorganized files can be distracting, competing for your attention and restricting your ability to focus.
While you're at it, create a backup system by setting Microsoft Word to auto-save every few minutes so your hard work won't digitally dissolve if the power goes out.
Store files in the cloud
With a service like Google Drive or Dropbox, you can access your files from anywhere and will have a backup if your computer crashes. Just like on a desktop or laptop computer, you should organize your cloud-based files with one folder for each class.
Use an online calendar to keep up with deadlines
Find a good online calendar that you can access via both your computer and your phone. Free choices such as Google Calendar, Outlook (for Microsoft users), iCloud (for Mac users), and Zoho Calendar  are all simple but powerful. Once you decide upon an online calendar, stick to it for the semester. If you use multiple calendars, an important assignment may fall through the cracks.
Speaking of due dates, be sure to add these to your online calendar on the day you receive your syllabus. It's easy to put this off, but this is something you should do on the first day of class. As you enter each deadline, set reminders to keep yourself on track.
Plan your time wisely
Set aside a few minutes once a week to review the assignments due over the next two weeks and make a task list to ensure everything gets done. If you have questions about an assignment, this is the time to email your professor or post a question in your online classroom.
You can also use this weekly check-in with yourself to set a study schedule. Make appointments on your calendar and be sure to keep them. After all, your calendar should reflect what you actually accomplished on any given day – not what you wish you had done. For maximum effectiveness in tackling projects, break assignments into smaller pieces and set deadlines on your calendar for each piece. An early start gives you wiggle room if the project takes more time than you expect.
Seek help well in advance
Make an appointment for an online consultation with the Writing Center at least a week before your project is due. Not only will this online discussion improve your paper, having an appointment will force you to complete your work ahead of time.
In this fast-paced world, getting an online degree appeals to busy professionals with families and other personal commitments. Going to campus on a daily basis is often unrealistic when you have to work, cook dinner, help your kids do their homework and grapple with other things life throws your way. By using the organizational tips outlined above to manage your digital studies, you'll have a much easier time pursuing your online degree.
Explore apps than can help you stay organized
Fully utilizing software organizational apps is like having a personal assistant who follows you around, coordinating every move you make. Here are some lifestyle and student apps to help you organize your time and money more effectively:
What's Next
Are you ready to go back to school and looking for online programs that fit your career goals? The University of Texas at El Paso offers a variety of 100% online undergraduate, graduate, and certificate programs. We invite you to explore our online programs and see what it will take to make that next step for your professional future. If you are interested in learning more about our team and UTEP Connect's 100% online programs, reach out. An enrollment counselor will contact you directly.
Other related posts
---