Wellness Tips for Online Students in the Age of COVID
by
UTEP Connect
On the surface, one might be tempted to minimize the effect of the COVID-19 pandemic on students in online degree or certificate programs.
"At least you're already used to taking courses online."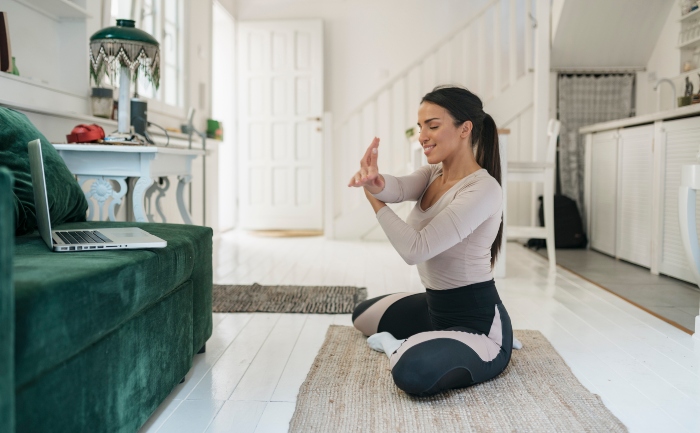 While that may be true, the pandemic has affected online students in significant ways and has amplified the unique challenges they face even in "normal" times. Many are (single) parents whose children are now at home and need even more care and attention (and help with their schoolwork). Others may be caring for older relatives or dealing with a number of new pressures that can make earning a degree or certificate online especially difficult to navigate without a sound strategy. If you are among the many online students feeling the added pressures of this taxing year, keep on reading. We prepared a few practical tips for how online students can practice self-care and establish balance during the pandemic and beyond.
Care for Your Body
Pre-pandemic, just 45 percent of college students met the government's recommendation of at least 150 minutes per week of moderate-intensity aerobic activity, 75 minutes of vigorous aerobic activity, or a combination of both, plus at least two strength-building sessions involving all major muscle groups.
Meeting that recommendation got tougher with the closing of gyms and other fitness-related facilities when the pandemic started. Although many have since reopened, they're often limiting capacity and working under strict regulations. Some gyms have been holding outdoor classes for added peace of mind.
It doesn't matter as much where you exercise—a gym, a local park, your neighborhood—as it matters that you exercise. Online students can have up to 40 to 50 hours per week of seated screen time, which can lead to a number of health concerns, including increased blood pressure, high blood sugar, excess body fat, and poor cholesterol levels, if you're not breaking that time up with physical activity.
Whether it's between-class jogs around the block, calisthenics in the garage, socially distanced gym visits, or another activity, fitting in time to get your heart pumping should be a priority.
Moreover, exercising isn't just good for your body—experts say exercise can be helpful in treating symptoms of anxiety, depression, and other mental health conditions that can develop or worsen during the pandemic. In fact, over 90% of respondents to a nationwide survey conducted by researchers at Harvard Medical School and the University of North Carolina School of Medicine reported feeling increased worry, frustration, boredom, or anxiety as the COVID-19 pandemic continues.
Limit News Intake
To help lessen pandemic-related fear and stress that can contribute to mental health issues, consider limiting the amount of time spent reading the news. While it's obviously important to stay informed on latest public health updates and current events, constant exposure to negative news can heighten your stress level. "Doomscrolling," a term for continuously surfing the web for bad news, can be especially tempting when much of your day is spent online.
Here are a few ways to stay up to date without getting overwhelmed or distracted from your studies:
Limit your news consumption to what's most important and unplug once you're informed.
Restrict news and social media consumption to a specified amount of time, say 30 minutes or so, in the morning or evening. Set a timer if it helps you stay accountable.
Install a website blocker on the device you use for coursework and studying. There are multiple free apps that let you block access to potentially distracting websites or applications during a specified window of time, so you couldn't visit them even if temptation gets the better of you.
By redirecting excess time spent on news and social media sites to studying and coursework, you can benefit your mental health and your academic success.
Keep Connected
The risk of social isolation, a challenge for many online students even in non-pandemic times, has been compounded by the COVID-19 pandemic with fewer opportunities for in-person interactions with family members and friends. If you don't compensate for this loss of social interaction, loneliness and mental-health disorders like depression can set in.
In the spirit of making lemonade out of lemons, why not use this occasion to get to know your classmates and professors better? After all, they are likely facing some degree of isolation too. Consider organizing a virtual study group or discussion with your classmates. At least, try to increase your participation in interactive elements of your online classes—posting more frequently on discussion boards or putting extra effort into collaborating on group assignments, for example. Plus, upping your course participation can have the additional perk of helping you better understand course material.
Outside the virtual classroom, who says that being socially distant can't be social at all? While it's no substitute for in-person interaction, technology can help you stay connected with friends and loved ones during the pandemic. For example, take advantage of videoconferencing and social collaboration tools to chat with relatives, schedule virtual activities with your friends, and remember that you are not in this alone.
What's Next
Ready to take the next step in applying to one of the flexible and affordable online undergraduate, graduate, and certificate programs at UTEP Connect? Get started by submitting this form to have an enrollment counselor contact you directly.
---