Become the Voice of Your Organization with a BA in Organizational and Corporate Communication
by
UTEP Connect
Interested in pursuing an exciting career in public relations, media relations, human relations, event planning, or a related area? UTEP's online Bachelor of Arts in Organizational and Corporate Communication is your pathway to the job you want.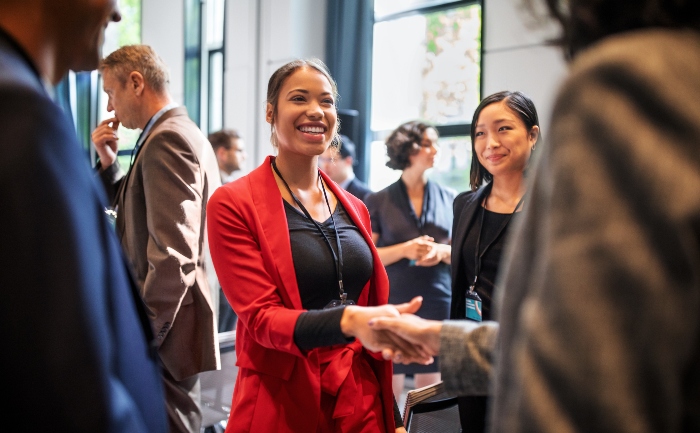 But even if you plan to enter another field, or if your future career plans are still in flux, this program is a smart way to earn your bachelor's degree while building the strong communication skills employers are increasingly looking for in all job candidates, regardless of their function.
Here's a closer look at this innovative bachelor's degree program.
What Is Organizational and Corporate Communications?
Organizational and Corporate Communications deals with all the machinations behind how an organization communicates to its various audiences. These include both internal stakeholders (such as employees) as well as stakeholders external to the organization (think members of the media, consumers, and investors). Successful communication professionals are usually adept writers, speakers, and strategic thinkers/problem solvers. They also understand how the media works—many communications professionals previously worked in the media!—and have deep knowledge of their organization's (or client's) business, its products or services, and the wider industry landscape.
Communications is a fast-paced, often high-pressure, field. Successful communication professionals typically thrive in (or at least are comfortable with) situations where they must act swiftly to help their employer or client react to change or take advantage of opportunities to portray the organization in a favorable light. It's not for everyone, but those who are successful in communications often love what they do and are in high demand in virtually every sector and industry.
Communication Career Pathways
Some communication professionals work in the corporate communications departments within for-profit and nonprofit organizations or government agencies. Others work at PR firms, helping multiple clients craft their message and influence public opinion by acting as extensions of their communications teams and serving as strategic counsel. Whichever route you take (and you can certainly work in both agency and in-house communications teams throughout the course of your career) will determine your career path.
Common PR agency job titles include:
Account Coordinator
Assistant Account Executive
Account Executive
Account Supervisor/Manager
Managing Director
In-house communication job titles include:
Communications Specialist
PR Manager
Internal Communications Manager
Public Affairs Specialist
Director of Corporate Communications
Public Information Specialist
Event Coordinator
Unsure About Your Career Goals? Why This Degree Is a Smart Decision for Any Student
Ask the hiring manager for virtually any job opening about the requirements for the position, and their answer is very likely to include strong communication skills. Organizations understand the importance of effective communication on the bottom line and increasingly expect candidates to be strong communicators. In fact, according to research from the Association of American Colleges and Universities, the abilities to effectively communicate verbally and in writing are among the skills most highly valued among business executives and hiring managers.
So, even if you don't plan to enter public relations or a related field, or if you aren't yet sure about your future career goals, the UTEP online BA in Organizational and Corporate Communication program is a great way to equip yourself with the skills employers are looking for regardless of job function.
Do I Need a Bachelor's in Communication to Work in PR?
The short answer is, not necessarily—but it helps enormously. It can be tough to break into the communications field, especially without an accredited degree showing you have foundational skills to hit the ground running and the advanced competencies to add value to your employer or clients.
UTEP's online Bachelor of Arts in Organizational and Corporate Communication is a 120 credit-hour degree program. In addition to general coursework in English, mathematics, literature, social science, science, the arts, history, economics and other core subjects, you'll take 36 credit hours of coursework focused on enhancing your written, oral, and digital communication skills so that you're prepared to excel in a range of communication-related roles.
Required and elective communication courses include:
Introduction to Communication
Writing for Public Relations and Corporate Communication
Public Relations
Communication and Conflict
Communication and Organizational Leadership
Organizational Communication
Communication Theory and Analysis
Principles of Advertising
New Media Advertising
Ad Sales and Management
What Will I Learn?
UTEP's experienced faculty members will train you in a broad range of areas, both theoretical and practical. Upon graduation, you'll be able to facilitate clear, impactful communication between all levels of an organization; apply communication theories to address complex challenges; efficiently negotiate and engage in crisis and team management; and facilitate positive change within an organization's structure.
You'll also gain real-world experience working on the types of projects you're likely to encounter on the job, and you'll graduate with a strong portfolio showing your ability to develop materials such as:
Annual reports, product brochures, and other branded pieces
Internal communications sharing news about employee benefits, organizational changes, and other internal subject matter
Online content for company web sites, including intranet sites, client portals, and pages for investors
Pitches to all kinds of media outlets
Scripts and speeches for organizational leaders to use at news conferences, trade shows, investor meetings, and other events
What's Next
Ready to take the next step in applying to the BA in Organizational and Corporate Communication or any of the other 100% online undergraduate, graduate, and certificate programs at UTEP Connect? Get started by submitting this form to have an enrollment counselor contact you directly.
---