How to create a cozy corner for successful study sessions
by
UTEP Connect
Winter is here, so it's time to bundle up in your warmest sweater and relax with a cup of hot chocolate. Yes, you can enjoy all of this as an online student, too! Learn how to create a cozy DIY study space where you can embrace that winter feeling and still ace your classes.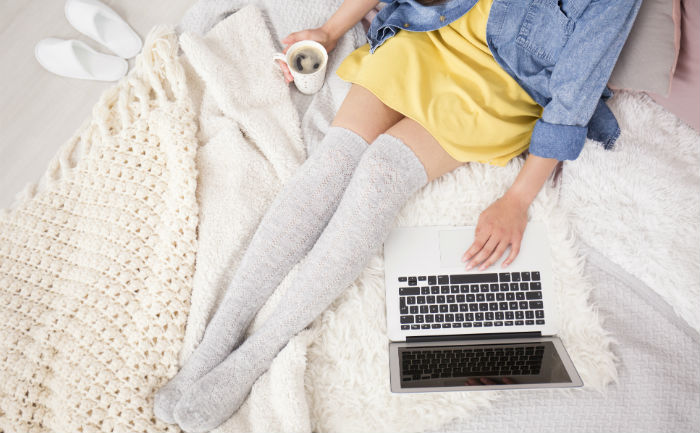 Get out of high-traffic areas
While the holidays are a great time to reconnect with your family and friends, they can also be frustrating when you're trying to focus on schoolwork. Rather than attempting to get work done in the thick of the activity, find a quiet corner where you can tuck yourself away.
Stay organized
The last thing you want to do after you're settled in is search around for that highlighter or pen. Stay organized and keep a small basket or box of office supplies close to your cozy corner. This will ensure you have everything you need to get the most out of your DIY study space.
Embrace minimalism
People have a natural tendency to overthink decorating, particularly when there are lights and holly everywhere. Your DIY study space doesn't need to be expensive or ornate, just comfortable, quiet and relaxing. With this in mind, ditch the desk and opt for a cozy chair with a small computer table that can be pulled close for note-taking as necessary.
Don't forget the snow
Natural light not only makes reading easier but also lets you enjoy that winter chill without getting your nose cold. Setting up your study space in front of a window will help keep your focus on studying while allowing you to enjoy the winter weather.
Snacks allowed
Although it's important to focus during finals, winter study sessions don't need to be so rigid. In fact, relaxing the rules a little can help keep you motivated and engaged. If you need a hot toddy or a candy cane to get through a particularly difficult set of problems or an essay, go for it!
Keep it simple
Unlike bears, humans can't sleep the winter away—but the change in the weather does cause us to slow down, and the shorter days make it harder to stay motivated and focused. Set up a notepad in your study space, and at the beginning of every study session, write down three things you want to accomplish. Once you're done, take a break.
Winter and relaxation are synonymous, so if you want to keep your grades up through the colder months, you'll need to adjust accordingly. A favorite blanket, a cozy chair and a hot cup of tea can help make your winter study sessions enjoyable and productive. In addition to creating a DIY study space, explore different learning techniques to help you study effectively over the holidays.
What's Next?
Interested in learning more about UTEP Connect and our 100% online undergraduate, graduate, and certificate programs? Reach out, and an enrollment counselor will contact you directly.
---