Ready to Start Your Online Degree? UTEP is the Ideal Institution for Online Learning. Here's Why.
by
UTEP Connect
Online education programs provide students with exceptional access to higher education. Whether you want to increase your knowledge in a specific field, advance your skill set to help with your job search, or would like to pursue a degree without compromising your daily responsibilities, online learning can help you achieve your goals.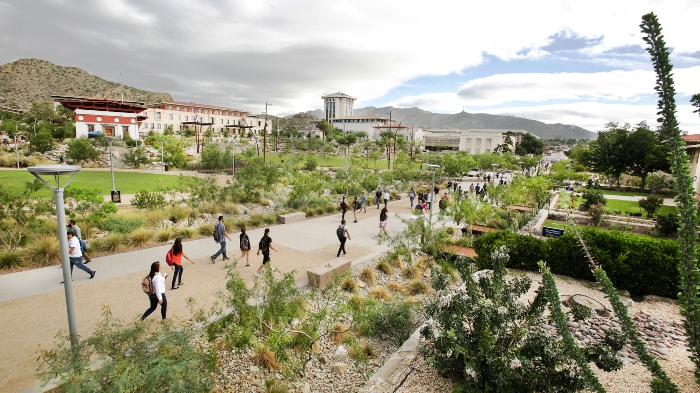 The University of Texas at El Paso (UTEP) launched a suite of online courses and programs in 2015 with the mission of redefining public higher education across the United States. At UTEP, we believe that an accessible and affordable online education should be available to all individuals while delivering the same high-quality education as face-to-face classes. And while the advantages of an online learning program offer students a higher ROI, flexibility, and convenience, there are several other benefits to choosing UTEP for your online education.  
Here is What Sets UTEP Apart from Other Online Education Institutions
Ranked Among the Best Universities for Upward Mobility
UTEP is ranked as one of the best institutions in the country for effectively helping graduates move from family incomes in the lowest 20% (less than $25,000 per year) to the top 20% (at least $110,000 per year). By participating in our online education program, you receive access to opportunities for work advancement to help you accelerate your chosen career.  
Access to the Same High-Quality Academics and Services as On-Campus Students
Each of our online programs offered provides the same high-quality and academic rigor as our face-to-face degree programs, including our online courses being taught by the same faculty who teach on-campus classes. Students participating in UTEP's online education program also have the same access to services as our on-campus students which include our Writing Center, the UTEP Library, Career Services, and the Assistive Technology lab.  
Personalized Guidance
As a student in UTEP's online programs, you can enjoy personalized support from our student support crew, student success advisors, and enrollment counselors. For example, your class instructors are available to answer questions related to course assignments, and Student Success Advisors can answer almost any other question you have related to your field of study. No matter what you need help with as an online student, you will always have access to support.  
Wide Variety of Degree Programs
Choose from 24 online degree programs to study and strengthen your career outcomes. Additionally, you have the option of enrolling in an undergraduate program to help advance your career or a graduate program focusing on a specialized area of study. If you want to strengthen your professional growth and success but are not able to make a full-time commitment, you can choose our graduate certificates. Whichever pathway you select, we offer programs and degrees to meet you wherever you are in life.  
Designated by the Carnegie Classification of Institutions of Higher Education
UTEP is designated as an R1 (a top-tier doctoral university with high research activity) by the Carnegie Classification of Institutions of Higher Education, a distinction less than 5% of universities across the U.S. have received.   
Bilingual and Bicultural Experience
UTEP is recognized by the prestigious Brookings Institution as the No. 1 leader in equal access to higher education. We also have one of the highest proportions of minority faculty among research universities in the country, and we are the only doctoral research university in the nation with a majority Mexican-American student body.  
Ready to Start Your Application?
Contact an enrollment counselor to receive specific guidance on any prerequisites you will need to fulfill in order to complete your online education enrollment and begin your application. Graduate students can apply based on their specific field of study, while undergraduates can apply by using the Apply Texas application. 
What's Next?
Need help getting started with your online education at UTEP? Contact us today and one of our UTEP Connect enrollment counselors can help you chart a path forward based on your goals. 
---