Is Online Education Here to Stay? Here's What You Need to Know
by
UTEP Connect
Online education is here to stay. Research shows that online learning has gained popularity throughout the pandemic, primarily due to virtual learning being normalized. The same research also indicates online education will remain prevalent even with a vaccine for COVID-19. Colleges and universities are responding not just to the current pandemic, but to what the future will hold. As a result, an increasing number of higher education programs are expanding their class offerings to include online courses. This means a wider variety of options to fit the academic needs of both traditional and non-traditional students.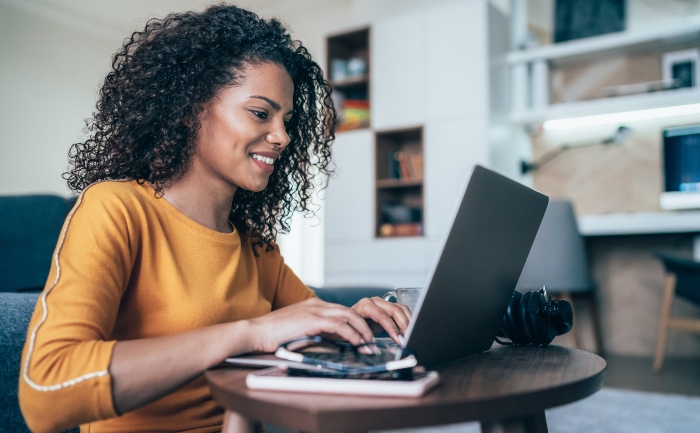 Online learning and higher education can benefit many individuals by offering multiple advantages that can lead to long-term success personally and in the workforce.  
Who Can Benefit From Online Education?
Online learning can benefit every adult at any stage in life. For those looking to increase their knowledge and expertise at a specific skill set, an online course can be helpful. According to a study by the Strada Education Network, 44 percent of individuals surveyed believe they lack the right skills and credentials to get a job or advance their careers, and 32 percent reported they do not know where to even begin. 
Online education is also an option for those with a lifelong goal of continuing to learn. Employers seek candidates who can demonstrate their desire and openness to grow through learning, which ultimately makes them more marketable in the workforce.  
But even if you are not ready or able to make a full commitment to a degree, online education offers you the opportunity to pursue a certificate while gaining more skills and insight. Whether you are looking to increase your knowledge around a specific area of study within your field, advance your skill set for applying to future jobs, or are interested in pursuing an undergraduate or graduate degree without compromising your daily responsibilities, online learning has a pathway for your needs. 
Advantages of Learning Online  
Higher ROI
Students enrolling in online courses or pursuing a fully online degree program at an accredited, nationally recognized university or college receive the same high-quality education as their on-campus peers but with an added benefit. Depending on the institution, they may be able to cut down on expenses which they may otherwise incur like transportation, relocation to on-campus housing, and even facility fees. 
Choose Between a Degree or Certificate
Higher education provides options for every person at any stage of life. As an online student, you can enroll in an undergraduate program, graduate program, or can obtain a certificate. An undergraduate program can help you kickstart or advance your career in a variety of fields, whereas a graduate program focuses on a specialized area of study. Both undergraduate and graduate programs are ideal options if you have at least 12 hours or more each week to dedicate to classes. Receiving a certificate is a great alternative if you are interested in fast-tracking your professional growth and success but are not able to make a commitment to a full-time online degree. Regardless of the path, each option provides opportunities for strengthening your career outcomes.  
Flexibility
Online education has evolved to offer true flexibility for every student, regardless of style and preference. For those who are working, have children, or are in the military, it can be much easier to take a virtual course rather than committing to a more traditional method of face-to-face education. Additionally, while many universities offer online courses where the teacher and students are present at the same time, there are also virtual course options that enable you to attend class from anywhere, at any time, accommodating your busy lifestyle.  
Bilingual Support
While classes are typically conducted in English, many colleges and universities, like UTEP, are dedicated to expanding their bilingual support services for those who speak English as their second language (such as with enrollment assistance and questions about course work).  
How to Get Started 
When it comes to online learning, choosing the online program that is the best fit for your academic goals is an important first step. Some things you will want to take into consideration when selecting your program include the experience of the institution providing online education, the reputation of the online program itself, and whether or not the instructors teaching the online courses are the same as those who teach on campus.  
Once you have decided on the specific online program that you would like to apply to, you will need to meet the course prerequisites. By contacting an enrollment counselor, you can receive specific guidance on which prerequisites you might need to complete in order to enroll.  
The final step to getting started with an online higher education program is applying. For us at The University of Texas at El Paso, graduate students can apply based on their specific field of study, while undergraduates can apply by using the Apply Texas application. 
By following the above guidelines for getting started at an online program, academic success is within your reach, and if you need help getting started with your online education, remember to contact us. Our UTEP Connect enrollment counselors are a call-away and can help you to chart a path forward based on your personal goals. 
---