Use Pinterest to boost your study habits!
by
UTEP Connect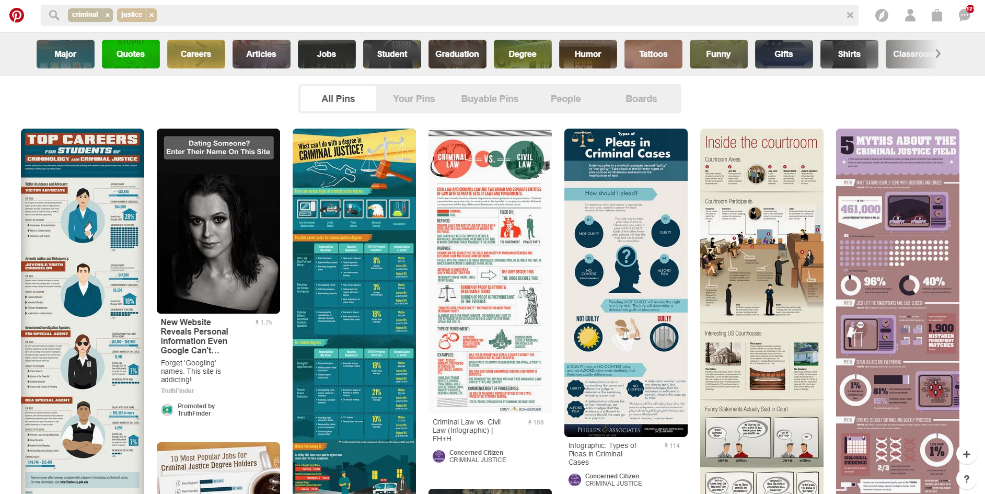 Think your Pinterest boards are just for DIY projects and planning your dream wedding? An increasing number of people are now using Pinterest for more than just following this season's top styles—they're also using it to organize their study and research materials.
Paper trails are almost obsolete and maintaining temporary, topic-specific sources online can clutter your toolbar big-time. Pinterest is the flagship of organizational websites. Using Pinterest is like having a virtual bulletin board upon which to pin your resources. You can also use Pinterest as a search engine to begin researching topics or to gather additional project data.
In 2016, Pinterest hit 150 million active users per month—50 million more users than it had predicted. If you're new to Pinterest, here's a quick guide to using it as a study tool:
Adding an image or other piece of content to your board is known as "pinning."
If you install the "Pin It" button as you search the internet, you can pin information that you may need later from other websites.
Pinterest links back to your resources, so you'll always be able to reference your information.
Adding someone else's content to your board is called "repinning."
You can organize your pins by theme, calendar date, etc.
Classroom connections with online education
Here are some ideas we've found to help you get organized with Pinterest:
Use Pinterest as a research tool: Search by keywords or course topics – or be creative. (Example: As part of your Bachelor of Arts in Criminal Justice program, shake things up by searching for "mistakes in crime scene investigations" in addition to "crime scene investigation ")
Create class-specific boards: Creating boards for specific topics or subjects can help you keep your sources straight and make research for homework and papers much easier to manage.

Get on track: Find study tips and organizational templates to help you monitor goals, plan papers and stay on track with your course work.
The only limit is your creativity! Be sure to share your ideas in the comments!
UTEP: No. 1 in access and excellence
"Social media no longer has to be an obstacle to studying; it can help students create and manage a study community, make the best use of study time and find new resources to help them learn and retain knowledge," says McGraw-Hill Education.
Did you know UTEP is ranked No. 1 in the nation in terms of social mobility?
If you are working full-time or caring for an active family, an online education at UTEP will serve you best! Our online undergraduate and graduate degree programs are structured for today's non-traditional students of all ages who are looking to earn a degree or certification.
Bachelor's degrees include:
Master's degrees include:
What's Next?
Interested in learning more about UTEP Connect and our 100% online undergraduate, graduate, and certificate programs? Reach out, and an enrollment counselor will contact you directly.
---