5 Essential Books and Films on Diversity, Equity and Social Justice
by
UTEP Connect
Academic environments that value diversity are proven to positively affect students' performance, personal growth and intellectual engagement. In fact, a study conducted by The Century Foundation shows that diversity education can improve all forms of critical thinking, as well as open-mindedness in class discussions.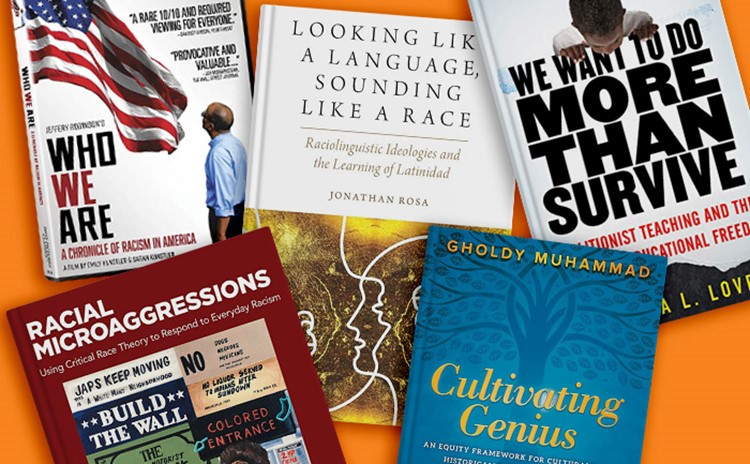 So how can you make sure that you're supporting and creating a culture of inclusivity in your class? Before you can have a conversation about diversity, equity and social justice, you must first have an understanding of the context. That's why we've compiled a list of books and films that Char Ullman, Associate Professor, believes can help you build the necessary foundation.
1. Kunstler, E. & Kunstler, S. (2021). "Who We Are: A Chronicle of Racism in America." Off Center Media.
 This documentary, based on a 2018 lecture given by ACLU Deputy Legal Director Jeffery Robinson, offers a nuanced approach to important topics relating to racism in U.S. history as well as contemporary society. The film focuses on Robinsons' own experience as a Black man fighting for racial equality, juxtaposed with archival footage and interviews. Altogether, this film confronts the responsibility of the American people to overcome a long history of white supremacy in order to create a better future.
2. Love, B. L. (2019). "We want to do more than survive: Abolitionist teaching and the pursuit of educational freedom." Beacon Press. 
B.L. Love, a powerful Black queer scholar, argues that educators must teach about oppression, racism and violence in the classroom. Without these conversations, sustainable change cannot happen. She contends that trying to reform our educational system, with a focus on things like "grit" and test-taking skills for minoritized students, has led to an educational survival complex.  The title, "We Want to Do More than Survive" refers to her thesis that educational reform is ineffective, and that we need to instead move toward educational freedom. She shows how this can be accomplished through abolitionist teaching, which involves civic engagement and intersectional justice.
3. Muhammad, G., & Love, B. L. (2020). "Cultivating Genius: An Equity Framework for Culturally and Historically Responsive Literacy." Scholastic.
Dr. Muhammad and Dr. Love present a practical approach to literacy and mathematics education called Historically Responsive Literacy.  This equity framework for K-12 education offers a teaching method that embraces all students, especially youth of color. Their approach has four key components:
Identity Development
Skill Development
Intellectual Development
Criticality
They argue that when these four areas are taught together, all students experience profound opportunities for personal, intellectual and academic success. The text includes reflective questions for educators, sample lesson plans and recommendations of texts, all of which guide educators to "cultivate genius" among their students and themselves.
4. Solórzano, D. G., & Huber, L. P. (2020). "Racial Microaggressions: Using Critical Race Theory to Respond to Everyday Racism." Teachers College Press.
Dr. Solórzano and Dr. Huber offer a profound analysis of forms of everyday racism, using Critical Race Theory to inform the concepts, models and frameworks they develop in the text. They understand microaggressions as a series of continual assaults that affect every aspect of the well-being of people of color—body, mind and spirit. Using data from more than 20 years of research, they discuss ways to interrupt and challenge everyday microaggressions in a variety of settings
5. Rosa, J. D. (2010). "Looking Like a Language, Sounding Like a Race: Making Latina/o Panethnicity and Managing American Anxieties." University of Chicago.
Drawing from two years of ethnographic and sociolinguistic fieldwork in a Chicago public school where 90 percent of the students are of Mexican or Puerto Rican descent, Dr. Rosa explores the ways in which language is racialized and related to questions of power and national identity. He examines the movement to transform "at risk" students into "young Latino professionals", highlighting students' agency and the ways they respond to their marginalization, by contesting ethnoracial, linguistic and political borders.
At UTEP, we know that creating a culture of inclusivity means creating a culture of academic, professional and personal success. If you want to further your learning in this area, check out our online M.A. in Education with a Concentration in Diversity, Equity and Social Justice. In this program, you'll learn to implement equitable policies and anti-oppressive pedagogies in a variety of leadership settings. You can also take a look at our blog post on how Char Ullman, co-creator of the program, incorporated such topics as colonial feminism, disability studies and queer theory into the degree.
---