How to Improve Your Public Speaking Skills as an Online Student
by
UTEP Connect
Public speaking is a tough skill for anyone to master, and for online students with fewer opportunities to practice, it can seem near impossible. However, with a little research – and a more proactive approach to learning – you can squash any fears you may have and develop a public-speaking style that's as compelling as it is informative.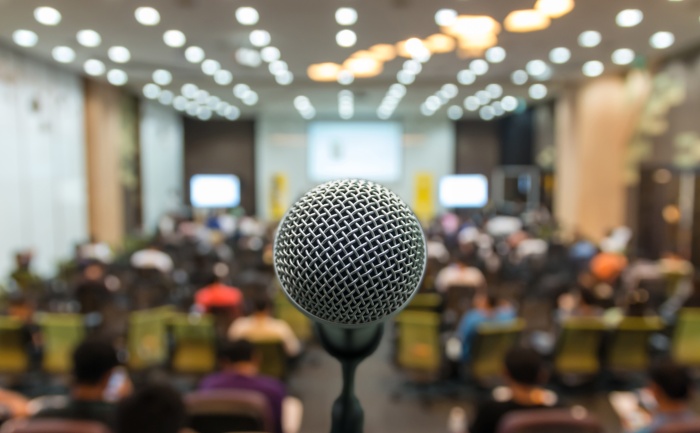 Observe Public Speakers You Admire.
Find public speakers whose presentation styles you admire. Watch them speak and take notes on what they do well – from their authenticity to polish, fluency to eye contact. Public speaking is a skill that requires attention to detail, so identifying what you admire in others will help you determine what to prioritize in your own practice. Looking for a place to start? Explore some TED talks.
Read Up and Do Your Research.
Before you jump in, make sure you're well-read on some fundamentals of public speaking – like creating an authentic connection with your audience, memorizing what you're going to say, and establishing positive body language. Taking some time to absorb the basics will help inform what you can keep top of mind when you're ready to leap into a public-speaking scenario of your own. Then, you can adjust your behavior and natural tendencies accordingly.

Take a Course at UTEP.
At the University of Texas at El Paso, we offer public speaking as a course (COMM 1301) – even for online graduate students. Take this class to prepare you to effectively communicate with large groups of people. Even in a field unrelated to communications, it's a skill that will benefit you as you charge forward in your career, from entry-level to management and beyond.  
Join a Public-Speaking Group. 
Once you've put in some time determining the public-speaking style you most admire, the next step is practice. Many communities have groups like Toastmasters International – an organization that specializes in communication and leadership development. With clubs in 141 countries and hundreds of thousands of members, it's clear this group knows a thing or two about creating opportunities for aspiring public speakers and those who want to keep up with their skills.  
What's Next?
Considering getting a second degree, possibly in Organizational and Corporate Communication, or coming back to finish a degree you had previously started? Explore your options with UTEP Connect's convenient, 100% online undergraduate, graduate, and certificate programs. Our enrollment counselors are available to help. Simply reach out, and we will contact you directly.
---