State Authorization
State Authorization makes it possible for students outside of Texas to participate in UTEP's online courses and programs. UTEP Connect is dedicated to making our programs available in as many states and territories as possible. Check out our table below to see if our programs are available in your state. 
Note:
UTEP Connect cannot accept students in states listed as "Not Authorized" and "Pending". Also, if you change location prior to completing a program, you may continue in the program only if it is authorized and available in your new location. 

If you are interested in a program that leads to a license or certification, there may be additional requirements or restrictions on your program. At this time, the University of Texas at El Paso cannot confirm whether any particular course or program meets requirements for professional licensure in any state other than Texas unless otherwise noted here. If you are planning to apply for licensure in a state other than Texas after completion of your program, you may contact that state's appropriate licensing board to determine whether the UTEP program meets licensure requirements in that state.
If you have a specific question related to State Authorization, please contact our State Authorization Manager at State.Authorization@utep.edu.
*All out-of-state authorizations are achieved through the State Authorization Reciprocity Agreement.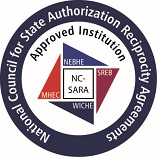 UTEP has been approved by the State of Texas to participate in the
National Council for State Authorization Reciprocity Agreements.
NC-SARA is a voluntary, regional approach to state oversight of postsecondary distance education. Institutions that join NC-SARA are held to the national standard in each member state rather than the individual state's regulations, thus making authorization of distance education more streamlined.