Stress less and learn more: A guide to studying when you have kids
by
UTEP Connect
Looking forward to the holidays but worried about the effect they will have on your studying? You aren't alone. When you're a student and a parent, balancing the joy of having your family near with the need to study can be a challenge, but finding creative ways to sneak in school time while embracing the season will help make the holidays productive and memorable this year. Use this guide to help you create a study schedule that strikes the perfect balance.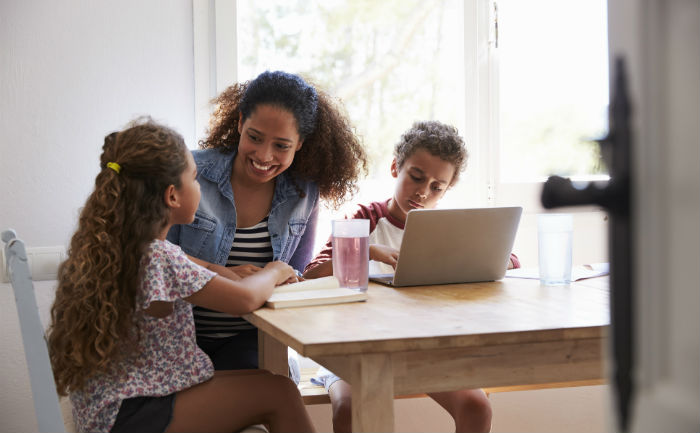 Be study-ready
Being a parent means lots of waiting: waiting for practice to let out, waiting for everyone to put on their shoes, waiting for the kids to finish eating. Rather than letting that time slip away, use it to study! Stay study-ready by downloading flash cards to your phone, keeping notes in your wallet or purse and stashing a book in the car.
Practice interval studying
Short bursts of studying can be just as effective as longer sessions, so don't be afraid to designate a few patches of school time throughout the day. Pick times when the kids are involved in an activity or watching a show to slip away and complete some practice problems or read through a chapter. If you study in short bursts, your kids are less likely to bother you or feel neglected.
Incorporate the family
Studying may not seem like a family activity, but when the kids are home, it probably needs to be. Have the children quiz you using old tests or color illustrations pertaining to your coursework. Ask them to keep track of how long it takes for you to complete math problems or read part of a chapter. Let them play teacher and give you a quiz. Not only will letting the kids take part in your studying keep them entertained, it will also show the importance of continuing their education.
Lean on your support system
Thankfully, the holidays also mean having family around. Why not forgo gift requests this year and instead ask your family to watch your children? Some well-placed babysitting may help you fit in a few hours of uninterrupted studying.
Study with your kids
If your children are school-aged, they probably have schoolwork too. Setting aside time for a "family study hall" will ensure that the kids keep their good study habits throughout the holiday break as well as giving you regular opportunities to work on classwork.
Conserve "me" time
Too often, parents who are also students sacrifice the time they usually set aside for relaxation to study. While this may seem like a fair compromise, it can quickly lead to burnout and exhaustion. Make sure to schedule time for your hobbies, nap, or even to read inspirational quotes.
Studying with kids is tough but not impossible. With some quick thinking and flexibility, you can create a study schedule that will allow you to both excel in your classes and continue to be an active and engaged parent.
What's Next?
Interested in learning more about UTEP Connect and our 100% online undergraduate, graduate, and certificate programs? Reach out, and an enrollment counselor will contact you directly.
---