Program Spotlight: Graduate Certificate in Technical and Professional Writing
by
UTEP Connect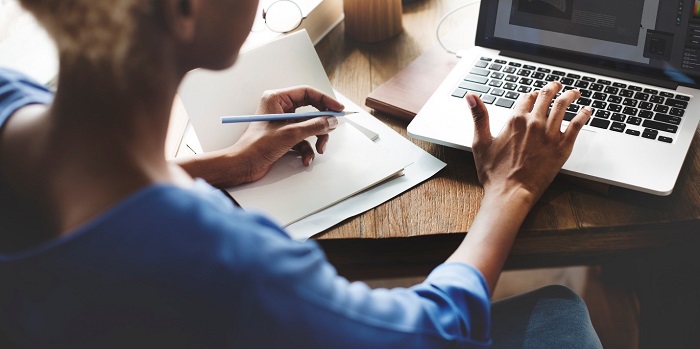 Skilled writers are the bridge between art and science. They are the architects who bring to life the science of technology, business, innovation and world events. They are simply storytellers with the ability to connect ideas and people.
That said, skilled writers do more than just write: They construct ideas, illustrate characters, edit, analyze, navigate the challenges particular to their current situations and ultimately deliver results. And you can be a professional writer, too. In fact, thanks to the University of Texas at El Paso's online graduate certificate in technical and professional writing, you could be on your way to the top in a very short time.
Course overview   
The UTEP graduate certificate in technical and professional writing is a 100%-online program designed for working professionals and graduate students from any discipline who seek focused education in technical and professional communication. The program also prepares students for the challenges of today's rapidly changing technologically global society.
In this program, students are able to explore the relationships among language, writing and technology.
Upon successful completion of this program, students have the ability to:
Harness the creative power of verbal and visual discourse
Employ new technologies in designing effective communication
Tailor technical information to a non-technical audience in an understandable way
Use rhetorical theories in practice and skillfully assess electronic research
With a UTEP graduate certificate in technical and professional writing, you can find careers in:
Computing-related industries
Engineering and environmental communication
Government and military
Medicine and other scientific and technical fields
Media and online writing
As a professional technical writer, you may be called upon to research, write, design, or analyze technical information for different audiences. Such information may include:
Software and hardware documentation
Grants and proposals
Digital multimedia presentations
Website content
Training resources   
Curriculum
UTEP's graduate certificate in technical and professional writing can be completed in as little as two semesters. To receive the graduate certificate, a student must successfully complete a total of four graduate courses (12 credit hours). The four graduate courses include:
RWS 5312: Technical Writing
This course equips the student with the skills required to handle complex writing projects and adapt content for different audiences and mediums, including social platforms, by employing new technologies to design effective communication.
This course inspects the principles of writing a formal grant proposal, covering topics such as drafting an executive summary, developing comprehensive project descriptions, analyzing requests, assessing proposal reviewers' requirements, projecting outcomes and budgeting.
RWS 5315: Professional Writing
This course explores the various ethical and rhetorical aspects of drafting and designing professional documents and presentations for both digital and print media.
In this course, students learn the practical application of web editing, copy marking, and copy editing techniques, as well as how to evaluate rhetorical audience elements, ideology and design in both print and web-based documents.
Why UTEP?
Beyond the convenience offered by the 100% online format of this certificate, students will join a network of like-minded professionals and highly-qualified and driven faculty. UTEP is home to a large bilingual and multicultural community, both on-campus and online, and is highly invested in the success of all our students. With robust online support services, our teams are always one call or email away from helping students tackle any academic challenge. We invite you to learn more about our more-than-a-century-long history of excellence, access, and inclusivity either online or by connecting with us directly. If you are interested in exploring your educational options with us, reach out, and our enrollment counselors will be in touch.
Other related blog posts
---