Do What You Love
by
UTEP Connect
Most people spend a lot of time working. In fact, about 1/3 of your life is spent at work. It's safe to say, nobody wants to be miserable for a third of their lifetime. So, don't just settle for "OK" when it comes to your career. Do something you love. After all, as Confucius said, "Choose a job you love, and you will never have to work a day in your life." That Confucius: such a romantic! But, how do you know what you love ­– and how do you get paid for it? Glad you asked. Here are some tips for discovering your passion and finding a career that fulfills that passion.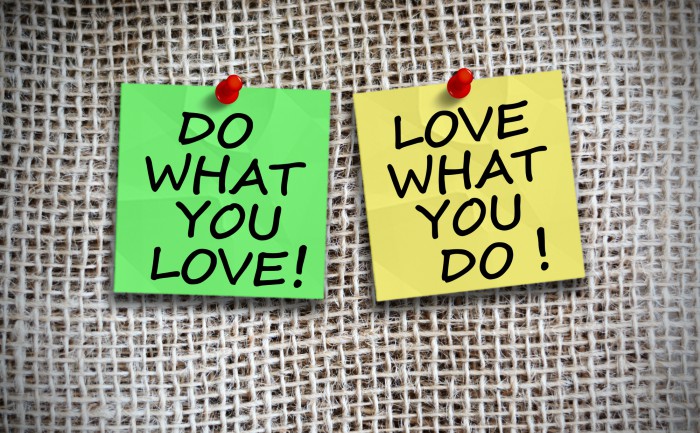 Do a little navel-gazing 
Take some time to know yourself. Don't worry about any particular job, yet. Just think about what you most like to do. Cook? Read? Travel? Play sports? Help others? If you're having trouble, try to remember what you loved as a child. Often, our passions emerge in childhood. Was it making experiments? Maybe it was building things? Hmm, building things… 
For instance: 
You can take your childhood passion for building things further with a career as a Construction Manager; according to the US News and World Report (based on the latest career outlook handbook by the U.S. Bureau of Labor Statistics), the median salary for construction managers is $89,000.
To be a Construction Manager, you oversee projects from start to finish. Your responsibilities cover everything from obtaining permits to understanding braces from brackets. You're in charge of hiring and scheduling contractors, solving problems on the job, staying on-time and on-budget – all while holding the hand of the client. 
Sounds fun? Then you'll need an advanced online degree in Construction Management.  
Take a look at a university course catalog 
Explore the options. Which courses sound interesting? What classes do you think you'd do well in? Which ones look completely boring – or scare you? The answers will help you find the subject that you love – and how to prepare for your dream career. 
For instance: 
If courses in writing, creative design, and business sound interesting, you may be suited for a career in marketing. You can become a Marketing Manager,  According to the US News and World Report (based on the latest career outlook handbook by the U.S. Bureau of Labor Statistics), the median salary for marketing managers is $131,180. 
Being a Marketing Manager requires not only creativity but also the ability to plan, ideate, and execute marketing plans. It also means managing, mentoring and building a diverse and creative team, managing projects, tracking results and marketing optimization, and leading with vision. Plus, with corporations needing more and more help to represent their brands to large consumer audiences, this position is estimated to grow 10 percent over the next decade. 
Most people grow into this position, but to get started, you'll need an online degree in Organizational and Corporate Communication.
Find Mentors 
A great way to help launch a career you'll love is to grow a network of peers and mentors. You'll gain valuable perspective, inside knowledge, and maybe a few advocates to help you in the process. 
Use social media to find, connect with, and follow people who have your dream job – or something close, not only through LinkedIn, but also on Twitter and Facebook. Read blogs, join forums, attend events, identify and follow your career heroes to find out what's it's really like to work at a job you love. Don't forget to also explore the student support resources your current or future university offers. Take advantage of career services planning and academic advising opportunities. And most definitely reach out to professors and successful alumni for guidance. 
Stay Humble AND Learn from others 
Regardless if you are a first-time freshman or someone who is looking to return to school to make a career switch, staying humble and open is the best way to learn and absorb knowledge. As an online student, you are "sitting" in a truly diverse class. You never know who may be among your classmates! Ask questions, exchange ideas, learn from each other's experiences. Do not let the physical distance become the reason for not reaching out. Your classmates and professors are just an email or a discussion board away. Who knows, they may be the source of your next inspiration or the helping hand you may need when you are ready for that big career move. 
Follow these steps, and you'll find your way to the career you truly love!
What's Next?
Interested in learning more about UTEP Connect and our 100% online undergraduate, graduate, and certificate programs? Reach out, and an enrollment counselor will contact you directly.
---