Want to Work in Advertising? This Online Degree Can Help
by
UTEP Connect
When you think about media advertising, what comes to mind? Maybe it's a memorable commercial during a certain football game played in early February. Or a huge billboard alongside the highway you pass on your daily commute. Maybe it's that (maddeningly) catchy radio jingle promoting the used-car dealership down the street. Or maybe it's another of the estimated 5,000 ads we're exposed to every day.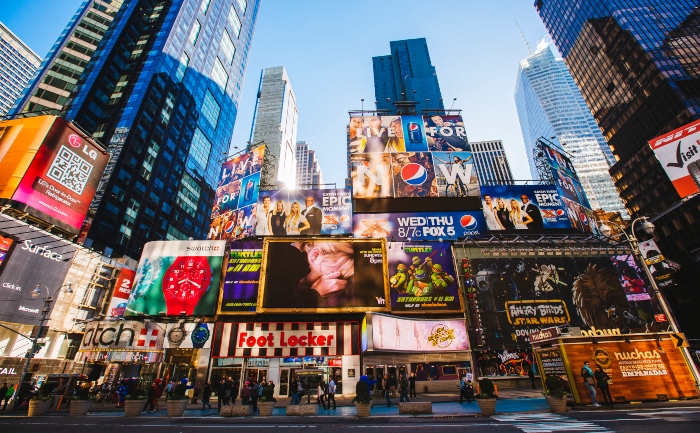 So, who's behind all this advertising? In short, a lot of people—from the marketing director charged with promoting a brand and its products or services, to the creative director who leads an ad's creation and execution, to the media buyers who decide the best mediums for reaching a campaign's target audience, and the many others involved in various steps between when a campaign is first devised and when an ad reaches your eyes or ears.
Here's a closer look at media advertising and some of the many career paths available in this dynamic and exciting field.
What Is Media Advertising?
Advertising has been used for centuries to call attention to ideas, products, and services. Look around right now. Wherever you are, there's a good chance you'll see some form of advertising aimed at persuading you to buy a product, influencing your opinion on an issue, or simply getting your attention in an increasingly cluttered world.
While the idea of using media to amplify a message is nothing new, the field is changing at a breakneck pace with the digital revolution. Look no further than your local newspaper's classified section. If it still exists at all, it's likely many times smaller than it was even 10 years ago. But as ad spend in "traditional" media declines, advertisers are shifting their investment toward digital media—think paid results on search engines, sponsored posts on social media platforms, and ads on heavily trafficked websites. In fact, experts predict that 2020 will be a watershed year for advertising, with the internet expected to account for over half of all ad spending in the U.S. this year—an estimated $135 billion.
This growth in spending has led to a growth in jobs, with U.S. ad agencies boosting their staffing by 28% over the past 10 years, to 206,100, according to Ad Age Datacenter's analysis of job figures from the Bureau of Labor Statistics. When you also consider the myriad in-house advertising positions available within the for-profit and nonprofit sectors, now is a great time to enter the advertising field.
Do I Need a Degree to Work in Media Advertising?
Even with the strong job market, it can be tough to break into the advertising field. A four-year degree in media advertising can help give you a leg up on the competition. UTEP's online Bachelor of Arts in Media Advertising, for example, is designed for students seeking entry-level media and advertising careers and features a curriculum focused on building a strong foundation in advertising theory, consumer behavior, and media planning. The program is also connected to a charter student organization with the American Advertising Federation (AAF) and is associated with the Advertising Federation of El Paso—meaning possible networking opportunities at brands and agencies across Texas and the country.
What Will I Learn?
UTEP's online Bachelor of Arts in Media Advertising equips students with essential skills for a successful advertising career, including the ability to:
Plan, execute, and evaluate the effectiveness of advertising and marketing campaigns
Understand emerging trends and technologies in today's media environment
Recognize consumer behavioral response toward various forms of advertising
Learn how to communicate effectively and function with both internal and client teams
Become a well-rounded professional prepared for any challenge posed by the advertising marketplace
Courses focus on developing your strategy, planning, media, and research skills, as well as the basics of graphic design and copywriting. This program also provides experiential learning opportunities where you'll gain hands-on experience working with real clients, including a capstone project that culminates in the development of an advertising campaign, which provides the basis for a strong professional portfolio.
Possible Career Pathways
UTEP's online BA in Media Advertising program will help you build a robust career in marketing, media, or advertising, with a wide range of options for where to start. You'll graduate with the skills to work in a variety of settings, from agencies that plan and execute advertising campaigns on behalf of clients to in-house communications and marketing departments within businesses and nonprofits.
Types of positions available to graduates of this program include:
Account assistant
Account coordinator
Account executive
Account supervisor
Copywriter
Creative director
Direct marketing director
Market researcher
Media buyer
Media planner
Project manager
Promotions manager
Public relations director
What's next
Ready to take the next step in applying to the BA in Media Advertising or any of the other 100%-online undergraduate, graduate, and certificate programs at UTEP Connect? Get started by submitting this form to have an enrollment counselor contact you directly.
---