Keep calm and resolve your study problems
by
UTEP Connect
The new year is just around the corner, and resolutions abound. Rather than going with the same old New Year's resolutions, why not learn how to improve your study habits? Take a look at the following problems and resolutions for ideas to help yourself become a better student in the new year.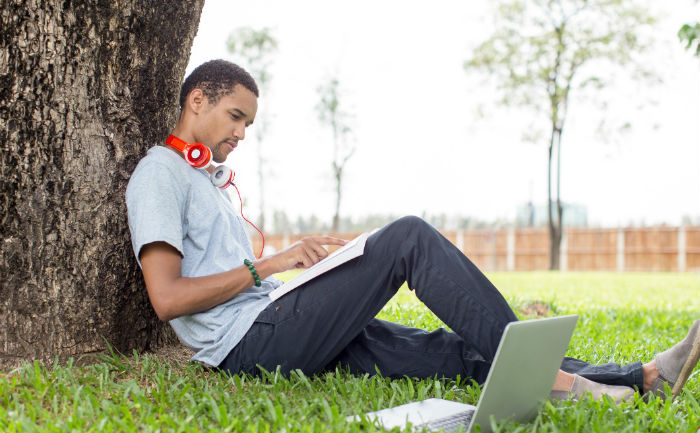 Resolution No. 1: Resolve to stop surfing while studying
Too often, students measure their study "success" by the number of hours they spend reviewing the material, even if those hours are unproductive. When your studying is frequently interrupted by checking Facebook, updating Twitter and searching Pinterest, this not only wastes time but makes your study session less effective.
To achieve this resolution, students need to get harsh: Schedule "technology-free" study sessions that involve leaving your laptop and phone behind. If you need computer access, apps like Self Control, Freedom and Anti-Social can block all or parts of the internet while you study.
Resolution No. 2: Resolve to remember what you learned
If you've ever reached the end of a study session and realized you have no idea what you just read, you know how frustrating it can be to put in the time but not get the knowledge.
To overcome this problem, you're going to need to shake things up. Reading simply isn't an effective form of studying for some people, and if you're making this resolution, it probably doesn't work for you. Instead of simply reading a chapter, why not make notes as you read, draw pictures of the material or find non-text-based sources like videos and audio recordings? Try a few different methods of studying until you find one that's engaging and helps you reliably remember what you studied.
Resolution No. 3: Resolve to get help when you're stumped
Maybe you're putting in the hours and maintaining your focus, but you don't always understand the material. It's easy to feel alone when it comes to online learning, but online courses typically have forums for students, online office hours for professors and resources for additional help from tutors.
This year, rather than trying to learn on your own, commit to using these resources to gain more from your education. Make a point to virtually "show up" during professors' office hours, and when you struggle with an assignment, reach out to classmates for help. If you get hung up on a concept, find a mentor to talk through it with you, and check out the UTEP writing center for advice on how to improve your grades. Connecting to your school and classmates can help you excel in your studies. 
If you're looking forward to a new year and a new you when it comes to school, this change needs to start with a single resolution. Identify your weak spots and learn how to improve your study habits this coming year.
What's Next?
Interested in learning more about UTEP Connect and our 100% online undergraduate, graduate, and certificate programs? Reach out, and an enrollment counselor will contact you directly.
---