The Difference Between an RN and BSN
by
UTEP Connect
 Nursing is an attractive career choice for a number of reasons. The salaries are high, the setting is flexible and you get to leave work every day knowing that you've helped someone at a hard time in their life. Nurses will also always be in demand, meaning competitive salaries and the opportunity to work anywhere.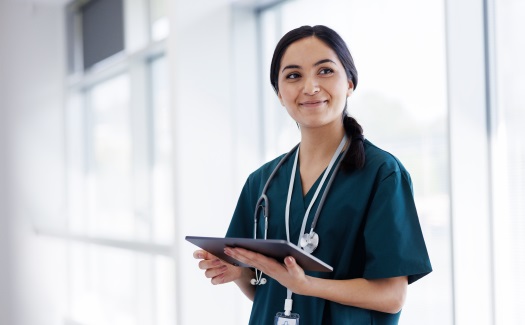 Although the path to becoming a nurse may seem cut and dried, there's actually a lot of confusion when it comes to the specifics of a nurse's educational career. The RN and BSN are two terms that often get confused, but it's actually quite simple: the RN is the end goal and the BSN is just one way to get there.

What's the Difference Between an RN and BSN?
 An RN is a registered nurse who is able to work in multiple specialties and settings—from home healthcare to hospital administration and everything in between. The RN encompasses all educational backgrounds, including the ADN, ASN and BSN. Let's break these terms down a little bit further.
ADN (Associate Degree in Nursing): A two-year degree in nursing that focuses on core classwork and clinical study.
ASN (Associate of Science in Nursing): A two-year degree in nursing that focuses more on hands-on clinical training.
BSN (Bachelor of Science in Nursing): A four-year degree in nursing that combines classwork and clinical study. This can be taken in place of an ADN or ASN, or can be achieved after finishing an associate degree.
In order to get your RN license, you must complete one of the above degrees followed by the National Council Licensure Examination (NCLEX). 
But while any of the associate degrees mentioned can get you there, the BSN has become the preferred pathway.
Why is the BSN in Such High Demand? 
According to a Future of Nursing handbook by the National Academies of Sciences, Engineering, and Medicine, BSNs "provide an additional focus on leadership, translating research for nursing practice, and population health." A study done by the American Association of Colleges of Nursing (AACN)  even showed that when hospitals hired more nurses with BSNs, patient mortality rates decreased. This was paired with better general patient outcomes and increased communication and leadership skills.  
This is why many healthcare facilities are beginning to require BSNs from their nurses, making it into the new standard for nursing.
 "The American Nurses Association has tried for forever to say that the entry level for nursing needs to be BSN," Janise Tinsman, UTEP Director of the RN to BSN program, said. "There are Magnet facilities that only hire BSNs. They typically are more pleasant to work for because they are trying to consider the nurses as an asset." 
In the Institute of Medicine's 2010 edition of the Future of Nursing handbook, it was actually recommended that the percentage of RNs with a BSN should increase to at least 80% by 2020. In 2021, nurses holding a BSN instead averaged 56%, which is the highest national average so far. 
What Are the Benefits of a BSN?
 A report done by the AACN found that 41% of hospitals and other healthcare settings required new nurses to hold a BSN, and that 82% of employers strongly preferred candidates with this credential. Having a degree that's as desirable as a BSN means that you have a leg up in the job search—and in salary opportunities. 
Getting your BSN could help you make a substantial jump in salary. According to Payscale, RN's who hold an ASN or ADN start at around $30.40 an hour, whereas those with a BSN start at around $33.74. 
| | |
| --- | --- |
| Education Level | Median Salary |
| Associate Degree in Nursing (ADN) | $73,000 |
| Associate of Science in Nursing (ASN) | $72,000 |
| Bachelor of Science in Nursing (BSN) | $89,000 |
Salary data gathered from Payscale.


"There's been a big push for the facilities to have BSN nurses," Tinsman said. "Once you get into a facility, many of them have tuition reimbursements for you to get your BSN because they want you to get your BSN. So it's not usually a huge deal financially because there's different avenues that can help with that." 
With higher salaries and tuition reimbursement, the BSN is rapidly becoming a degree that is not only desirable, but achievable. And if you're considering getting your Bachelor of Science in Nursing, UTEP's entirely online program can give you a convenient and flexible way to do so. 
"It is built for the working RN because it's one class in each seven-week block," Tinsman explained. "So you're not trying to juggle two or more classes while you're trying to work. And it's pretty fast paced." 
The program only requires two and a half semesters of nursing-specific courses after core university requirements have been met. It also encourages nonclinical mentorship, which means that you'll continue to work instead of taking normal clinical hours. 
"The projects that [students] do benefit the facility," Tinsman said. "They do a quality improvement project and a community needs teaching project that helps their facility. And these projects often can be used as clinical ladder steps for the working RN that helps them move up in their positions and salary." 
Tinsman also added that BSN graduates are able to move directly into an MSN program, if they're hoping to reach even higher than the bachelors. "They can move right in without having to worry about acceptance or anything," she said. "We have two tracks right now, education and administration. If their end goal is upper level management or nursing education, they can just slide right in there." 
If you're ready to take the next step in your nursing career, check out the RN to BSN program page for more details or reach out to an enrollment counselor who can answer any questions you have.
---