8 Lucrative Jobs You Can Get with An Online Undergraduate Degree
by
UTEP Connect
Earning or finishing your college degree is a step your future self will be happy you took. But what do you do if you're already balancing a job, family obligations, and other personal commitments? Juggling everything at once looks different for everyone, but it certainly is possible with the flexibility of an online degree program. If you're ready to take the step of earning your degree and are considering doing it all online, you'll want to ensure that you know exactly how this experience will contribute to your long-term success.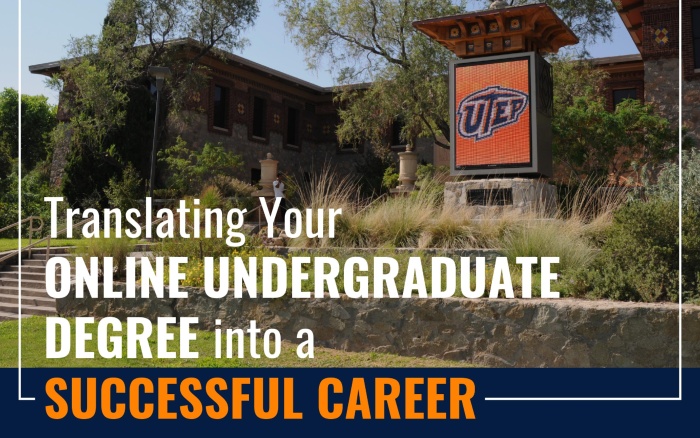 In this e-book, Translating Your Online Undergraduate Degree in a Successful Career, you can see how each of UTEP's online undergraduate programs can create a direct path to a fulfilling and financially stable future career. Don't be afraid to explore different academic fields. Whether you want to study criminal justice, Chicano studies, media advertising, security studies, corporate communication, nursing, or just want to get a broader degree in applied arts and science or multidisciplinary studies, we'll show you how each academic program can set you up with a career that compensates well and leads to long-term success.
Start on your path to career success! Download the e-book. 
Interested in learning more about UTEP Connect and our 100% online undergraduate, graduate, and certificate programs? Reach out, and an enrollment counselor will contact you directly.
---