Construction Management Jobs and Salaries
by
UTEP Connect
If you're currently working towards a career in construction management you may be curious about what the future will hold. What kind of jobs can you get, what salaries can you look forward to, and—the biggest question of all— is it the right path for you?
Before we dive in, let's warm up with a simpler question.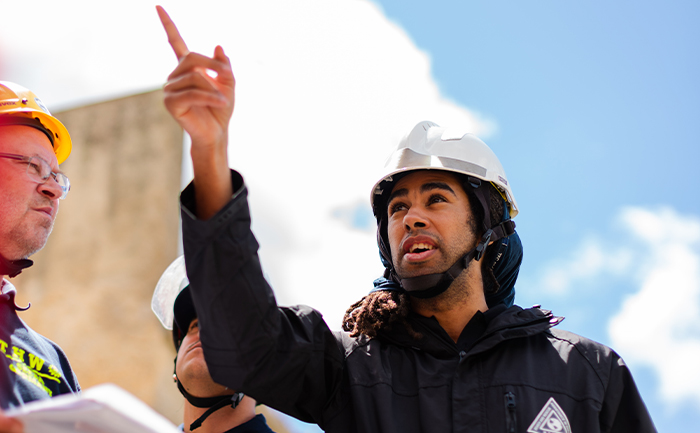 What Is Construction Management? 
Construction management is the process of overseeing a construction project at all levels, from schedule and cost to quality and function. This requires a keen eye and a talent for looking at a project from different angles. 
No matter what role you pursue, you will be required to come up with creative solutions involving the planning, progression and completion of a given project. All in all, you determine the best plan for delivering a high-quality project that is safe, financially sound and on time. 
Construction management requires strong leadership and communication skills, as you will be overseeing your team and collaborating with professionals like architects and engineers. "[The] construction industry is a very collaborative industry," Adeeba Raheem, assistant professor of construction management at UTEP, said in an article about whether a master's in construction management is worth it. "You cannot work in silos."

Sound like a career you'd enjoy? Take a look at some of the jobs you could pursue. 
Careers in Construction Management
Construction Project Director ($151,508) 
As a construction project director, you'll ensure that a project is meeting the expected quality and timeliness requested by the owner of the project. Responsibilities include reporting progress to clients, minimizing risks that might cause delays, obtaining legal permits ahead of time and managing project supervisors. 
General Contractor ($96,813) 
The general contractor is a worker who oversees the construction crew in projects involving commercial and residential structures. They are generally in charge of day-to-day operations and are expected to be the main source of communication between everyone involved in a project. Subcontractors like plumbers, roofers, electricians and masons will report to the general contractor. But it's not a role that is entirely communication based. General contractors also provide utilities, dispose of waste, secure the site and may perform some engineering functions, along with a myriad of other hands-on responsibilities. 
Construction Cost Estimator ($81,780) 
Cost estimators are in charge of estimating the cost of a project by compiling a list of required materials. Though this may sound like a simple job, there's much more to it than meets the eye. Cost estimators start from the foundation of a building and move through upper levels as they account for materials. It requires a strong analytical eye, and an expert knowledge of the building process. Cost estimators must have a comprehensive understanding of a project before it even begins, as making a mistake can be costly in both time and money. 
Construction Superintendent ($78,028) 
The construction superintendent oversees projects at every phase, from initial planning to completion and final inspection. Their responsibilities during a project's life cycle include communicating with vendors and lawyers, estimating costs, ensuring site safety, keeping track of orders, budgeting and scheduling, doing quality inspections and more. As this is such a comprehensive role, construction superintendents must have an incredible set of skills involving communication, observation, organizing, problem solving and conflict management. 
Construction Inspector ($59,153)
Construction inspectors are responsible for ensuring that construction sites follow local and national building codes and ordinances, contract specifications and zoning regulations. Some examples of structures and systems that must regularly be inspected are buildings, dams, bridges, highways, sewer/water systems and electrical systems. The inspector must assess the structural integrity of these systems, ensuring that they will be able to withstand future stresses (intense weather, engineering demands, etc). 
*Salary information gathered from PayScale and Indeed. 
Ready to Begin Your Construction Management Career? 
If you think that construction management might be the right fit for you, then make sure to check out our 100% online M.S. in Construction Management which is designed for students with bachelor's degrees in engineering, architecture, business and more—perfect for a advancement as well as a career change. 
Take a look for more about the program as well as student testimonials and the courses UTEP offers. Have more questions? Reach out to an enrollment counselor for a one-on-one consultation.
---