Resources Available for Students Starting Summer Courses
Last Updated on June 08, 2020 at 12:00 AM
Originally published June 08, 2020
By Elizabeth Ashby
UTEP Communications
The University of Texas at El Paso welcomes students starting summer courses as they continue to adapt and grow as online learners.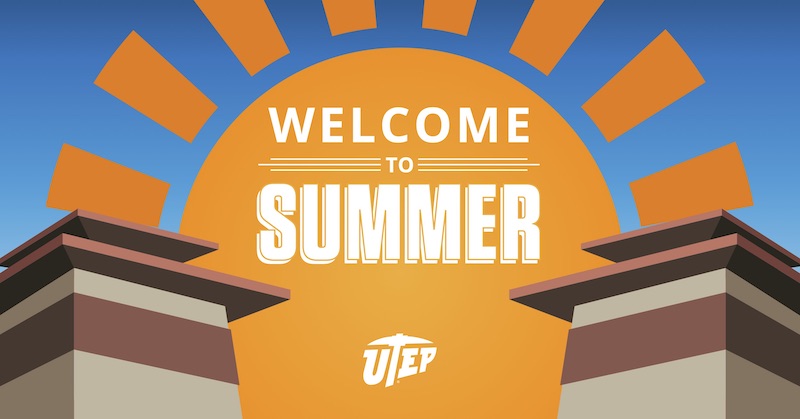 As students begin their summer classes, which are being presented via remote instruction — a move necessitated by the COVID-19 pandemic — the University offers an array of resources to assist them.
Student Support and Services
Enroll in Second Summer Session
It's not too late to start planning for UTEP's second summer session. Check out course offerings, register and see financial aid information at utep.edu/summer.
UTEP Cares
Federal CARES Act funding is still available to support student success. Apply for emergency grants and learn about financial resources available at utep.edu/utepcares/.
Student Life Resources
Check out the different ways you can get involved in the upcoming school year and connect with your fellow Miners at our Student Life page.​
UTEP Library Hours
The University Library will be open during the summer sessions from June 8 to Aug. 4, 2020. Only the second floor (Collaborative Learning Center computer lab, Wi-Fi/study areas) is open, and only to UTEP faculty, students, staff. 
Summer schedule:
Monday-Saturday: 9 a.m.-6 p.m.
Sundays: Closed
Saturday, July 4: Closed
See more information here: https://www.utep.edu/newsfeed/campus/university-library-hours-rules-for-summer-sessions-2020.html
Virtual Career Center
The University Career Center launched the Virtual Career Center, which includes links to resume and cover letter virtual reviews, virtual interview tips, links to job postings, and video tutorials. Career Center advisers are also available to provide one-on-one feedback to students remotely. More info: https://www.utep.edu/student-affairs/careers/
University Bookstore Rental Returns and Deadline Extensions
If students are having issues with their rental accounts and are not able to print out their return labels, they will not be charged late fees. The rental grace period has been extended so that rentals can be returned in-store when the Bookstore reopens.
To begin, visit utepbookstore.com, click on the Textbooks icon at the top of the page. Click on "Learn More" under "Textbook Rental" and sign in to your account under "How Do I Return/Check-In My Rental." Print a free return shipping label to ship back to the store. On the Rentals page, click "Return All Rentals by Mail" to begin. 
For more information, please visit the University Bookstore: utepbookstore.com
Additional links:
Dean of Students Office
Office of Student Financial Aid
Academic Advising
Military Student Success Center
Center for Accommodations and Support Services
Health, Wellness and Self-Care
Counseling and Psychological Services (CAPS) 
Counseling and Psychological Services is offering virtual support groups for students, faculty and staff and the workshop series CAPS To Go, which are offered remotely and focus on topics relating to mental health and self-care. More information: https://www.utep.edu/student-affairs/counsel/
The Miners Talk Crisis Line can be reached at 915-747-5302.
Student Health and Wellness Center
All students needing services from a Student Health and Wellness Center health care provider must first call 915-747-5624 or 915-747-6358. A health care provider will discuss your needs and then schedule an appointment if necessary. Walk-in appointments are not available at this time. https://www.utep.edu/chs/shc/
Student Recreation Center
Students can follow the Student Recreation Center Instagram account for regular video courses, including high intensity interval training (HIIT) and total body conditioning. Follow them here: https://www.instagram.com/utep_recsports/
Technical Support
UTEP's Technology Support page offers links to three web pages that are available to help the UTEP community learn, teach and work from off-campus: learning remotely, teaching remotely, and working remotely.
For students, they've included links to Blackboard tutorials and access to various software and OneDrive downloads.
Also, check out tips to optimize your internet home usage.
Virtual Campus Life
UTEP hosts an array of virtual activities to keep Miners connected to campus life, even if they are taking classes remotely. Check out virtual activities at UTEP's Events Calendar.
Miners on Monitors Quaran-tivities
UTEP's Student Engagement and Leadership Center is helping students finding ways to keep connected while social distancing, with new events, programs, and opportunities added on a weekly basis. Learn more: www.utep.edu/mom
---